Article written by Samantha Baker, Greater Waco Chamber staff, published in the third quarter edition of the Greater Waco Business Magazine.
We sat down with Brian Brown, co-owner of The Backyard Bar, Stage and Grill and The Backyard Saloon to talk about how he and his business partners found success filling a unique niche in Waco.
What comes to mind when you hear the word "backyard?" Family fun? Casual? Familiar?
That's the kind of atmosphere that Brian Brown, Chris Cox, Russel Clay and Chris Braziel decided to create when they decided to open The Backyard Bar, Stage and Grill in 2015.
Born in California, but raised in McGregor, owner Brian Brown has always loved music. He's been active in the music scene for most of his life — locals may know him as the lead singer of The Sloppy Joe Band. He and co-owner Chris Braziel have been friends for years, and through playing music, he met Russ Clay and Chris Cox, owners of Red C Television. According to Brown, the four of them hit it off quickly, and soon decided to go into business together.
"Russ said 'Hey man, let's do something!'" said Brown. "I said, 'Like what?' and Chris said, 'I don't know!' And that's how we went into business."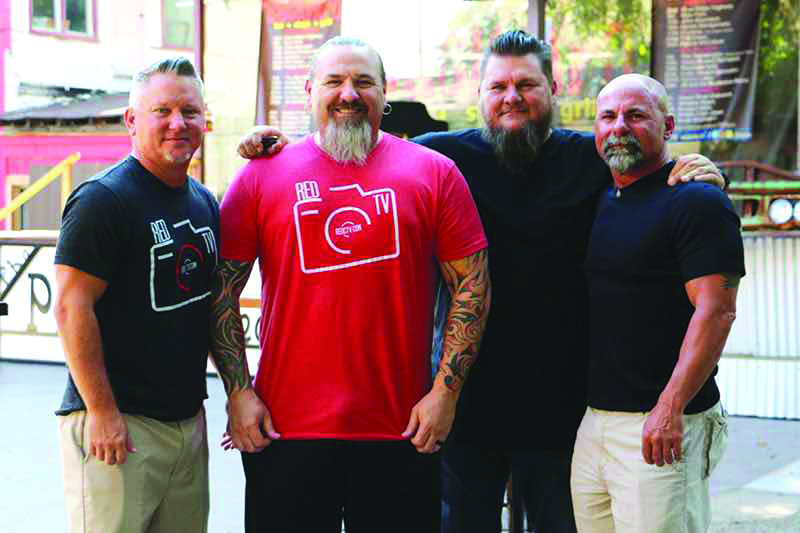 Their first business venture was Cinema Lounge, a bar that was meant to become a music venue. According to Brown, the timing and the location were both factors in the eventual closing of Cinema.
"We gave Waco what they said they wanted, as opposed to what they REALLY wanted," said Brown. Cinema Lounge was open for three years before they decided it was time to shut it down. But, as it goes, when one door shuts, another one opens — they heard about an available property on South Eighth Street that just happened to be available for lease.
There was a lot of conversation about opening another bar after their first attempt hadn't gone quite the way they'd hoped it would. "We were all thinking, 'We've got a bar right now that we don't want; why would we want to open another?'" said Brown. "I've always loved that property [now Backyard], it's a neat little oasis in the middle of that area. Chip and Joanna were still running their store on Bosque; we had no idea about the Silos when we decided to pursue leasing the property."
The same week that Brown and his crew began leasing the space, Chip and Joanna Gaines announced on their show "Fixer Upper" that they had purchased the Silos and had plans to move and expand their business there.
"My wife and I were at home that weekend watching 'Fixer Upper,' and Chip told Joanna that they'd gotten the silos," said Brown. "'Well, that could be good for us,' we said. We opened a month before they had their big blowout opening."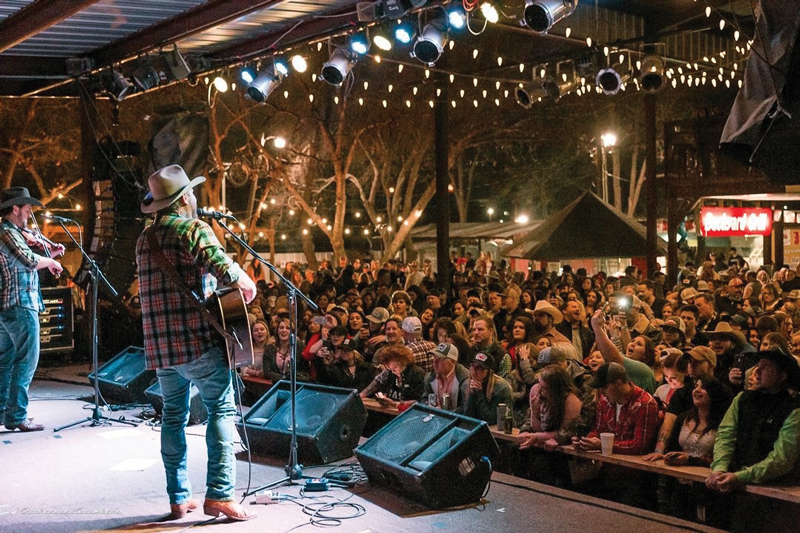 The Backyard officially opened in 2015 the same week as the HOT Fair and Rodeo, hoping to avoid large crowds and give their staff a more "soft" opening – instead, the new bar and grill was slammed.
When Magnolia opened just a few weeks later, the owners of The Backyard assumed that the tourists flocking to Magnolia would quickly flock to their bar. Looking back, Brown understands that when Magnolia first opened, Waco was still a "stop-off" destination, not the true tourist destination that it has since become. After Magnolia had been open for several months and quickly became a true "destination," more and more tourists began noticing and visiting The Backyard.
Due to their proximity to Magnolia, The Backyard soon began catching the eye of travel writers for magazines and websites, picking up recognition as a great place to stop by when you go to visit Magnolia. Since then, the popularity of The Backyard has only increased, not just with tourists, but with locals as well.
The Backyard isn't a totally unique idea — the Moontower Saloon in Austin is an outdoor live music venue with a full service bar and restaurant; the Texas Truck Yard in Dallas is a "come-as-you-are beer garden and adult playground." However, the concept behind The Backyard is incredibly unique to Waco. Where else in town can you have food and drinks, enjoy live music, AND bring your kids and dogs?
"[The property] was in pretty rough shape when we got it," said Brown. "It was just a little Mexican restaurant, completely closed in, no windows. We cut out the arches, put the roll up doors in, put the glass in, and built the stage. The firepits and the fountain were already there, and we saw those as the "bones" of the place. Next, we poured the dance floor and put in artificial turf, which totally changed the vibe of the place, it brought life and color to it. Then when we opened, kids started showing up, dogs started showing up, and it was totally by accident."
The Backyard encourages patrons to feel comfortable bringing their whole families with them to enjoy the atmosphere. "That first Sunday that I sat there as a dad and a grandpa, and watched kids playing with their dogs and run around, it was just a great feeling," said Brown.
The Backyard hosts many Texas country artists like Kevin Fowler, Randy Rogers, Aaron Watson and Wade Bowen. Why so much Texas country? "Texas artists are more local – they're more affordable to bring in, and they have strong, dedicated fans," said Brown. "We can sell out a Wade Bowen show (about 1,000 people) on a Wednesday night; there's not the same kind of demand for rock artists."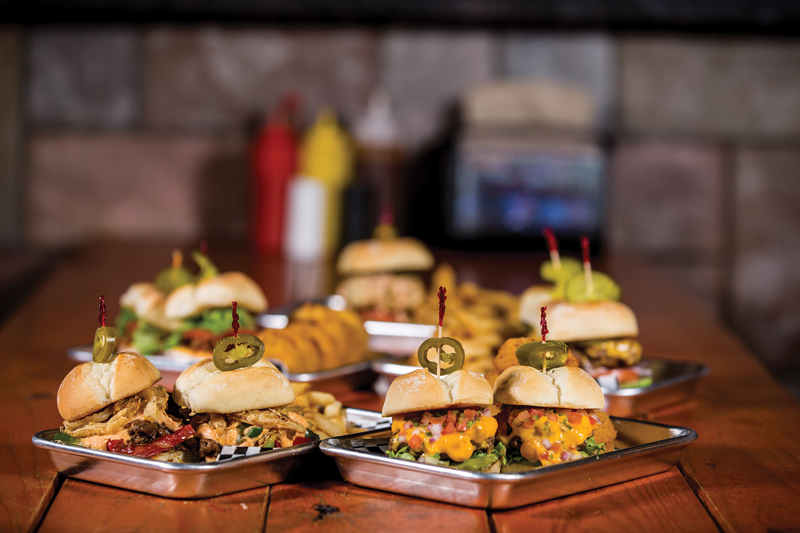 While the Texas country artists continue to sell out shows at The Backyard, Brown intends to continue finding ways to incorporate new and different kinds of shows, including his favorite genre, rock 'n roll. "The Fleetwood Mac Tribute Band was a big hit for us," he said. "Our Eagles tribute show was a big hit too, we sold nearly 850 tickets and it was just local musicians covering Eagles songs."
Brown, Cox, Clay and Braziel have recently ventured out in hopes of filling another unique niche in Waco and opened The Backyard Saloon at the corner of Fifth Street and Austin Avenue, in the years-vacant Fifth Street Ice House. The saloon is an authentic old-time beer joint, from the Texas memorabilia to the sawdust-covered floors.
"Chris [Cox] had been watching the property for a while, and he came to us and said he had an idea," Brown said. "He said that a lot of people that come in are from Michigan, from New York, from all over the place, and they ask where they can find a good watering hole, beer joint, saloon-type place? You've got coffee spots, you've got wine bars, you've got all kinds of places, but there was nothing really in that vein. And so, this property came available, and we talked the landlord into letting us open another bar here." The Backyard Saloon is open seven days a week, Sunday through Wednesday from 3 p.m. to midnight, and Thursday through Saturday, 3 p.m. to 2 a.m. Follow them on Facebook at Facebook.com/BackyardSaloon.
Cold drinks, great food, live music, family-friendly atmosphere – The Backyard has it all. They're open from 11 a.m. to 2 a.m. seven days week, featuring daily food and drink specials. Follow them on Facebook (Facebook.com/BackyardWaco) to stay up to date with upcoming concerts and entertainment, and check out their full calendar and menu online at BackyardWaco.com.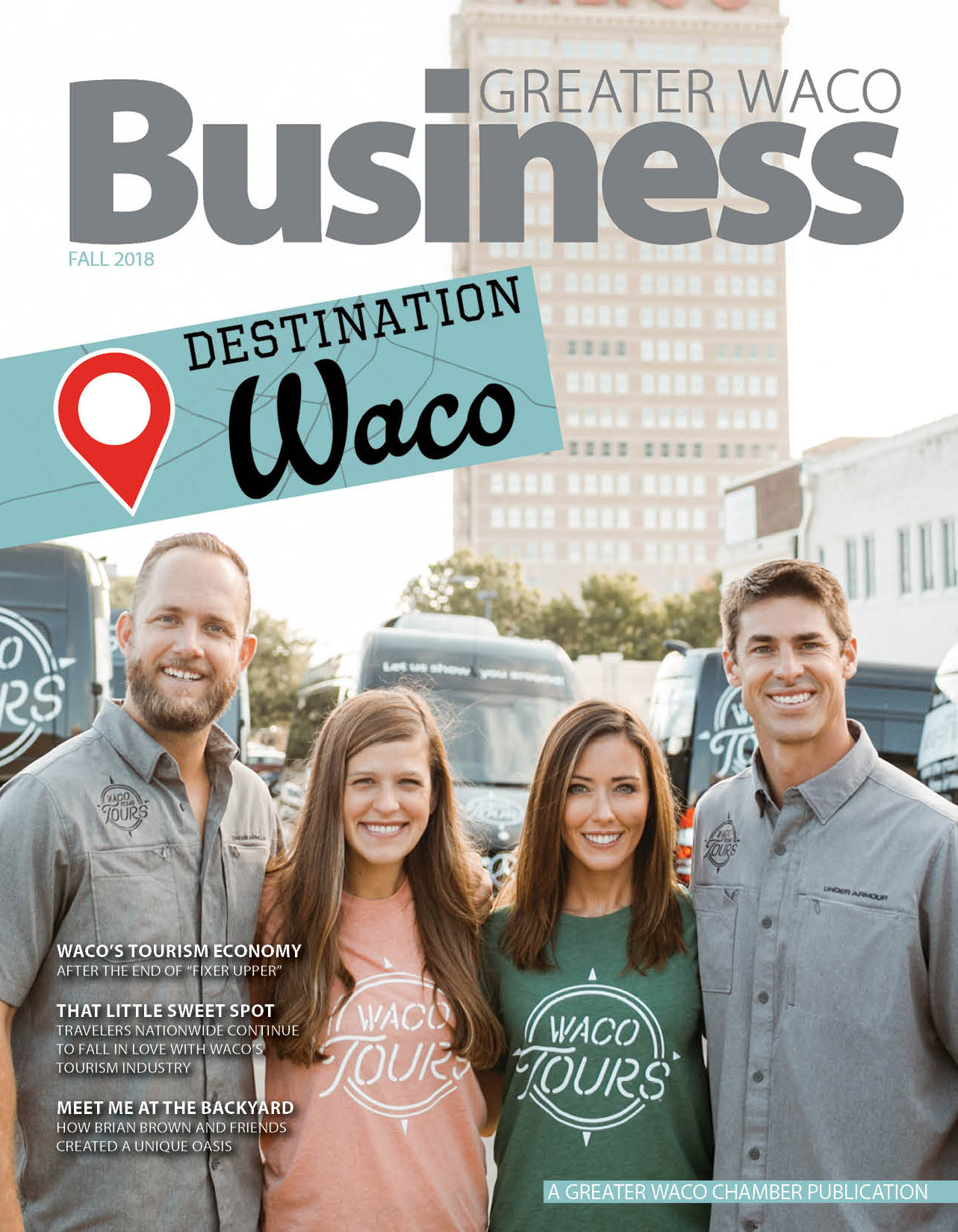 Check out this edition of the Greater Waco Business magazine,
featuring articles all about the booming tourist business in Waco,
new Chamber members, member news and more!