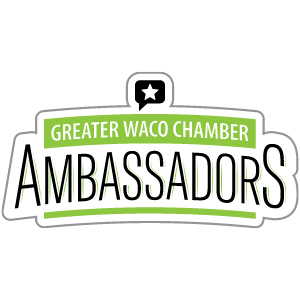 About the Greater Waco Chamber Ambassadors
The Greater Waco Chamber Ambassadors are a highly visible, active group of dedicated volunteers representing the Chamber in the community. Ambassadors allow us to connect to businesses, strengthen membership, and enhance the understanding of what the Chamber has to offer its members. Joining this program increases recognition for you and your organization in the business community and at Chamber events. Ambassadors generate excitement and enthusiasm through participation in ribbon cuttings, grand openings and other Waco Chamber networking events and functions.
In order to be considered for the Ambassador program, the below prerequisites must be met:
Ambassadors must own or be employed by a Greater Waco Chamber member business in good standing.
Ambassadors must have the formal endorsement and support of their employer to participate.
Ambassadors must be willing and able to make a one-year commitment to the program.
Ambassadors serve as the face of the Chamber in the community and their responsibilities include:
Mentor and provide ongoing membership contact to both new and existing members to help promote retention and encourage member involvement.
Welcome and assist all Greater Waco Chamber members and prospective members at meetings and/or events.
Help increase membership by gathering new membership leads throughout the year and inform them of the benefits of becoming a Greater Waco Chamber member.
Participate in and will be required to check-in at all ribbon cuttings, groundbreakings and any event where they are present as a Chamber Ambassador.
Possess a strong desire for community involvement and take the initiative and be motivated to meet new members at Chamber events and at business site visits.
Increased recognition as a community leader, for Ambassadors and their company in the business community and at Chamber events
Eligibility for Outstanding Ambassador awards
Name badge with Chamber Ambassador logo
Increased exposure to the Chamber and its initiatives
Excellent networking opportunities and business leads
General Information & Terms of Service
Ambassador meetings will be held quarterly. Meetings will cover award winners and upcoming events that require Ambassador involvement. Awards will be given based upon involvement (tracked at event sign-in) and award recipients will be chosen by the Resource Development team.
Ambassadors agree to serve a one-year term. Criteria for remaining in the Ambassador's Program include active monthly involvement, the recruitment of new members, assisting in retention calls, and attendance at Greater Waco Chamber of Commerce networking events.
If you are interested in becoming a Greater Waco Chamber Ambassador, please contact Lupe Teichelman at lteichelman@wacochamber.com  or complete the interest form below.