The students and staff at Brook Avenue Elementary School have a brand-new garden and outdoor learning space thanks to a local group of 36 business and civic leaders who raised $21,900.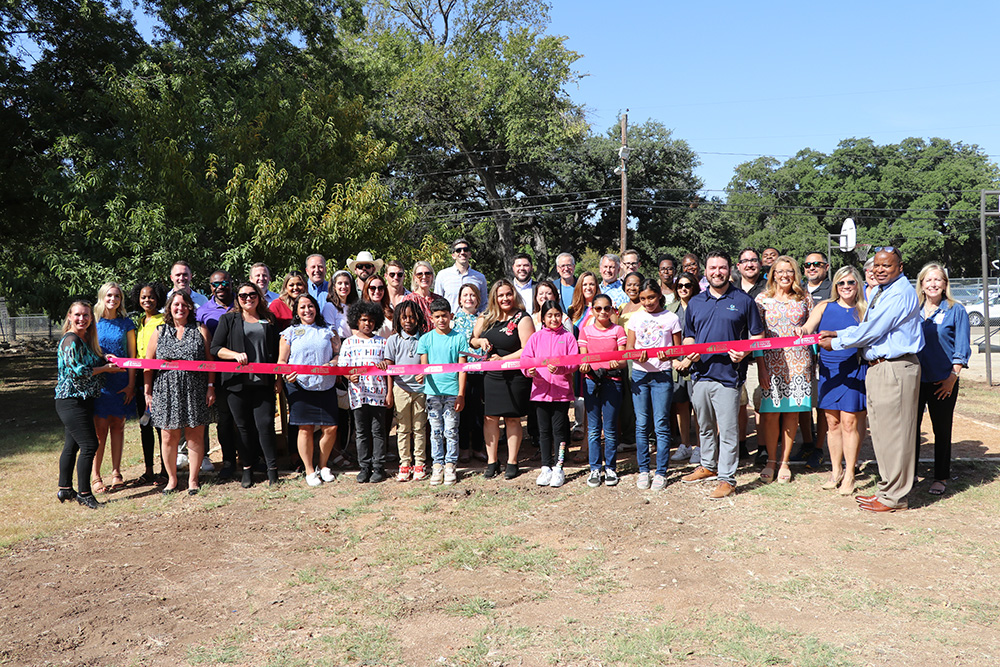 The Greater Waco Chamber of Commerce's Leadership Waco Class 39 cohort participated in the community project, which provided an all-weather whiteboard, shed, 18 cedar planters, nine benches, three picnic tables, a potting table and rainwater collection bins. Cohort members spent several days in June clearing out space, putting together benches and picnic tables, staining and filling planters with potting soil and painting the shed.
"The school is ecstatic and so appreciative of Class 39's commitment to providing a unique educational space for our students and staff," said Josh Wucher, Transformation Waco Chief Communications Officer and Class 39 participant. "Brook Avenue will use the space to conduct science lessons, plant fruits and vegetables for gardening classes and have reflective time in nature. We're very thankful to the generous donors and companies for their support in bringing this garden area to life.
Platinum sponsors include Brazos Braces, Target Solutions, Transformation Waco, and Coca-Cola Southwest Beverages. Gold sponsors include Community Bank & Trust, The First National Bank of Central Texas, Pablo's Taqueria, Garcia's Tire, and Intuitive Health, LLC. Items donated include concrete pavers from Waco Habitat ReStore, landscape rock from Barnett Contracting, rain collection bins and garden equipment from Leadership Waco cohort members and a potting table from Target Solutions. In-kind service donations include site work from Mitchell Construction and the assembly of cedar planters from Greater Waco Advanced Manufacturing Academy students.
"This is the largest-scale, community-driven Leadership Waco project that we've experienced to date," said Rachel Martinez, Director of Leadership Development of the Greater Waco Chamber. "We had a terrific group of 36 professionals who are truly invested in Waco's growth and significantly impacting our community. Leadership Waco has always been about individuals working together on solutions to community needs, and the Brook Avenue project revitalized an area that is now a beautiful and sustainable space for students to learn for years to come."
The Waco Chamber conducts the Leadership Waco program to identify potential community leaders and provide these individuals with information about various facets of our community, improving area residents' quality of life. Solutions to community needs demand the active participation of informed citizens. Leadership Waco offers structured learning opportunities in an atmosphere that stimulates creative thinking and encourages participants to work together to utilize new and proven tools to meet today's challenges and prepare for tomorrow.
Learn more about Leadership Waco at WacoChamber.com/Leadership-Waco.