The Greater Waco Chamber is proud to announce the 2020 Waco Under 40 Honorees!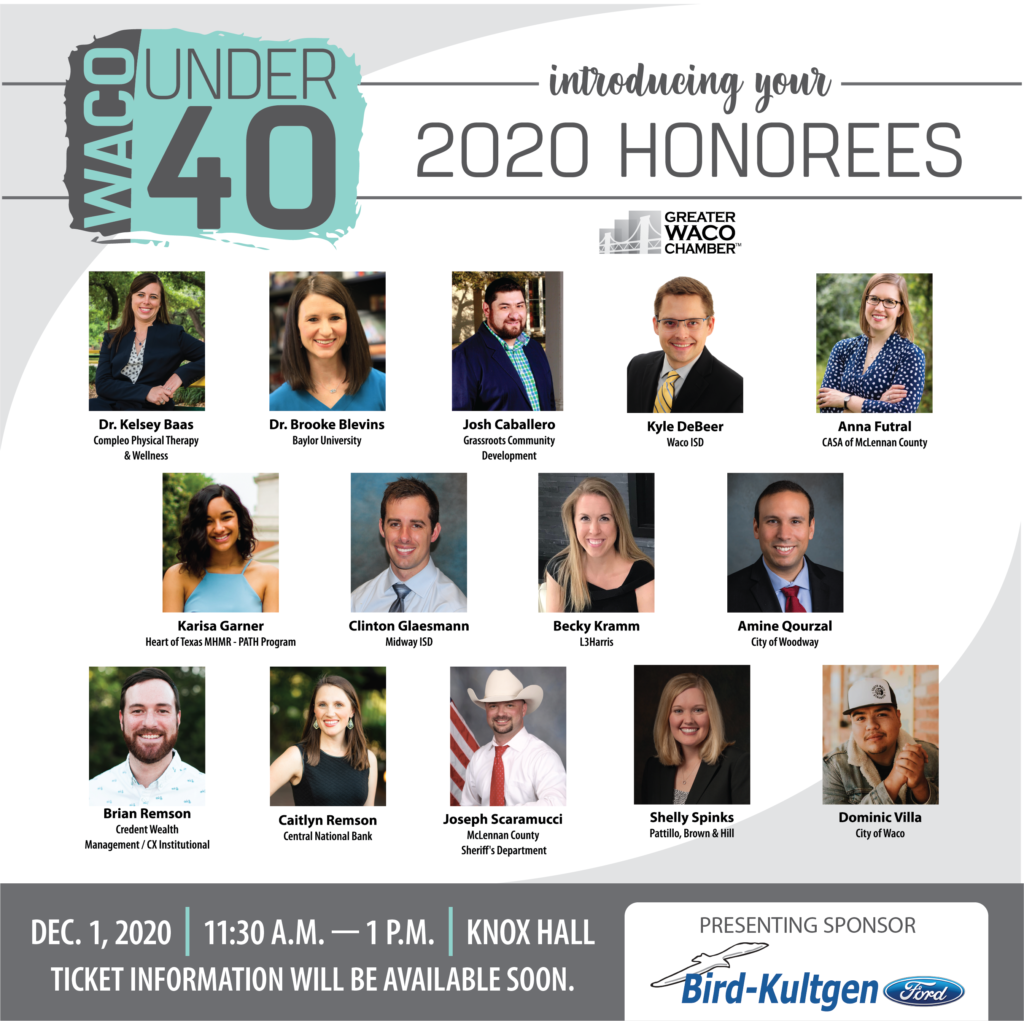 Dr. Kelsey Baas, Compleo Physical Therapy & Wellness
Dr. Brooke Blevins, Baylor University
Josh Caballero, Grassroots Community Development
Kyle DeBeer, Waco ISD
Anna Futral, CASA of McLennan County
Karisa Garner, Heart of Texas MHMR – PATH Program
Clinton Glaesmann, Midway ISD
Becky Kramm, L3Harris
Amine Qourzal, City of Woodway
Brian Remson, Credent Wealth Management / CX Institutional
Caitlyn Remson, Central National Bank
Joseph Scaramucci, McLennan County Sheriff's Department
Shelly Spinks, Pattillo, Brown & Hill
Dominic Villa, City of Waco
These individuals, as well as all nominated, will be recognized at the Waco Under 40 luncheon scheduled for December 1 from 11:30 a.m. – 1 p.m. at Knox Hall at the Texas Ranger Hall of Fame and Museum.
The Waco Under 40 Luncheon has a three-fold mission:
Engage the community in identifying the local leaders under the age of 40 and encourage young citizens of Waco to step up and become the future leaders Waco needs.
Provide an opportunity for professional and personal development
Create an atmosphere that will foster and encourage mentor/mentee relations and spread awareness about the importance of investing in the next generation of leaders
The entire community is invited to join us in learning more about the importance of growing the next generation of leaders as well as celebrating our honorees and nominees. Stay tuned for information about our guest speaker!
Tickets will be available soon at wacochamber.com/waco-under-40. Presenting sponsorship for Waco Under 40 is provided by Bird-Kultgen Ford. Additional sponsorships available.