Waco Under 40 celebrates dynamic young leaders under the age of 40, from McLennan County. The Waco Under 40 luncheon, with presenting sponsor Bird-Kultgen Ford, is a rare opportunity for the best and brightest from a diverse group of professions to gather and receive much-deserved recognition.
The Waco Under 40 Luncheon has a three-fold mission:
Engage the community in identifying the local leaders under the age of 40 and encourage young citizens of Waco to step up and become the future leaders Waco needs.
Provide an opportunity for professional and personal development with a guest speaker.
Create an atmosphere that will foster and encourage mentor/mentee relations and spread awareness about the importance of investing in the next generation of leaders.
Nominees represent not only the young leaders who demonstrate a tremendous positive impact in their respective industries, but who also go beyond the call of duty by volunteering their personal time to give back to the community and strive to make Waco a better place to live.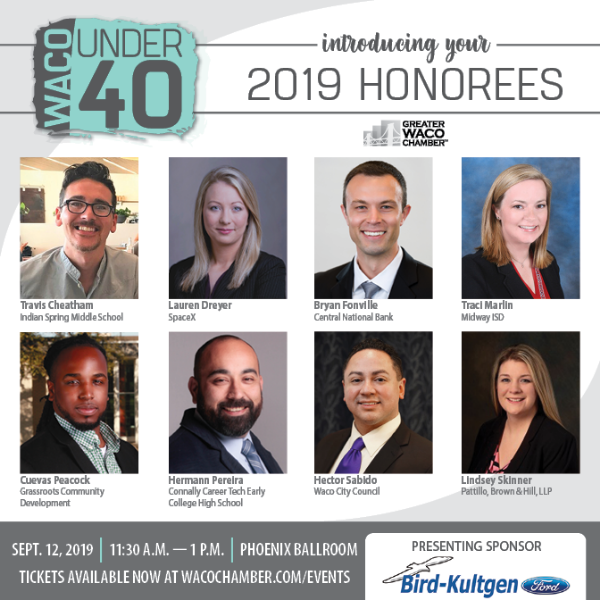 Congratulations to our 2019 Waco Under 40 honorees!
The Waco Chamber is proud to announce the inaugural Waco Under 40 Honorees!

Travis Cheatham, Indian Spring Middle School

Lauren Dreyer, SpaceX

Bryan Fonville, Central National Bank

Traci Marlin, Midway ISD

Cuevas Peacock, Grassroots Community Development

Hermann Pereira, Connally Career Tech ECHS

Hector Sabido, Waco City Council

Lindsey Skinner, Pattillo Brown & Hill LLP
Check out the full list of 2019 nominees. Although these individuals were not selected as honorees,  being nominated shows great dedication and leadership to the Waco community. Waco Under 40 was created to recognize dynamic young leaders who have distinguished themselves in their careers and our community, and the community nominated them for exemplifying these qualities.

Thanks to our additional sponsors: