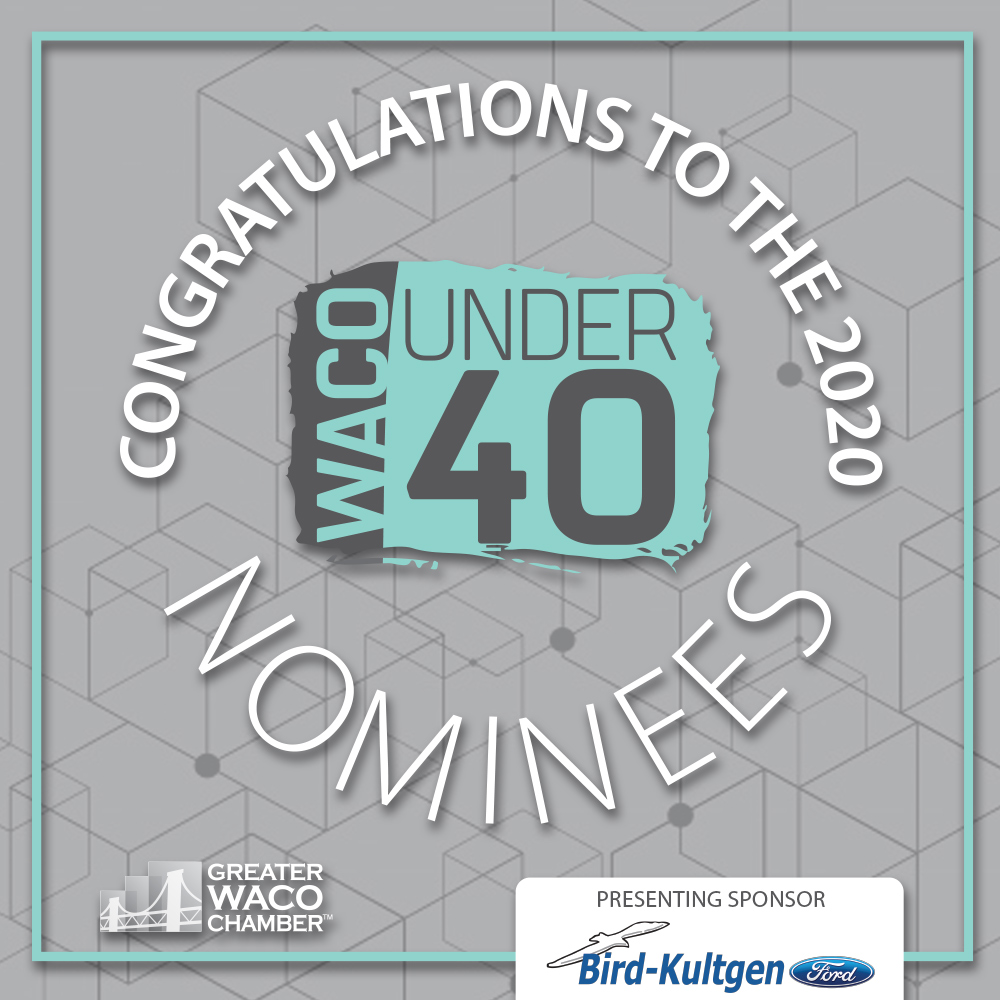 The Greater Waco Chamber of Commerce is pleased to announce Waco Under 40 nominees! In its second year, Waco Under 40 is a rare opportunity for the best and brightest from a diverse group of professions and causes to gather and receive much deserved recognition. The luncheon recognizes rising young leaders who have distinguished themselves in their careers and in the community. In addition to honoring the selected nominees, the luncheon is intended to help motivate young people throughout our area to become community leaders and provide an avenue for those over 40 to celebrate, encourage and share knowledge with the young leaders of Waco.
Nominees are:
Dr. Kelsey Baas, Compleo Physical Therapy & Wellness
Jordy Barksdale, Magnolia
Dr. Brooke Blevins, Baylor University
Bricker Bruner, Bricker Bruner – Bentwood Realty
Nicole Burnett, L3Harris
Josh Caballero, Grassroots Community Development
Kyle DeBeer, Waco ISD
Lilly Ettinger, Baylor University
Walt Ford, L3Harris
Anna Futral, CASA of McLennan County
Daniel G. Garcia, Extraco Banks
Karisa Garner, Heart of Texas Region MHMR
Clinton Glaesmann, Midway ISD
Benjamin Gomez, Neighborly
Jacob Green, Keep Waco Loud
Lindsey Helton, Waco ISD
Becky Kramm, L3Harris
Travis Logue, BancorpSouth
Carrie Maddux, Waco Moms
Genesis Moncada
Kristen Mynar, Naman, Howell, Smith & Lee, PLLC
Brittany L. Perrine, Baylor University
Jonathan Pokluda, Harris Creek Baptist Church
Amine Qourzal, City of Woodway
Caitlyn Remson, Central National Bank
Brian Remson, Credent Wealth Management / CX Institutional
Shawna Brooke Roscom, Edward Jones Investments
Joseph Scaramucci, McLennan County Sheriff's Department
Shelly Spinks, Pattillo, Brown & Hill LLC
Anne Tamporello, Tamporello Properties, LLC
Dominic Villa, City of Waco
Izabel Weaver
Clint Weaver, Hobbs Bonded Fibers
Nominees represent not only the young leaders who demonstrate a tremendous positive impact in their respective industries, but who also go beyond the call of duty by volunteering their personal time to give back to the community.
Soon, we will announce the honorees to be recognized at the annual luncheon.
"This program is a great opportunity for us to celebrate the young leaders in our community," said Amanda Haygood, program director. "We always strive to celebrate leaders, but especially now, members of this group are doing great things for Waco."
Nominees and honorees will be recognized at the luncheon currently scheduled for December 1, 2020. Presenting sponsorship for Waco Under 40 is provided by Bird Kultgen Ford.