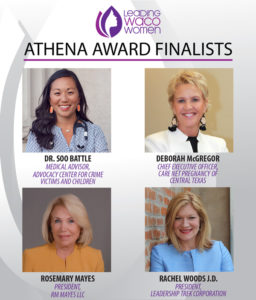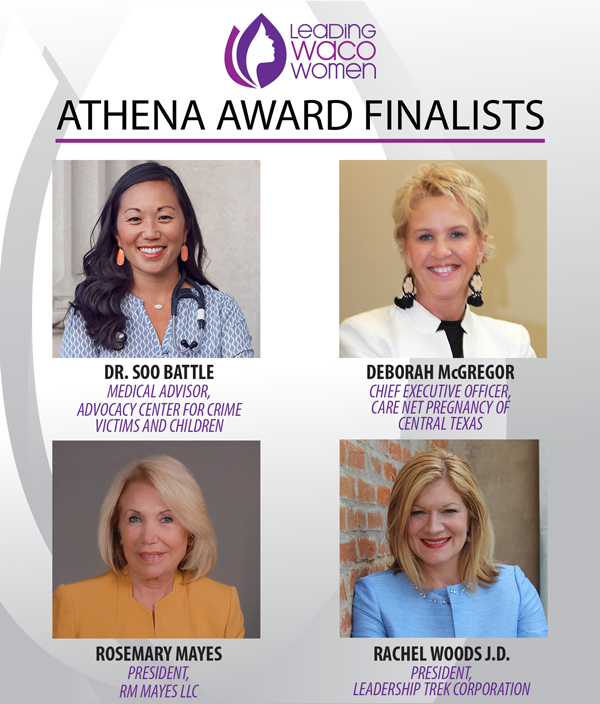 WACO, Texas – The Greater Waco Chamber of Commerce is pleased to announce the four finalists for the presentation of the 2019 ATHENA Leadership Award® at the upcoming Leading Waco Women Serving Summit on Thursday, November 7 at The Phoenix Ballroom.
The four finalists are:
Dr. Soo Battle, Medical Advisor, Advocacy Center for Crime Victims & Children
RoseMary Mayes, President, RM Mayes LLC
Deborah McGregor, Chief Executive Officer, Care Net Pregnancy of Central Texas
Rachel Woods J.D., President, Leadership Trek Corporation
The Leading Waco Women Summit will bring together Waco's most inspiring women and men for the Serving Summit on Thursday, November 7 that includes the presentation of the prestigious international ATHENA Leadership Award®. Leading Waco Women will continue into 2020 with the Empowerment Summit in February and the Mentoring Summit in April.
The ATHENA Award® was first presented in 1982 in Lansing, Michigan and has grown to include presentations to more than 5,000 individuals in hundreds of cities in the United States as well as in Canada, China, Russia and the United Kingdom. The award takes the form of a hand-cast bronze sculpture symbolizing the strength, courage and wisdom of the recipient. The spirit of the ATHENA Award® Program is captured in a quotation from Plato: "What is honored in a country will be cultivated there." By honoring exceptional leaders, others will be encouraged to excel. The ATHENA Award® Program is nationally underwritten by General Motors and National City Bank.
Presenting sponsorship for Leading Waco Women is provided by Texas First State Bank. Platinum sponsorship is provided by Providence Breast Health Center, Waco Center for Women's Health, Baylor University and Di'Amore Fine Jewelers.
Tickets for Leading Waco Women are still available – call 254-757-5600 or visit WacoChamber.com to purchase. For more information about the event, contact Amanda Haygood at 254-757-5611.