About Leading Waco Women
Leading Waco Women was created to celebrate, empower and develop women leaders in the Waco community with professional development opportunities through half-day conferences, keynote speakers, panel discussions and networking. The Greater Waco Chamber kicked off the Leading Waco Women Summit Series in November 2018 with the presentation of the inaugural ATHENA Leadership award. Leading Waco Women is a three-part series focused on the three components of leadership: serving, empowering and mentoring.
About the ATHENA Leadership Award
The ATHENA Leadership award is presented to leaders across professional sectors. Its rich history, international scope and mentorship distinguish it as one of the most prestigious leadership awards one can receive. The ATHENA Leadership award celebrates women who achieve excellence in their professions, serve the community in a meaningful way, and help other women reach their full potential. The ATHENA Leadership award celebrates exemplary leadership and is reflective of a quote by Plato: "What is honored in a country will be cultivated there." Over 7,000 Recipients have been honored with the ATHENA Leadership award since the program's inception in 1982. Each summer the Waco Chamber will accept nominations from the community and present the ATHENA Leadership award each year at the Leading Waco Women Serving Summit held in November. For more information about the nomination process, please see below.
Learn more about ATHENA Leadership Award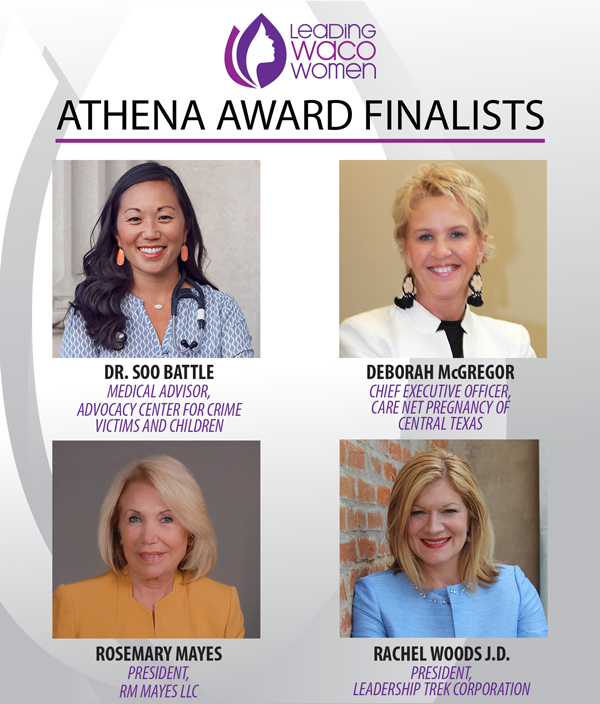 Congratulations to our Four Finalists for the 2019 ATHENA Leadership Award!
Dr. Soo Battle, Medical Advisor, Advocacy Center for Crime Victims & Children
Deborah McGregor, Chief Executive Officer, Care Net Pregnancy of Central Texas
Rachel Woods, J.D., President, Leadership Trek Corporation
RoseMary Mayes, President, RM Mayes LLC
Congratulations to Each of our 2019 Nominees!
Kristina Baucom | Carrie Kuehl | Kim Mulkey | Wendy Gragg | Andrea J. Barefield | Deidra Emerson | Esmeralda Hudson | Betty Willis | Leslie Murphy King | Jessica Attas | Sheronda Pruitt-Jones | Nancy McEachern | Charlene Tierce | Emily Mills | Kenyouna Ridge | Ann Harder | Lindsay Liepman | Amie Kelly | Kim Patterson | Dr. Jeanie Johnson | Maria Reed | Cara M. Chase | Autumn Outlaw | Sonya Wilson | Erin Davis | Vicki Menard | Aura Swital | Mackie Bonner | Maria Y. Berry | Ashley Allison | Ashley Weaver | Catherine Bauer | Joyce Brammer
Thank you to our additional sponsors: