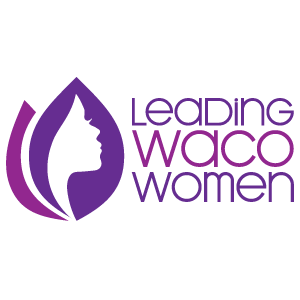 The Leading Waco Women Summit Series was created to celebrate, empower and develop female leaders in the Waco community. The three-part annual series provides professional development opportunities through half-day conferences, keynote speakers, panel discussions and networking. Each summit in the Leading Waco Women Series is focused on the three components of leadership: serving, empowering and mentoring. The Greater Waco Chamber celebrated the inaugural Leading Waco Women Summit in November 2018 with the presentation of Waco's first-ever ATHENA Leadership Award.
We will start the 2021 Series with an interactive workshop-style event held in February. Over breakfast, attendees hear from guest speakers who help them work through exercises that help support their leadership development.
Typically, the second summit is focused on Empowering leaders in our community. This event features lunch, a keynote speaker and a panel of women in business.
This year, we will wrap up the Series with our Serving Summit in November. This event features lunch, a keynote speaker, a panel with the ATHENA finalists and the presentation of the annual ATHENA Leadership Award to a leader in our community.
The community is invited to join us for each summit! Registration is not currently open.
About the ATHENA Leadership Award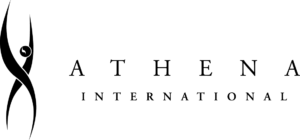 The ATHENA Leadership Award is presented to leaders across professional sectors around the world. Its rich history, international scope and mentorship distinguish it as one of the most prestigious leadership awards one can receive. The ATHENA Leadership award celebrates women who achieve excellence in their professions, serve the community in a meaningful way, and help other women reach their full potential. The ATHENA Leadership award celebrates exemplary leadership and is reflective of a quote by Plato: "What is honored in a country will be cultivated there." Over 7,000 Recipients have been honored with the ATHENA Leadership award since the program's inception in 1982. Each summer the Waco Chamber will accept nominations from the community and present the ATHENA Leadership award each year at the Leading Waco Women Serving Summit held in November. Learn more about the ATHENA Leadership Award >
Congratulations to our 2019 ATHENA Leadership Award Recipient, RoseMary Mayes!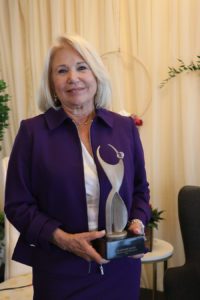 The Greater Waco Chamber of Commerce is pleased to present the recipient of Waco's 2019 ATHENA Leadership Award® to RoseMary Mayes, president of RM Mayes LLC.
For more than 30 years, RoseMary has managed and promoted businesses and non-profit organizations and volunteered extensively in our community. A woman who "lifts as she climbs," she has extended a hand to her peers and the next generation of leaders alike. Her specialty is stepping in to lead new or struggling companies and initiatives - managing, organizing, and leveraging contacts to help them grow.
While heading the American Red Cross Heart of Texas Chapter, RoseMary became responsible for the management of 16 county jurisdictions and four regional offices. She responded effectively to disasters in the 16 counties with "boots on the ground" and collaborated well with other emergency responders. Red Cross hired her to reinvigorate its fundraising efforts at a time when there was an ongoing need for donations, but no local disaster to spur them.
RoseMary has earned respect for her initiative. She originated and organized many first­time events, several of which continue to this day. A prime example is the Heart of Texas Airshow, which has drawn widespread attention to Waco. As the initial organizer of the Airshow, she made a formal request to the U.S. military for jet teams and support for the Airshow. In response, she received a 250-page list of requirements. Nevertheless, she got the Airshow off the ground.
She has actively assisted women in achieving their full leadership potential. As one of the first women to serve in certain organizations, she performed admirably and, in doing so, blazed the trail for others. As the second woman ever to be nominated for Waco Rotary Club membership, she set an example as a board member and committee chair and supported other women's efforts to join Waco-area Rotary Clubs.
She was one of the first women to serve on the HOT Fair & Rodeo Executive Committee, a select group making key decisions for this large non-profit organization that operates year-round. She also was the first woman to serve on the HOT Fair & Rodeo Board, where she has served for more than 20 years.
She has volunteered with many civic and service organizations for substantial lengths of time, including United Way of Waco-McLennan County, the Heart O' Texas Fair & Rodeo, Waco Rotary Club, and the Greater Waco Chamber of Commerce. She is a loyal volunteer, in her words, "Staying power is important. If I really believe in an organization and enjoy it, I stick with it. It doesn't matter what level. I just want to help any way I can."
RoseMary was one of 37 outstanding women nominated. The ATHENA Leadership Award was presented to Mrs. Mayes at the 2019 Leading Waco Women Serving Summit on November 7, 2019.
Congratulations to the recipient of the inaugural ATHENA Leadership Award, Jill McCall!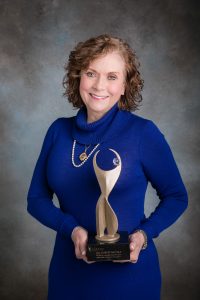 We are pleased to present the inaugural recipient of Waco's very first ATHENA Leadership Award, Jill McCall, executive director at Compassion Ministries. This award was given on Thursday, November 1 at the Leading Waco Women Summit.
Jill has worked at Compassion Ministries for nearly 20 years serving homeless and underserved families. A native, lifelong resident of Waco, Jill graduated from Baylor University with a Bachelor of Science in 1975. After college, she worked for McLennan County as a juvenile probation officer for several years before leaving the workforce to raise her children.
Mrs. McCall has been actively involved in many organizations over the years, including the Junior League of Waco and the Waco Girls and Boys Club. She also served on the Waco ISD School Board from 1990 through 1996, eventually becoming president of the board. When she joined the team at Compassion Ministries in 1999, she saw the difficulty in ending the "cycle of homelessness," where struggling families repeatedly became homeless. She developed the current program to change the lives of those families facing homelessness. This transitional housing program for homeless families is an invaluable resource in Central Texas, and its success is due in large part to her leadership and vision. Hundreds of Central Texas parents have created stable home environments for their children and have been able to obtain and keep full-time employment and permanent housing, and thousands of children have a more stable home environment because of the training their parents have received.
ATHENA Leadership Award Nomination Information
Each summer, nominations open for potential candidates. After the nomination period closes, the Greater Waco Chamber of Commerce will form a Review and Recommendation Committee comprised of community leaders to review and score the nominations based on ATHENA International guidelines. The Review and Recommendation Committee will submit its scores and recommendations to the Executive Committee of the Greater Waco Chamber of Commerce Board of Directors for consideration and action.  Nominations are scored solely on the information provided by the nominator. The top four nominees will be announced as finalists, but the ATHENA Leadership award recipient will not be announced until the Serving Summit in November.
Nomination Requirements:
ATHENA Leadership award nominees must meet each of the following three criteria:
Demonstrate excellence, creativity and initiative in their business or profession
Provide valuable service to improve the quality of life for others in their community
Actively assist women in achieving their full leadership potential
Nominee Qualifications:
ATHENA Leadership award Nominees may represent either the profit or not-for-profit sector.
Previous ATHENA Leadership award Recipients are not eligible for nomination, however, past nominees may be nominated again.
There is no minimum or maximum age qualification that must be met by ATHENA Leadership award Nominees.