By Philip A. Patterson, FACHE, President of Providence Healthcare Network in Waco, TX
For more than 114 years, Providence Healthcare Network has been deeply committed to improving the health and wellness of the Waco community. The first hospital founded in Waco, Providence continues to demonstrate strong roots through our mission to serve everyone, with special attention to the poor and most vulnerable. By offering a comprehensive continuum of care to the Greater Waco community and as one of the largest employers in Waco, Providence is committed to bringing excellent healthcare services to Waco and the surrounding communities.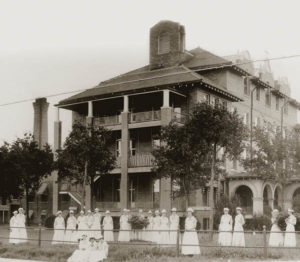 Providence's roots in Waco go back to 1904 when a local physician and several local businessmen asked the Daughters of Charity to build a hospital. Founded in the 17th century by St. Vincent de Paul and St. Louise de Marillac, the Daughters dedicated themselves to expressing God's love through serving the sick, poor and vulnerable. Knowing there were no funds available to facilitate this request, the Daughters responded, "Providence will have to provide." God did provide, and Providence Sanitarium opened in 1905 as Waco's first hospital.
Today, Providence remains a Catholic health ministry dedicated to spiritually-centered holistic care which strives to sustain and improve the health of individuals and the community. Our commitment to sustaining the health of our community also aligns with our mission to care for the sick and people living in poverty. Last year, Ascension's Texas Ministry Market, which includes Seton Hospitals in the Austin area, provided over $250 million in charity care.
Through Ascension, the largest nonprofit health system in the U.S and the world's largest Catholic health system, Providence has the resources and national backing to reinvent the future of healthcare in Waco. Last year, Providence rebranded with Ascension as part of a national effort to improve the care we provide by bringing the knowledge and resources of thousands of medical professionals across the country to our own physicians and caregivers. Working together with Ascension, patients will continue to receive the quality care they know and trust with the added strength of a national network.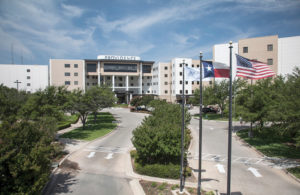 As our community continues to grow, Providence is investing in the future of healthcare in Waco through more convenient and innovative health solutions. Consumers are looking for healthcare solutions at the right place at the right time for an affordable cost. As a part of Ascension's Texas Ministry Market, Providence is addressing these growing and dynamic needs to determine the best ways to provide a convenient, affordable and effective healthcare options in Waco and throughout Central Texas.
From our historic roots to our ongoing commitment to identify and address healthcare needs in Waco, we are dedicated to reinventing and investing in services to serve our community.
Care Close to Home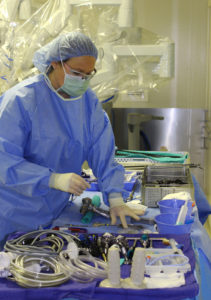 Taking care of our patients, associates, family and friends is our top priority at Providence. Every day, 1,600 people trust their care to Providence and we continue to make strides as a community healthcare network dedicated to providing exceptional, coordinated care for everyone at one of our many Providence locations. Our full continuum of care includes Providence Health Center, DePaul Center, Providence Village, Providence Home Care, Providence Hospice and Providence Health Alliance, which includes 23 total clinics offering access to care through Express Care, Family Medicine, Internal Medicine, Pediatrics and specialty care clinics.
Located on the I-35 corridor between Dallas and Austin, we are committed to bringing more healthcare services to Waco, from beginning of life to the end of life and every moment in between to ensure quality care is accessible and cost-effective. We understand that our community craves world-class care close to home, and we are confident that new developments and optimized services at Providence will help serve these needs.
Reinventing Healthcare to Serve Waco
Providence has a long tradition of firsts in the Waco community, including the first open-heart surgery, first cardiac stent procedure, opening of the first comprehensive stroke center, first psychiatric clinic to the first robotic surgery and 3D mammography technology, to name a few. Today, new developments in cardiac care, women's and children's services and more are paving the way for the future of healthcare in Waco.
Waco's Heart Hospital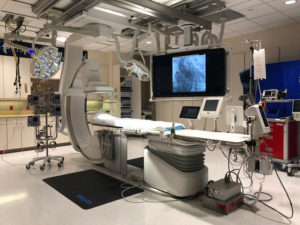 Known as Waco's Heart Hospital, Providence has long been committed to improving the heart health of Central Texans. Generations of patients have entrusted their heart health to Providence's superior team of professionals who truly take the health of their patients to heart. This fall, Providence is excited to introduce developments in cardiac care, including a new Structural Heart Program.
The program includes a structural heart room, EP and Cath lab upgrades, and ability to offer a wide range of procedures including Transcatheter Aortic Valve Replacement (TAVR), which offers many benefits for heart patients with critical aortic stenosis, or severe narrowing of a heart valve. TAVR is an innovative procedure that places a new aortic valve into the heart via a catheter inserted through an incision in the groin area and offers much shorter recovery times.
Thanks to a strategic partnership with Waco Cardiology Associates to provide these services, patients can now receive high acuity cardiac care close to home at Providence.
Care for Our Women and Children
In addition to new developments in cardiac care, Providence continuously works to increase our women's and children's services to Waco.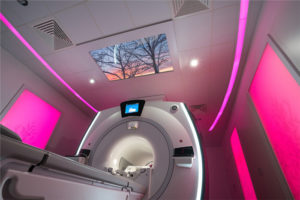 At our Providence Breast Health Center, we offer advanced digital mammography and diagnosis in a convenient location with a spa-like atmosphere to help serve women when they are at their most vulnerable. From 3D mammogram screenings and Swedish massage therapy to our Pink Partner Fund provided by donations through Providence Foundation, which provides mammograms to women who cannot afford them, our Breast Health Center exemplifies our commitment to compassion and excellence. At the Center, we see firsthand how care from passionate associates paired with state-of-the-art equipment helps women beat breast cancer.
Our Waco Center for Women's Health has also expanded to include a Midwifery clinic located on the Health Center campus with Certified-Nurse Midwives (CNM) which allows women to have the midwifery experience in the safety of a hospital environment. Our CNMs are with women through all phases of life, not just during the event of childbirth. CNMs complete well-woman exams, primary care and perhaps most importantly, recognize what's normal and what's not normal for patients. If an abnormality is indicated by a CNM, they refer the patient to a physician.
Providence partners with Dell Children's Medical Center of Central Texas to offer advanced pediatric-focused emergency care in Waco. Infants, children and teens can now visit the ER at Providence and receive high-quality care based on this special relationship with Dell Children's in Austin.
Providence staff is trained on the latest in pediatric protocols to help children get well and back home as quickly as possible. Sometimes, children need more intensive services. Telemedicine tools allow Providence ER staff to directly connect with Dell Children's emergency medicine doctors and hospitalists to coordinate seamless transfers when needed.
Serving Waco and its Business Community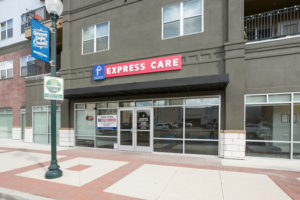 Serving Waco means serving the business community. As one of the largest employers in Waco, caring for and maintaining our long-standing relationship with the business community is important to us and crucial to the strategic decisions we make to help keep Waco healthy and a wonderful place to live. Providence has been a member of the Greater Waco Chamber of Commerce for 78 years, and we strive to listen to the community and act by investing in quality healthcare.
As we grow, our resources are increasing access to quality care for businesses and their employees. In addition to numerous community outreach initiatives throughout the year, our Providence Express Care Downtown offers anytime appointments to support the needs of the growing number of downtown businesses.
With more than 2,300 employees at Providence, and 150,000 associates at Ascension nationwide, our dedication to Waco and Central Texas is here to stay. From our historical roots, to new investments, like our new Lacy Lakeview Medical Plaza that includes family health, pediatrics, Express Care and rehabilitative and radiology services, to plans for a future clinic in Hewitt, we look forward to growth and expansion.
As we celebrate almost 115 years and the journey that has brought us to where we are today, we renew our vow to our community that we will never stray from the foundation on which Providence was built. We are blessed with a rich history and it is a story worth sharing. For as St. Vincent DePaul once said, "God has honored us in our Call to Serve."