In the 1990s, a group came together and formed the Area Industry Managers (AIM) committee, an amalgamation of greater Waco industry businesses who recognized the rapid development of advanced manufacturing and wanted to work together to keep Waco ahead of the curve. The Economic Development team at the Greater Waco Chamber is committed to making Greater Waco the community of choice for business, and AIM helps support and contribute to that mission by providing a forum for Greater Waco's major industrial employers to share best practices, discuss relevant legislative policies, and serve as a voice for advanced manufacturers and distributors in the region.
Made up of 60 members, AIM's key objective is to foster open communication between major employers in McLennan County. Quarterly meetings are hosted at different member facilities to provide a peer-group setting that allows for discussion of common issues and trends in the manufacturing sector. Some of the recent meetings have covered topics like Innovation in Business, Employee Recognition Programs, Renewable Incentives, and Work/Life Balance and Importance of Understanding Millennials.
Allergan
Allergan plc, headquartered in Dublin, Ireland, is a bold, global pharmaceutical company. Allergan is focused on developing, manufacturing and commercializing branded pharmaceutical, device, biologic, surgical and regenerative medicine products for patients around the world. Allergan employs more than 17,000 people around the globe, including at their plant here in Waco. Learn more at Allergan.com.
Domtar Personal Care
Domtar makes products that people around the world rely on every day. They transform sustainable wood fibers into a wide variety of everyday products, from copy paper to adult and baby diapers. Domtar is the largest manufacturer of uncoated freesheet in North America and one of the largest producers of absorbent hygiene products in the world. Learn more at DomtarPersonalCare.com.
Manitou Group
For over 50 years, Manitou Group has been manufacturing material handling equipment. They employ 170 people in Waco who are involved in the production and modification of forklifts. Recently, a $283,000 grant was awarded by the Texas Workforce Commission's Skills Development Fund to the Manitou Group and Texas State Technical College. This will not only help improve workers skills, but also help create jobs. Find out more at Manitou.com.
Packless Industries
Packless Industries is a leading manufacturer of heat transfer and other metal hose products committed to providing the air conditioning, heating and refrigeration industries with the highest quality fluid heat transfer parts in 1933. Based in Waco, Packless products are used across the world, with customers ranging from the giants of American industry to the small, one-man business. Learn more at Packless.com.
TYMCO
From small beginnings, TYMCO® now has an international network of dealers with representatives on every major continent. TYMCO employs more than 150 people in a state-of-the-art facility in Waco. They first introduced and perfected the Regenerative Air Sweeper that is the standard by which all air sweepers are measured today. TYMCO maximizes output while minimizing overhead, which translates to economically priced equipment. TYMCO, a family owned and day-to-day managed company, dominates a market traditionally controlled by corporate conglomerates. Learn more at TYMCO.com.
Versalift
Versalift is a leading manufacturer of bucket trucks, digger derricks, cable placers and high reach aerial lifts for power generation, transmission and distribution, telecommunication, sign, light, and traffic and tree care industries. Orders begin as raw material and a build list, and transform into one of the safest, most reliable and highest quality bucket trucks in the world, delivered with the promise that they are safe, reliable and will stand the test of time. Based in Waco, Versalift's family of distributors spans North America, Latin America and Europe. Learn more at Versalift.com.
AIM Member Businesses: 
Allergan
Arconic Fastening Systems
Associated Hygienic Products
Axion Structural Innovations
Behlen Country
Capstone Mechanical
Caterpillar Inc.
Central Texas Iron Works
Clarke Products, Inc.
Coca-Cola North America
Commercial Metals Company
Croft Automation
Darr Equipment
Dean Foods
Domtar Personal Care
Elixir Industries
Englander dZignPak, LLC
Evans Enterprises
Ferguson Enterprises, Inc.
First Title Company of Waco
Hobbs Bonded Fiber
HOTEC (Heart of Texas Electric Co-op)
Imperial Woodworks, Inc.
Industrial Rigging Service of Central Texas, Inc.
Jobes Company
Kingsdown, Inc.
L-3 Technologies
Lehigh Cement Co.
Manitou Americas
MarathonNorco Aerospace
Mars Wrigley Confectionery
Merrick Engineering, Inc.
Oldcastle Materials, Inc.
Owens-Illinois
Packaging Corporation of America
Packless Industries
Patrick Industries, Inc.
Pilgrim's
Polyglass USA, Inc.
Romark Logistics of Texas
Sanderson Farms, Inc.
SC2 Services, Inc.
Sherwin-Williams Co.
Shipp Belting Company
Sonoco
SpaceX
Spectrum
Spenco Footwear
Sturdisteel
Swan Products, LLC
Time Manufacturing Co.
Tractor Supply Co.
Trane
TransTech Fabrication, LLC
Turner Manufacturing
TYMCO, Inc.
VanTran Industries, Inc.
Versalift Southwest
Vossloh Fastening Systems
Waco Composites, Ltd.
Waco ISD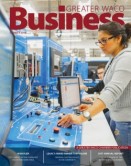 Check out this edition of the Greater Waco Business magazine online,
featuring articles all about advanced manufacturing in Waco, new
Chamber members, member news and more!