Article by Whitney Richter, Office of the Vice Provost for Research, Baylor University, published in the second quarter edition of the Greater Waco Business magazine. 
When the Great Depression of the 1930s dethroned King Cotton as the powerhouse of the Waco economy, the city's developing manufacturing industry helped carry it through the lean years that followed.
Today, Greater Waco is home to a robust manufacturing sector that spans the aerospace, heavy equipment, structural fastener, glass and composite materials, packaging, housing, transportation, consumer goods, food and beverage industries and numerous others.
In Greater Waco, more and more companies are turning toward advanced manufacturing — a business concept that capitalizes on non-traditional, newly developed technologies. While the smartest companies have always kept up with new developments, advanced manufacturing requires a higher level of attention to today's complex and rapidly changing technological landscape. It can be a difficult, expensive process, but Greater Waco-area companies have something of an advantage: many of the most innovative technologies and processes to support advanced manufacturing are being developed right in their own backyard.
BRIC: An Innovation for Innovation 
Since its January 2013 opening, the BRIC — Baylor Research and Innovation Collaborative — has provided a uniquely conceived environment for the genesis, cultivation and development of new ideas, technologies and techniques, all underpinned by the BRIC's five foundational pillars: fundamental and applied research, industry collaboration, business acceleration and incubation, workforce development and STEM educational outreach.
Fundamental and Applied Research
BRIC researchers are experts in an array of scientific, technological and mathematical fields of inquiry. And the environment in which they work — with full-featured laboratories, microgravity drop tower, clean rooms, testing facilities, and high-performance computing resources — is specifically designed to encourage the interdisciplinary and multidisciplinary exchange of ideas. One of the natural outcomes of this combination is the discovery of new knowledge, innovative products and improved processes that help support advanced manufacturing. Indeed, the first patent to emerge from BRIC-industry collaborative research was a completely new, fieldable, non-destructive process for determining the integrity of structural aircraft components made of composite materials for aerospace giant L3 Technologies.
Industry Collaboration
L3 Technologies was the first company to tap into the BRIC's unique repository of resources for innovation. In just five years, the list of BRIC industry partners has grown to seven with over 150 other corporations and organizations, both local and national, exploring the possibility of teaming with the BRIC.
In addition to L3 Technologies, current BRIC research industry partners include technology innovator Birkeland Current, Structural Health Data Systems, Education Service Center Region 12, educational architecture firm Huckabee, Inc., aerospace technology firm Delta G Design, and the most recent addition, ViZiv Technologies, a leader in electrical distribution and management.
As they grow in number and diversity, BRIC research industry partners are proving to be synergistic resources themselves, each bringing with them specialized expertise that can provide support to Baylor research or other BRIC industry partners' research and product innovation. Other companies looking to create a new invention or revolutionize a product or process can do so through sponsored research with Baylor and the BRIC.
Business Incubation, Acceleration and Commercialization
Offering the resources and expertise of faculty and students from Baylor's Hankamer School of Business, LAUNCH, the BRIC's in-house accelerator and incubator for technology-based businesses provides crucial guidance to start-up and existing business owners in moving their companies and products into the marketplace. While LAUNCH's primary function is commercialization of technologies developed by Baylor researchers, the same resources, infrastructure and services are routinely available to and used by BRIC research industry partners and local entrepreneurs.
The BRIC faculty and staff have assisted various companies to develop ideas from inception to formation to commercialization, including equine therapy simulation company, Chariot Innovations, Higher Education Innovation (HEI), Peak Nano Systems, College Choice Today and Birkeland Current's most recent spin-off company, Sovrin IoT.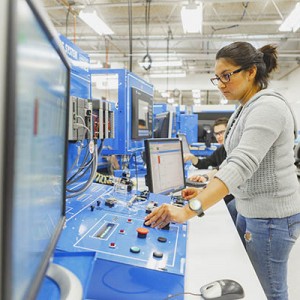 Workforce Development
According to a report by economic development consulting firm Camoin Associates published in the December 2014 issue of Expansion Solutions magazine,
"One of the most important drivers for advanced manufacturing businesses is the availability of a skilled workforce. In some industries, workers can be trained to perform duties on the job. Generally, advanced manufacturing is not one of those industries. The integration of technology and advanced machinery diminishes the need for "unskilled" workers and increases the reliance on workers with the sophisticated skills required to operate the equipment. Advanced manufacturing training courses and programs in community colleges, technical schools, and even K-12 education systems are essential to supporting growth in the advanced manufacturing sector."
With 45,000-square-feet of dedicated instructional space in the BRIC, Texas State Technical College, the BRIC's workforce training partner, provides rapid-response, transformative workforce development closely tailored to the needs of Greater Waco and Texas industries.
For more than 50 years, TSTC has anticipated the workforce needs of Texas industries with effective training programs for evolving and emerging technologies such as laser electro-optics, robotics, and biomedical and aerospace technologies. The collaboration between TSTC and Baylor in workforce development is clearly having an impact as shown by the number of TSTC graduates who, working with Baylor faculty and graduate student researchers, are initially trained in conducting research for BRIC industry partners and then go on to become full-time employees of those firms.
STEM Educational Outreach
Long-term viability and sustainability of any technology-based economy is reliant on cultivating the next generation of students to fill the ranks of scientists, engineers, mathematicians and other professionals essential to the development of new products and processes. The BRIC educational research and outreach programs are designed to encourage students from kindergarten through high school to choose and persist in a career path in a STEM discipline — science, technology, engineering or mathematics.
Baylor faculty, staff and graduate students are working with Education Service Center (ESC) Region 12 and school architect and educational environment designer Huckabee, Inc. to evaluate the impact of new classroom furnishings and arrangements on student engagement in the classroom. The success of this collaborative effort is reflected in the professional development that supports teachers as they transition their classrooms into student-centered active learning environments. Education specialists from ESC Region 12, the BRIC-based Center for Astrophysics, Space Physics and Engineering Research (CASPER), and Baylor School of Education engage in research and directly support STEM teachers through the creation of an instructional and professional development program that will introduce local students to the phenomenon of microgravity (1.5 seconds) using the BRIC's new state-of-the-art 49-foot, research-grade drop tower. Within the BRIC, students will also get a close-up view of the American space program by touring the BRIC's $6 million collection of NASA artifacts from the Apollo and Space Shuttle eras.
Additionally, each year undergraduate students spend the summer in the BRIC conducting research with Baylor faculty while supported by the National Science Foundation, NASA and other funding agencies. This program places the students alongside Baylor graduate students, where they conduct research, compile data, and reveal their findings in presentations at science conferences.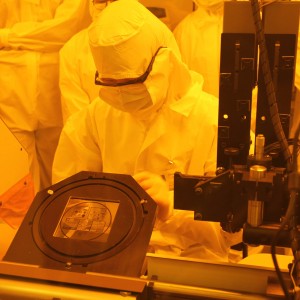 A Resource of Growing Importance to the Greater Waco Community
Beyond its primary function as a 330,000-square-foot research and development facility, with its convenient location, abundant parking, collection of Karl Umlauf industrial-themed art, and attractive, well-equipped meeting rooms, the BRIC has become increasingly valuable as a meeting venue for scientific, professional and civic events of all kinds. In the fiscal year spanning 2016-17, the BRIC hosted over 750 events and tours and over 15,000 visitors. According to estimates by the Association of University Research Parks the impact of the BRIC to the local economy was over $34 million in 2017 alone, which equates to a 14 percent increase over 2016 and an 82 percent increase since 2014.
Through its international speaker series BRIC Foundations: Perspectives from Leaders in Innovation, the BRIC provides a public forum for the presentation of timely ideas of importance to the Greater Waco business and manufacturing community by foremost experts in fields ranging from physics, chemistry and workforce development to artificial intelligence, entrepreneurship and education.
In his November 2014 BRIC Foundations presentation, Mr. Paul Evans, P.E., Director of San Antonio-based Southwest Research Institute's Manufacturing Systems Department, spoke of the continuing and growing importance of manufacturing to the U.S. economy and specifically addressed advanced manufacturing:
"If you've been in any U.S. manufacturing facilities recently you'll find a lot of advanced manufacturing activities going on. Gone are the days when we think about bringing back some of the kinds of highly repetitive manual manufacturing tasks that have been off-shored… Manufacturing has a higher multiplier effect for every dollar invested than any other sector. I don't think many people realize that. If you want to start generating economic benefits for your region, you want to put in a manufacturing plant."
As new advanced manufacturing companies form locally and corporations already well-versed in the practice come to the area, and as the advanced manufacturing movement continues to expand in established Greater Waco industries, the BRIC's capacity to foster and facilitate the success of these businesses will keep pace, helping to ensure a flourishing and vibrant community.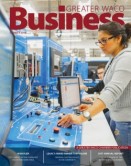 Check out this edition of the Greater Waco Business magazine online,
featuring articles all about advanced manufacturing in Waco, new
Chamber members, member news and more!