McLENNAN COUNTY, Texas – Cypress Creek Renewables announces, in partnership with McLennan County and the Greater Waco Chamber of Commerce, a $13,000,000 solar farm project in McLennan County near Bruceville-Eddy.
The 88-acre, 13 megawatt solar farm will generate enough power to support the energy needs of 1,000 homes annually, further supporting Central Texas' growth and additional electricity demands. Construction is expected to begin in the fourth quarter of 2017, completing within a six-month timeline. While under construction, the project is expected to support 100 related jobs. Cypress Creek is expected to utilize a significant number of local contractors to establish the site.
"Cypress Creek is thrilled to be making an important investment in the local economy of McLennan County, Texas. Our company is committed to helping grow the economies of local communities by providing affordable renewable energy for homes and businesses. We greatly appreciate the cooperation of our partnering utilities and the local leaders who helped make this project possible." -Cypress Creek Renewables, CEO, Matthew McGovern
"The investment that Cypress Creek has chosen to make in McLennan County further reveals that our county appeals to a variety of businesses. Diversity in our tax base is important in that we have less risk if segments of our local economy take economic downturns. Additionally, Cypress Creek provides diversity in power generation sources. It's a perfect fit for us." – McLennan County, Judge Scott Felton
The investment by Cypress Creek marks McLennan County's first solar farm. The County supported the project with a five-year real property tax abatement. The typical life span of a solar farm is 30 years. Cypress Creek is evaluating other properties in the County for additional investment to support the growing population of Greater Waco and Central Texas in a sustainable way.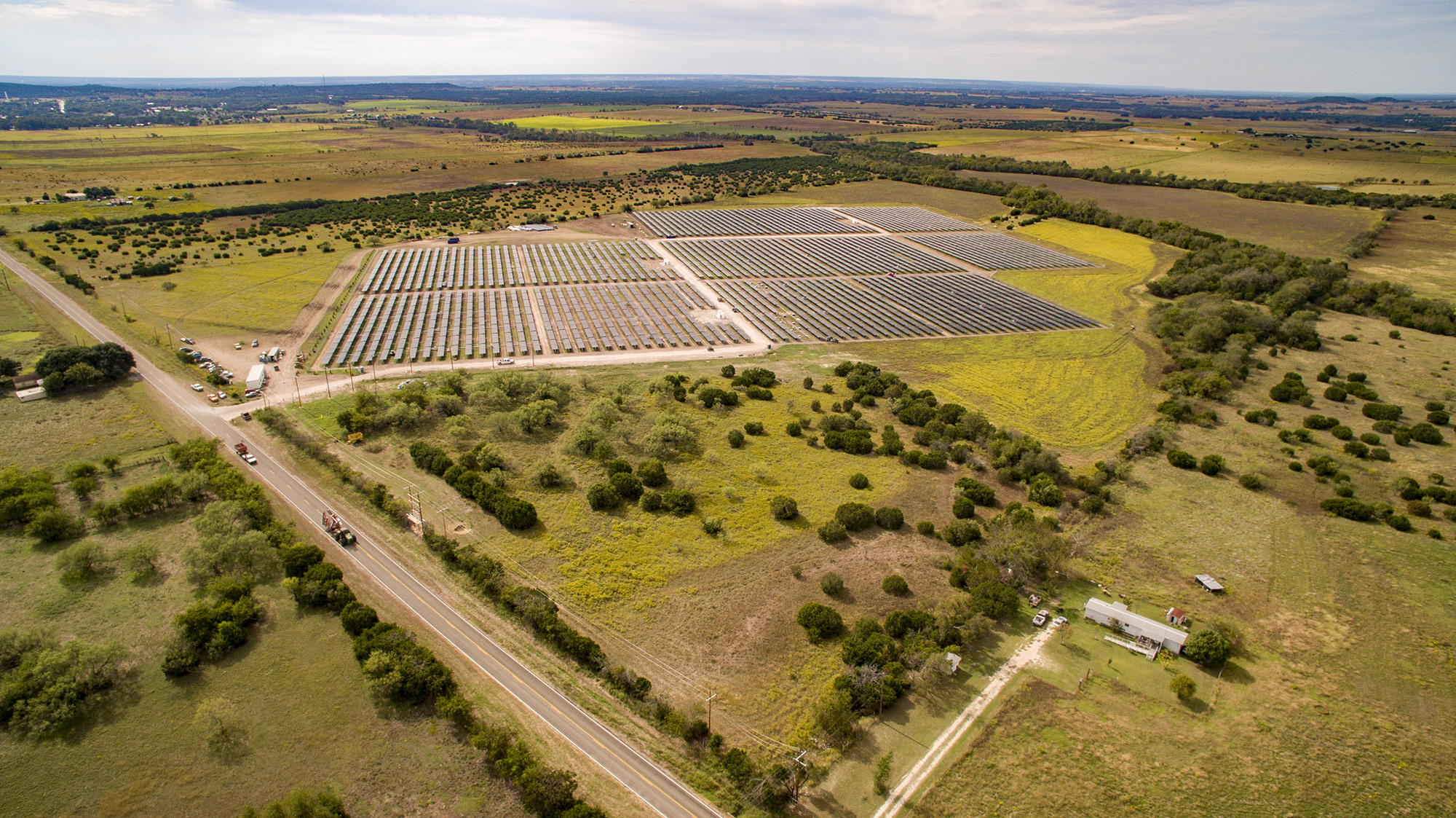 SAMPLE Development of Project
###
About the Cypress Creek Renewables:
Cypress Creek Renewables (CCR) is one the biggest solar developers in the US. Founded in 2014, CCR's integrated platform develops, builds, finances and operates local solar farms, spreading clean, affordable energy across the country. To do this, we work in close partnership with landowners, local communities, regulators, lenders and consumers (utilities, businesses and individuals) to bring the highest-quality solar assets online. We have operating facilities in 8 states and are actively developing in more than a dozen. For more information about Cypress Creek Renewables, visit https://ccrenew.com
About the Greater Waco Chamber:
Greater Waco, located in McLennan County, Texas, along the Interstate 35 corridor is home to more than 14,000 companies, 241,505 people and a regional workforce of approximately 320,000. Greater Waco's centralized location, with access to Dallas and Austin (90 miles) and Houston and San Antonio (185 miles), makes it a regional center of economic activity and an ideal community for businesses and individuals.
Since 2006, Greater Waco has seen more than $1.3 billion in new industrial capital investments and $596 million in riverfront and downtown development, making it an attractive place to live, work and play. Greater Waco is landscaped with top-rated higher educational institutions, including Baylor University, McLennan Community College, Texas State Technical College -Waco, Tarleton State University and Texas Tech University.
The Greater Waco Chamber leads economic development efforts for the area focusing on talent development and targeting five key industries for growth: Advanced Manufacturing, Aerospace and Defense, Health Care, Professional and Financial Services and Supply Chain Management.
For more information, visit WacoChamber.com.
This makes even larger orders with many alternative shirts, sweatshirts, hats, and polos a https://www.football-shirtssale.com/ straightforward process for coaches as it offers every team member the opportunity to place of their two kids replica football kits uk cents and have their shirt customized printed their approach (e. g. with their monogram, mascot or picture). So, if you want to get this wonderful picture about Lamp Thought Icon Png Luxury 13 Sporty football football Icons Liverpool White Away Football Shirt 2019/2020 Freebie Pinterest, simply click save button to save lots of this photographs to your laptop.
So go forward and order your custom soccer hoodies , girls Liverpool Black Goalkeeper Shirt 2019/2020 Kid kits(top+shorts) football T-shirts, Referee Tee and customized womens shirts and rock on your match. We will work with you carefully to give you the right set of football designs for your Liverpool Black Goalkeeper Football Shorts 2019/2020 group and then ship the order to our manufacturer. This glorious image collections United Kingdom Cheap Football Shirts shop:https://www.football-shirtssale.com/ about Lamp Thought Icon Png Luxurious 13 Sporty football Football Icons Freebie Pinterest is on the market to download.
For many who want fully bespoke customized football shirts, we also present a 'design your Liverpool Black Goalkeeper Football Shirt 2019/2020 individual' tool that will help you personalise your shirts and make them utterly distinctive. Designing customized fan shirts Juventus Home Football Shirt 2018/2019 aren't only for youth or high school groups, many fantasy soccer enthusiasts are searching for methods to show off their digital staff spirit.
One of the best and widest number of Navy t-shirts is the Liverpool White Football shirt 2019/2020 Kid kits(top+shorts) official Navy Store. You'll find that our touch soccer shirts, contact football shirts , touch football shorts , contact football singlets and touch soccer uniforms work great for winter leagues, corporate groups, school teams, and in addition on a regular Liverpool home 2019/2020 Kid kits(top+shorts) basis wear for the individual. Allow us to worry about your soccer shirts solution so that you simply and cheap premier league football kits your workforce can consider the challenges ahead.
There are 74,044 customized football shirts suppliers, primarily Leaked Photo Tottenham Hotspur Away Football Shirt 2019/2020 located in Asia. Whether or not you desire a printed emblem or an embroidered badge, design yourself a custom soccer kit and those soccer tournaments will fly by that cheap Paris Saint Germain football shirts little bit easier. I managed to supply some glorious fabric from Sugini manufacturing unit in Thailand, who now manufacture all my custom football shirts and sportswear.
Our custom soccer uniforms are made with Leaked Photo Tottenham Hotspur Home Football Shirt 2019/2020 premium fabrics and can feature any design you want. Save your designs and shirt or shirt templates, share Paris Saint Germain Home Football Shirt 2019/2020 them along with your crew mates and let them vote on their favourite uniforms (or sweatshirts, or polos, or jackets or…), colours and designs. Remind your league that humility just isn't an possibility and cheap arsenal shirt signify your fantasy soccer team the proper method with a personalized shirt from Fantasy Champs.