WACO, Texas — The Greater Waco Chamber of Commerce announces its Leadership Waco Class XXXIV participants. The Leadership Waco program identifies potential community leaders and provides them a platform to learn about various facets of the Greater Waco area.
The Leadership Waco program, starting in August each year, is a 10-month leadership development experience where participants gain crucial knowledge around the Greater Waco topics of: History Day, Serving Others, We the People, Economic Development, Tools for Leaders, Healthcare, Education, Tourism and Visions for the Future. Leadership Waco offers structured learning opportunities in an atmosphere that stimulates creative thinking and encourages participants to work together to utilize both new and proven tools to meet the challenges of today and to prepare for tomorrow.
Upon the successful completion of the Leadership Waco program, graduates are informed and able to impact community needs through volunteer involvement.
The Greater Waco Chamber is proud to introduce the Leadership Waco Class XXXIV (2017/2018), including:
• Tony Acosta – Douglass Nissan
• John Calaway – Mission Waco
• Lynsey Castillo – La Fiesta Restaurant & Cantina
• Jacob Cates – Community Bank & Trust
• Jill Clements – Baylor Scott & White Medical Center – Hillcrest
• Sydney Cox – Texas Tech University – Waco
• Christopher Dahman – Avila Apartments
• Nick Deaver – American Bank
• Clinton Dennard – Tarleton State University – Waco
• Rene' Duffy – Lamar Advertising
• Eva Gergely – Veterans Affairs
• Keith Kusler – Greater Waco Chamber
• Domingo Lopez – Englander dZignPak
• Keith Maynard – Andrews CPA, PLLC
• Cody Messerall – The Behringer Group, LLC
• Becca McCormack – Refine31
• Clark McCormack – Baylor IMG
• Ashley Norris – Providence Foundation
• Timothy Payne – American-Amicable Life Insurance Company of Texas
• Angela Ragan – Jaynes, Reitmeier, Boyd & Therrell, P.C.
• Joe Rivera – Naman Howell Smith & Lee, PLLC
• Clint Savage – Extraco Banks
• Joel Shields – Scanes & Routh, L.L.P.
• Greg Shropshire – Pattillo Brown & Hill, L.L.P.
• Lori Young – TFNB
Sponsors of the Leadership Waco Class XXXIV, include: Pattillo, Brown & Hill, LLP, Baylor Scott & White Medical Center – Hillcrest, Baylor University and Providence Healthcare Network.
Applications for Leadership Waco Class XXXV become available in March 2018.
For more information about Leadership Waco, please visit: https://wacochamber.com/community/education-leadership/leadership-waco/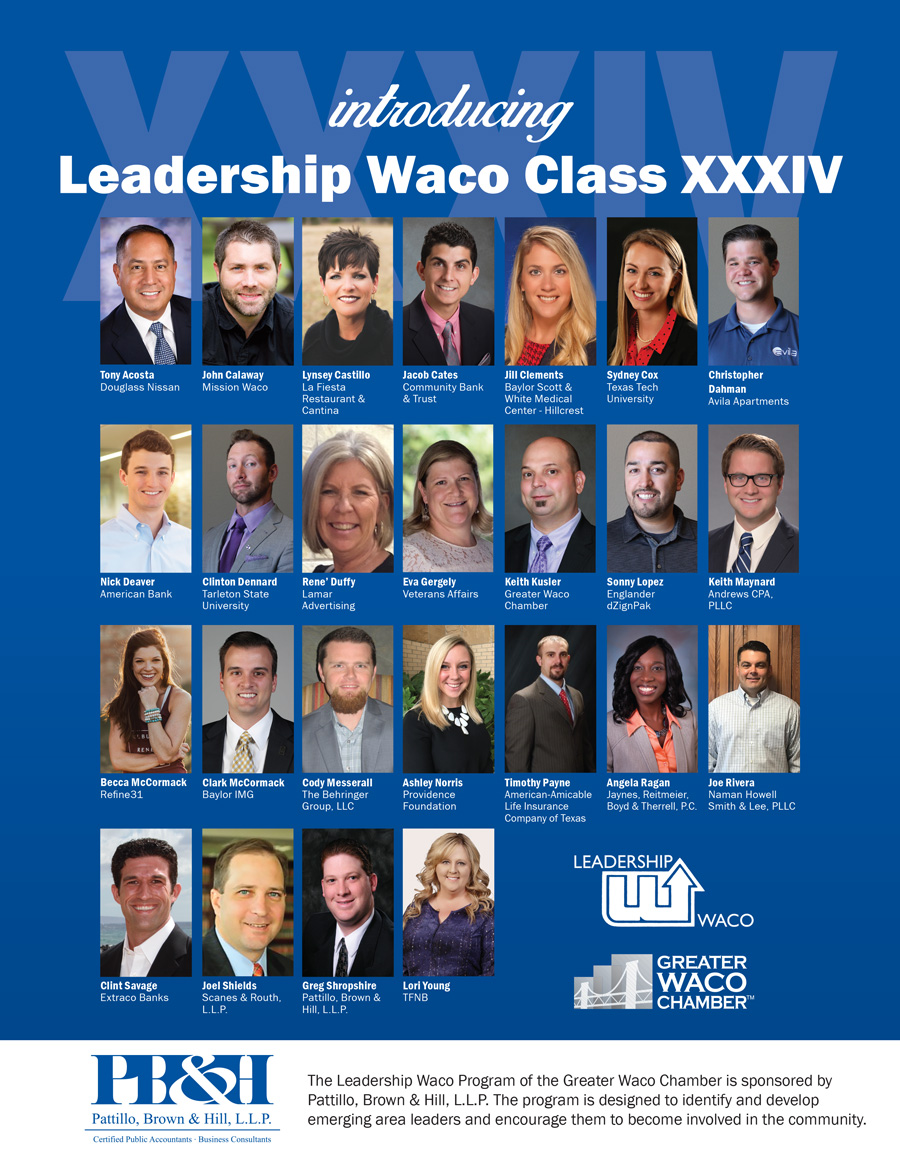 ###
About the Greater Waco Chamber:
Greater Waco, located in McLennan County, Texas, along the Interstate 35 corridor is home to more than 14,000 companies, 241,505 people and a regional workforce of approximately 320,000. Greater Waco's centralized location with access, to Dallas and Austin (90 miles) and Houston and San Antonio (185 miles), make it a regional center of economic activity and an ideal community for businesses and individuals.
Since 2006, Greater Waco has seen more than $1.3 billion in new industrial capital investments and $596 million in riverfront and downtown development, making it an attractive place to live, work and play. Greater Waco is landscaped with top-rated higher educational institutions, including Baylor University, McLennan Community College, Texas State Technical College -Waco, Tarleton State University and Texas Tech University.
The Greater Waco Chamber leads economic development efforts for the area focusing on talent development and targeting five key industries for growth: Advanced Manufacturing, Aerospace and Defense, Health Care, Professional and Financial Services and Supply Chain Management.
For more information, visit WacoChamber.com.