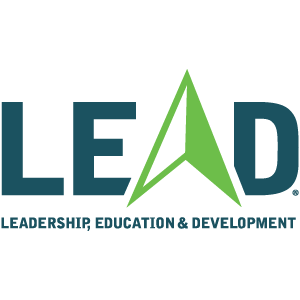 Leadership, Education and Development (LEAD):
Supports the participating schools in the development of students to graduate and pursue higher education.
Exposes students to countless business and networking opportunities.
Improves our community by ensuring that more of our students graduate and contribute to our expanding workforce.
Engages local business support in the development of our students.
Provides opportunities to permanently change a student's life and to improve not only their own success but the success of our community and businesses as well.
The LEAD program is a business and education partnership that pairs high school students from participating schools with business leaders to foster mentoring relationships that educate and expose students to various business fields. By improving the students' knowledge of higher education and potential career paths, they expand their goals for their future. Through this program, the Greater Waco Chamber hopes to motivate these students to graduate high school and pursue higher education, which in turn ensures greater employability and quality of life.
The LEAD program has been around for more than 10 years and has a nearly 100% graduation rate. In addition, we are proud that all students who have pursued some form of higher education. Currently, there are 197 students in the program and 93 mentors.
Participating LEAD Schools
Connally High School
Harmony School of Innovation
La Vega High School
Lorena High School
McGregor High School
Midway High School
Rapoport Academy
Robinson High School
Methodist Children's Home
University High School
Waco High School
West High School
Every year, we are proud to support graduating seniors by offering them exclusive access to scholarships. Students complete an application and go through a rigorous interview process. Since 2010, more than $600,000 in scholarships have been awarded.
LEAD is a great program for anyone who is interested in changing the life trajectory of local students! From becoming a mentor to sponsoring a scholarship or hosting an event, there's something to fit everyone's commitment level.
To continue to add schools and students, we need more mentors! Mentors are typically paired with between two and four sophomores from a participating school and build a relationship with these students until they graduate (and beyond). Each month during the school year, the Chamber plans industry tours and presentations that mentors and mentees may attend. 
LEAD Mentors:
Commit to the development of students with leadership potential who need guidance and encouragement toward the pursuit of higher education and career goals.
Share their expertise and leadership skills while gaining satisfaction by encouraging and assisting in the development of our students.
Make the time (twice monthly during the school year) and commitment (three years) contribute to the lives of our students.
For more information about LEAD or to volunteer, please contact Rachel Martinez at 254-757-5633 or email committee chair, Joe Nesbitt.
Special Thanks to Our Sponsors