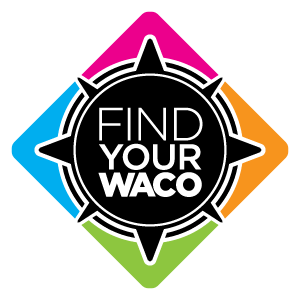 2021 Find Your Waco Life Fair | October 22 | Freedom Fountain | 3 p.m.
Talent development, attraction and recruiting is a core function and focus of the Greater Waco Chamber's Economic Development Team. The Find Your Waco Life Fair was created to connect our community and showcase it as a place for everyone to call home. It features exhibits from some of Waco's best assets, including local flavors, volunteer organizations, local nightlife, real estate and leasing agencies, hobbies and clubs, and more.
Employers can connect with a talent pool from throughout the community, including college students, transitioning military veterans and their spouses, and traditional job seekers.
Attendees can connect to businesses and organizations from across Waco and see why we love Waco.
Everyone is invited to attend -- college students, transitioning military veterans, new and native Wacoans, visitors and job seekers -- there's something for everyone at Find Your Waco! This is a free event.
Find Your Waco targets various talent pools, one specific group is transitioning military soldiers. At this year's Find Your Waco, active duty Fort Hood Soldiers that attend the event on October 22 between 3-6 p.m. will be gifted with a $20 gas card, compliments of H-E-B. We recognize and value the skills sets and leadership attributes our Nation's Heroes possess and we hope to introduce them to career opportunities and welcome them into our community.
(Proof of active duty will be required and cards will be available on a first-come, first-serve basis).
Exhibitor registration is open now.
As an exhibitor, a booth at Find Your Waco creates new business exposure opportunities. Whether you're interested in finding new employees or promoting your company's mission, the Find Your Waco Life Fair will give you access to locals and visitors alike. This is an unparalleled networking opportunity and you don't want to miss out!
Details
Booths will include one table, two chairs and linen.

Electricity will not be provided.
Booth Pricing
Booths may not be split or shared between more than one business and will not be reserved without payment.
A.G. Real Estate & Associates
AAFES - Army & Airforce Exchange Service
Alliance Transportation Group
Andy's Frozen Custard
Ascension Providence
Athletico Physical Therapy
Balcones
Baylor University
Baylor University - Mayborn Museum
BSR Surf Park
Bulldog Auto Detailing
Care Net Pregnancy Center
Cargill
Caritas
Catholic Charities of Central Texas
Christian Women's Job Corps of McLennan County
City of Woodway
Construction Force
Communities In Schools of the Heart of Texas
Creative Waco
Curves of Hewitt
Doc Healthcare
Express Employment Professionals
Extraco Banks
Fallas Automation
First Central Credit Union
First Methodist Waco
Freddie Kish's Complete Car Care Center
Friends for Life
Harmony Science Academy
Heart of Texas Region MHMR
Heart of Texas Workforce Solutions
Hobbs Bonded Fibers
Hole in the Roof
Howmet Fastening Systems
Impact Research Institute
Interim Homecare-Hospice
Jack of All Trades Personnel Services, Inc.
Johnson Roofing, Inc.
Kelly, Realtors
Keurig Dr Pepper
KWKT Fox 44
KWTX-TV News Channel 10
L3Harris
Laminate Technologies
Longhorn Council, Boy Scouts of America
M. Lipsitz & Co., Ltd.
Magnolia
Mars Wrigley
McLennan Community College
McLennan County
Panera Bread
Prosper Waco
Provizion Global
Remedy Intelligent Staffing
Sanderson Farms
SC2, Inc.
Sherwin Williams
SimpleBills
Southern Careers Institute
Swan Products LLC
Terracon Consultants, Inc
Texas Department of Transportation
Texas Tech University at Waco
The City of Waco
The Delaney at Lake Waco
The Harrell Team at Keller Williams
The Henry Downs Chapter
TopGolf
Total Placement Staffing
United Way of Waco-McLennan County
Waco Junior League
Waco Texas Sports and Social Club
Waco Young Professionals
Women In Aviation Central Texas
YMCA of Central Texas