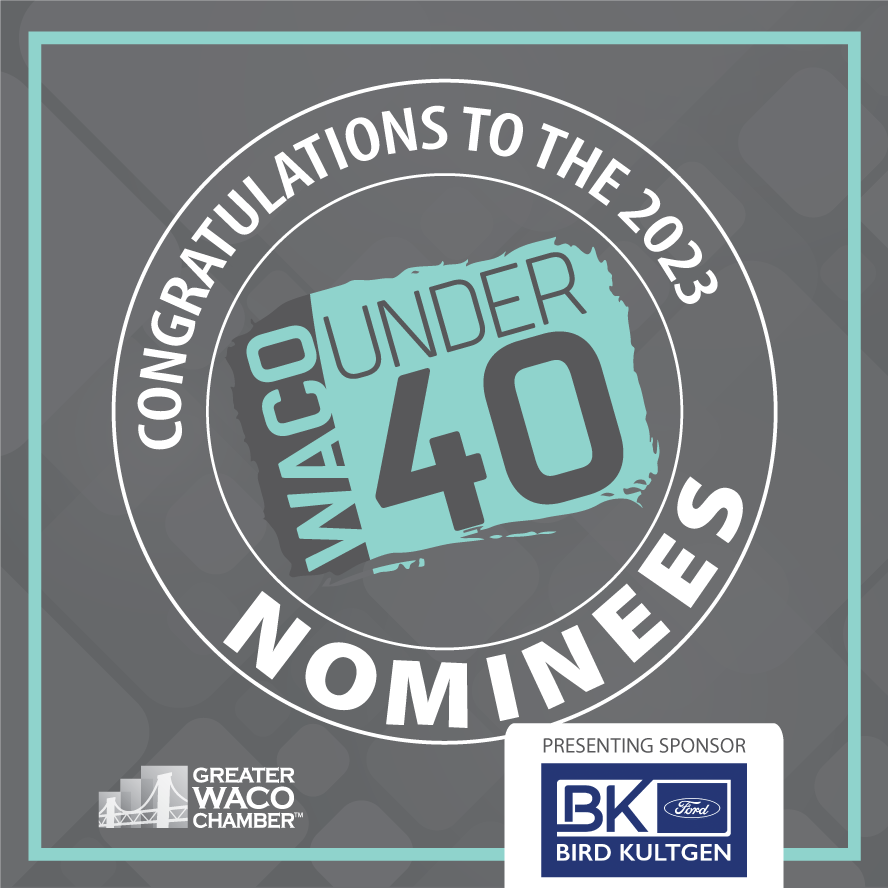 The Greater Waco Chamber of Commerce is pleased to announce the Waco Under 40 nominees! Waco Under 40 is a rare opportunity for the best and brightest from a diverse group of professions and causes to gather and receive much-deserved recognition. The program recognizes rising young leaders who have distinguished themselves in their careers and in the community.
Nominees are:
Kimberlee Adkins, The Historic of West
James Beard, JRBT
Paige Beasley, Community Bank & Trust
Amber Bolden, SWEEP
Connor Buchanan, McCreary Veselka Bragg & Allen PC
Jaja Chen, Cha Community
Oscar Chombo, Cadence Bank
Cameron Curry, Extraco Banks
Cari Detlefsen, Waco ISD – Mountainview Elementary School
Cory Dickman, Rogue Media Network & Triple Win Waco
Tyler Ellis, Rapoport Academy Public School
Corbin Gatlin, Brazos Oral and Facial Surgery
Courtney Gilmore, Glazer's Beer & Beverage
Cameron Gomez, Century 21, Icon
Lynsie Gomez, City of Woodway
Rehan Halani, Le Danni Fine Jewelers
Cinthia Hernandez, Extraco Banks
Cecy Holubec, Photography by Cecy
Jacob Kehoe, Startup Waco
Courtney Kolar, Neighborly
Abbey Mackey, Extraco Banks
Jermaine Malcolm, Student-Athlete.co
Matt McGovern, KWKT – FOX 44
Karen Melton, Baylor University
John Morkovsky, Blanchard & Thomas, PLLC
Andrew Oestreich, Landmark Chiropractic
Jonathan Olvera, RE/MAX Centex, REALTORS
Ragan Patterson, ActionCOACH Mid-Central Texas
Angela Plafcan, Hilton/Courtyard Waco
Christopher Qualls, McLennan Community College Foundation
Sarah Ragsdale, Texas State Technical College
Mark Reitmeier, Community Bank & Trust
Daniela Rodriguez, Turner Brothers Real Estate
Luz Yesica Rodriguez, Waco Police Department
Krista Rosas, Extraco Banks
Aubrey Smith, Compleo Physical Therapy & Wellness
Clay Springer, Sturdisteel & Triple Win Waco
Serena Teakell-Rigby, YOUtopia Essentials
Victoria Vasquez, Waco ISD
Jackie Villarreal, Midway ISD – Spring Valley Elementary
Brittney Wardlaw, BW Consulting Firm & The Relationship Clinic (TRC)
Valerie Willis, Department of Veterans Affairs
Debbie Wright, Cultivate 7Twelve
Josh Wucher, Transformation Waco
David Michael Wyatt, ActionCOACH Mid-Central Texas
Ashley Young, Central National Bank
Nominees represent not only the young leaders who demonstrate a tremendous positive impact in their respective industries, but who also go beyond the call of duty by volunteering their personal time to give back to the community.
Soon, we will announce the honorees to be recognized.
Nominees and honorees will be recognized at the celebration event currently scheduled for November 16 at Bird Kultgen Ford from 5 – 7 p.m. Presenting sponsorship for Waco Under 40 is provided by Bird Kultgen Ford.