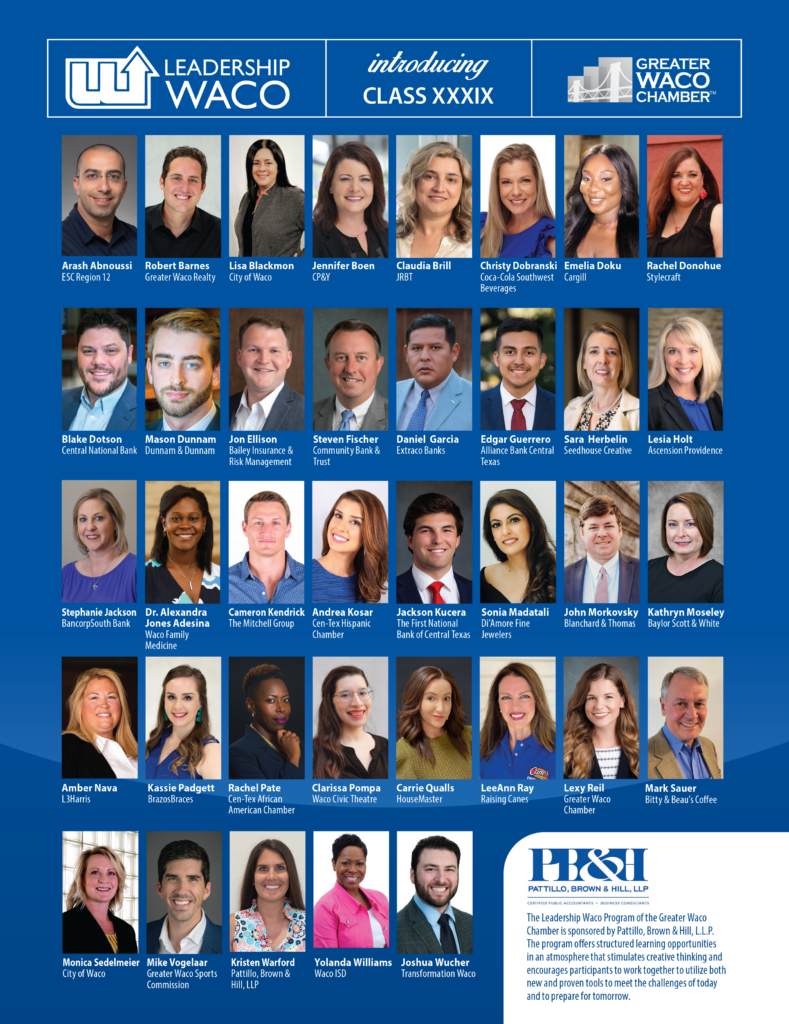 Leadership Waco, with presenting sponsor Pattillo, Brown & Hill, LLP, is a Greater Waco Chamber program that offers structured learning opportunities in an atmosphere that stimulates creative thinking and encourages participants to work together to utilize both new and proven tools to meet the challenges of today and to prepare for tomorrow.
Class XXXIX includes 37 business and civic leaders representing a variety of industries throughout the Waco area:
Arash Abnoussi, ESC Region 12
Robert Barnes, Greater Waco Realty
Lisa Blackmon, City of Waco
Jennifer Boen, CP&Y
Claudia Brill, JRBT
Christy Dobranski, Coca Cola Southwest Beverages
Emelia Doku, Cargill
Rachel Donohue, Stylecraft
Blake Dotson, Central National Bank
Mason Dunnam, Dunnam & Dunnam
Jon Ellison, Bailey Insurance & Risk Management
Steven Fischer, Community Bank & Trust
Daniel Garcia, Extraco Banks
Edgar Guerrero, Alliance Bank Central Texas
Sara Herbelin, Seedhouse Creative
Lesia Holt, Ascension Providence
Stephanie Jackson, BancorpSouth Bank
Dr. Alexandra Jones Adesina, Waco Family Medicine
Cameron Kendrick, The Mitchell Group
Andrea Kosar, Cen-Tex Hispanic Chamber of Commerce
Jackson Kucera, The First National Bank of Central Texas
Sonia Madatali, Di'Amore Fine Jewelers
John Morkovsky, Blanchard & Thomas
Kathryn Moseley, Baylor Scott & White
Amber Nava, L3Harris
Kassie Padgett, BrazosBraces
Rachel Pate, Cen-Tex African American Chamber of Commerce
Clarissa Pompa, Waco Civic Theatre
Carrie Qualls, HouseMaster
LeeAnn Ray, Raising Canes
Lexy Reil, Greater Waco Chamber of Commerce
Mark Sauer, Bitty & Beau's Coffee
Monica Sedelmeier, City of Waco
Mike Vogelaar, Greater Waco Sports Commission
Kristen Warford, Pattillo Brown & Hill LLP
Yolanda Williams, Waco ISD
Joshua Wucher, Transformation Waco
Leadership Waco informs, educates and motivates class members through a series of monthly meetings on topics from healthcare to economic development and philanthropy. Applications for the next class will be announced spring 2023.
For more information, contact Rachel Martinez at (254) 757-5633 or visit wacochamber.com/leadership-waco.