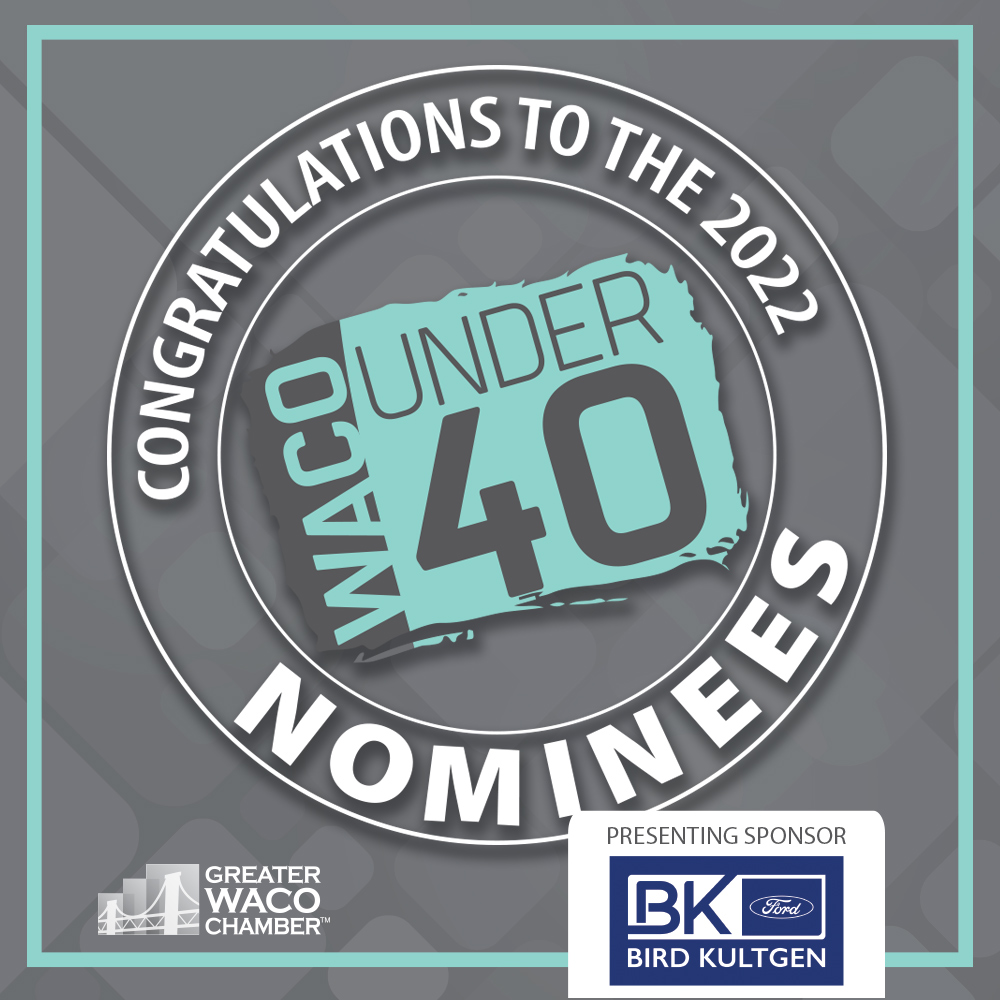 The Greater Waco Chamber of Commerce is pleased to announce Waco Under 40 nominees! Waco Under 40 is a rare opportunity for the best and brightest from a diverse group of professions and causes to gather and receive much-deserved recognition. The program recognizes rising young leaders who have distinguished themselves in their careers and in the community.
Nominees are:
Oluwarotimi Adesina, Ascension Providence
Cassandra Benjamin, Waco ISD
Trevor Beuerlein, Beuerlein Angus Ranch
Kacie Birkes, Greater Hewitt Chamber of Commerce
Ben Blandford, Verifi Technologies
Krista Brinser, Baylor University
Bricker Bruner, Bruner Events & Bricker Bruner, Realtor – Bentwood Realty
Elizabeth Buice, Buice Law Firm
Alissa Cady, Greater Hewitt Chamber of Commerce
Eloisa Cruz-Arredondo, Inspiracion-Waco
Benjamin Doskocil, Extraco Banks
Kalyn Dunks, K. Dunks Creative
Emily Embry, Baylor Scott & White Medical Center – Hillcrest
Adrian Fajardo, Waco ISD
Carole Fergusson, Keep Waco Beautiful
Mark Firmin, Beard Kultgen Brophy Bostwick & Dickson, LLP
Jennifer Furrer, Ascension Providence
Danielle Geshay, BrazosBraces Orthodontics
Jane Haas Damron, Baylor University
Evan Hankins, First National Bank of Central Texas
Jordan Hannah, Baylor University
Christina Helmick, Extraco Banks
Matt Helton, Central National Bank
Kristina Holcomb, Premier ER and Urgent Care
Justus Lindsey, Wilson Elser Moskowitz Edelman & Dicker LLP
Ryan Luna, McLennan County
Chris Martin, Ideal Self Storage
Kellly Mullins, Ascension Providence
Ragan Patterson, ActionCOACH Mid-Central Texas
Gary Pilant, Community Bank & Trust
Chris Qualls, NeighborWorks Waco
Kirk Regian, Envision Brands
Shannon Rippee, Department of Veterans Affairs – Veterans Benefits Office
Lauren Sams, Grow Baby Nutrition + Lactation and Compleo Kids
Matthew Scheuritzel, Waco Rowing Center
Calvin Schoenfeld, L3Harris
Tyler Snedden, Texas Oncology-Waco
Megan Snipes, Baylor Scott & White Medical Center- Hillcrest
Lance Summey, Home Instead
Juan Tello, BancorpSouth ( Cadence Bank )
Cassie Thomas, The Exchange Event Center & City of McGregor
Tailor Vaughn, Vaughn Construction LLC
Kent Willis, Pattillo, Brown & Hill
David Wyatt, The Posh Potty
Nominees represent not only the young leaders who demonstrate a tremendous positive impact in their respective industries, but who also go beyond the call of duty by volunteering their personal time to give back to the community.
Soon, we will announce the honorees to be recognized.
Nominees and honorees will be recognized at the celebration event currently scheduled for November 3 at Bird Kultgen Ford from 5 – 7 p.m. Presenting sponsorship for Waco Under 40 is provided by Bird Kultgen Ford.