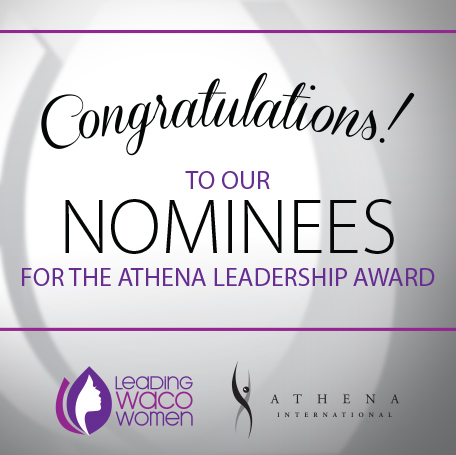 Each summer, the Greater Waco Chamber of Commerce collects nominations for the ATHENA Leadership Award®, which is presented at the Leading Waco Women Serving Summit. The ATHENA Leadership Award® is presented to an exceptional leader who has achieved excellence in their business or profession, has served the community in a meaningful way and has assisted other women in their attainment of professional goals and leadership skills.
Nominees are:
Delisa Burnell-Smith, NeighborWorks Waco
Susan Cowley, Talitha Koum Institute
Anna Futral, CASA of McLennan County
Danielle Geshay, BrazosBraces, PLLC
Julie Hays, KWTX News 10
Kelly Holecek, The City of Waco
Lisa Hull, Community Bank & Trust
Becky Kramm, L3Harris
Kailey Mikulencak, L3Harris
Rachel Pate, Cen-Tex African American Chamber of Commerce
Sheronda Pruitt-Jones, H-E-B
Lisa Saxenian, Waco High School
Loren Schwartz, Merrill Lynch
Dr. Sharon Shields, La Vega ISD
Lindsey Skinner, Pattillo Brown & Hill, LLP
Maegan Wenberg, Comfort Keepers
Soon, we will announce the finalists to be recognized at the 2021 Leading Waco Women Serving Summit that will be held on November 18 at Ridgewood Country Club. Tickets are on sale now at wacochamber.com. In addition to a panel discussion from the finalists, the Serving Summit will include a keynote address and the presentation of the ATHENA Leadership Award®.
Leading Waco Women was created to celebrate, empower and develop female leaders in the Greater Waco area. The summit series will conclude with the Serving Summit.