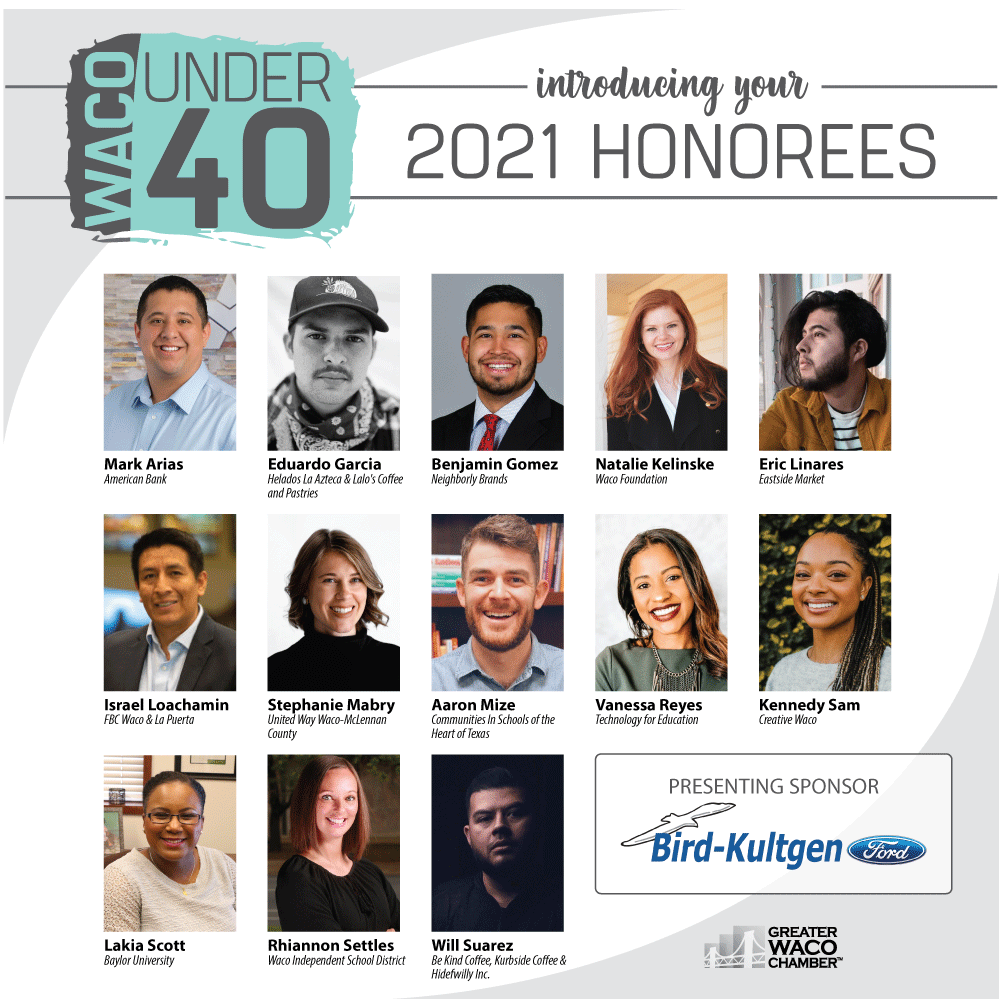 The Greater Waco Chamber is proud to announce the 2021 Waco Under 40 Honorees!
Mark Arias, American Bank
Eduardo Garcia, Helados La Azteca & Lalo's Coffee and Pastries
Benjamin Gomez, Neighborly Brands
Natalie Kelinske, Waco Foundation
Eric Linares, Eastside Market
Israel Loachamin, FBC Waco & La Puerta
Stephanie Mabry, United Way Waco-McLennan County
Aaron Mize, Communities In Schools of the Heart of Texas
Vanessa Reyes, TFE
Kennedy Sam, Creative Waco
Dr. Lakia Scott, Baylor University
Rhiannon Settles, Waco Independent School District
Will Suarez, Be Kind Coffee, Kurbside Coffee & Hidefwilly Inc.
These individuals, as well as all nominated, will be recognized at the Waco Under 40 Luncheon scheduled for Thursday, September 30 at 11:30 a.m. at the Extraco Events Center's BASE Facility.
The Waco Under 40 Luncheon has a three-fold mission:
Engage the community in identifying the local leaders under the age of 40 and encouraging young citizens of Waco to become the future leaders Waco needs.
Provide an opportunity for professional and personal development.
Create an atmosphere that will foster and encourage mentor/mentee relations and spreads awareness about the importance of investing in the next generation of leaders.
The entire community is invited to join us in learning more about the importance of growing the next generation of leaders as well as celebrating our honorees and nominees. Stay tuned for information about our guest speaker! Tickets will be available soon at https://wacochamber.com/WacoUnder40. Presenting sponsorship for Waco Under 40 is provided by Bird-Kultgen Ford. Additional sponsorships available. For more information about the event, contact the Ricky Vasquez at 254-757-5611.