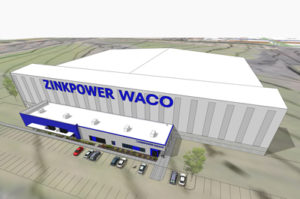 WACO, TX, U.S. – ZinkPower, a European leader in hot-dip galvanizing and powder-coating services has selected Waco for its first greenfield operation in the United States. The company will operate as Zinkpower – Waco, LLC and has received local support for the project, which will add jobs, bring new investment and expand the industrial supplier network in Waco and central Texas.
Zinkpower will provide hot-dip galvanizing services in support of the structural steel industry. The Waco plant will be the only hot-dip galvanizing center between the Dallas/Fort Worth Metroplex and San Antonio. Knowing everything is bigger in Texas, the Waco site will be home to Zinkpower's largest dipping kettle, 60 feet, which has the ability to accommodate a broad spectrum of customer needs.
ZinkPower's project represents a $32 million investment, which includes the construction of a 160,000 square-foot facility and equipment. Over four years, Zinkpower anticipates the creation of 100 new jobs.
Zinkpower's decision to locate in Greater Waco represents a regional collaboration for economic development between Waco and McLennan County, with both organizations partnering to provide incentive support for the project.
The company has received approval for a job creation grant through the Waco McLennan County Economic Development Corporation, as well as, a multi-year business grant from the City of Waco and McLennan County, both of which are based upon investment commitments.
About Zinkpower
Zinkpower is one of the business units of the Australian group Kopf, which currently employs over 2000 people in 12 countries. The brand is a global leader in the hot-dip galvanizing process and offers the service in 45 establishments located in ten countries in Europe, the Americas and Asia. Its plants are known for the versatility, flexibility, quality and concern for the environment. Learn more about Zinkpower at www.zinkpower.com.