Article written by John Fletcher, Fletcher Consulting, published in the 2019 first quarter edition of Greater Waco Business magazine.
     in • no • va  tor: A person (or company) that introduces new methods, ideas or products. A pioneer, trailblazer or prime mover.

  The photo next to "innovator" in the dictionary should be of the Hobbs Bonded Fibers production facility as a testament to the company's relentless dedication to innovation in a variety of fields, from automotive and quilting to aviation, defense, furniture, bedding and industrial applications.
The Science Channel's "How It's Made" Program
The Science Channel's "How It's Made" TV program has showcased and will continue to feature Waco-based Hobbs Bonded Fibers for its production of a very unique item: Bison Fiber – or Bison Fibre, as identified by the Montreal-based production house.
The program premiered on January 31 and will now slot into the rotation of reruns. The episode, which also featured a DeLorean restoration, shuffleboard tables and friction-forged knives, was number 12 in the show's 31st season.
In all those 31 seasons, no product has been repeated, so each season features a completely new lineup of products and processes. Episodes have featured everything from wood slat baskets and clay targets to saxophones, gyroscopic stabilizers and, of course, Bison Fiber. The Science Channel producers scour the world for products, having shot intriguing processes throughout North America, Asia and Europe.
"How It's Made" producers were intrigued by the uniqueness of Bison Fiber. According to the site selection production coordinator, selection criteria include the feasibility of showcasing a product's manufacturing from start to finish and whether its production process will be visually compelling to viewers.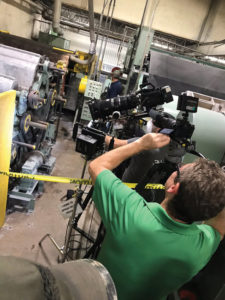 Locations are scouted and selected months in advance, according to Larry Hobbs, who became CEO of Hobbs Bonded Fibers in 2015 after 24 years with the company. "We were in discussions with the Discovery Channel, which produces the show for the Science Channel, for 18 months. It was a huge thrill to see the filming take place inside our manufacturing plant. The process we use for Bison Fiber has some of the same steps we employ for our quilt batting lines, which we sell under the Hobbs Heirloom and Hobbs Tuscany Collection names."
Hobbs created Bison Fiber as a superior cold-resistant padding for United by Blue, a Philadelphia-based manufacturer/retailer. The American-made Bison B100 Collection consists of men's and women's cold weather apparel that ranges from the Bison Puffer Vest at $188 to the high-end Ultimate American Jacket for $498. Additional B100 items include thermal socks, gloves and blankets.
The environmentally focused United by Blue (UBB) sought out Hobbs Bonded Fibers because of Hobbs' reputation for meeting hard-to-match needs for customers. Hobbs' image as a boutique manufacturer attracted UBB because of the exacting requirements demanded by the B100's production process.
"We needed a supplier that had experience producing quality thermal insulation, and could particularly encapsulate the distinct attributes of bison," says UBB founder and CEO Brian Linton.
Linton was also impressed with Hobbs' robust natural fibers program that includes its industry-leading Heirloom 80/20 cotton quilt batting made from 100 percent American cotton and its cutting-edge RamTect® batting made from 100 percent American wool that is also featured in cold weather outerwear.
Bison is the term for the North American animals generically known as buffalo. While the two species belong to the same animal family, buffalo tend to live in warmer climates. Bison possess a thicker and coarser fur, which is the quality that makes Bison Fiber superior to other insulations.
Hobbs described the B100 project as an ideal match. "We already had much of the process they needed in place because we deploy the identical machinery to produce our quilt batting line. Danny Natividad, our Director of Technology/R&D, developed a process that would require very specific modifications for us to create the B100 product."
"We have so many products that we manufacture, and Bison Fiber is one of our most interesting. We take bales of raw fiber harvested from bison and blend synthetic materials to create mats of fiber durable enough for extreme weather jackets."
So, what is the difference between "woven" and "nonwoven"? Polypropylene plastic threads are woven together in a traditional manufacturing process to create a durable product. Nonwoven plastic fibers, on the other hand, are bonded together rather than woven. Thus, the name of Hobbs Bonded Fibers.
"Call of Last Resort"
Custom solutions are nothing new to Hobbs Bonded Fibers, which has earned the status of being the "call of last resort" for many of its customers.
"More than a few of our customers were won after they came to us when their normal suppliers failed to meet their very precise needs," said Larry Hobbs. "Once we solve that initial issue, these customers tend to stick around for life."
Hobbs is a premier supplier of acoustical and thermal nonwoven products to the automotive industry, and most of the top-selling vehicles throughout North America feature Hobbs-engineered nonwoven products. Your car or SUV is likely to have Hobbs-produced components in its door panels and side trim, in the trunk or floor areas, under the dash, in the glove box, and covering various engine parts under the hood.
Hobbs' reputation for innovation was recognized in 2015 by Ernst & Young, which named the company a finalist for its prestigious Entrepreneur of the Year Award for the Southwest Region. Judges recognized the company for developing patents in diverse markets, maximizing their market positions and, in many occasions, selling those divisions of the company at the peak of their product life curve.
Innovation through Patents, Trademarks and Strategic Partnerships
Hobbs Bonded Fibers owns or has owned patents in a variety of diverse industries, which reveal the wide-ranging expertise of the company's executive management and R&D team.
Patents:

Carpet underlay, which became the industry standard in large venues like hotels, conference centers and casinos
Lightweight wool insulation (RamTect®), which has captured strong sales and attention in the apparel industry
B100 Bison Fiber, which was recently featured on Science Channel's "How It's Made"
Flash-spun sheet material
Thermal packaging
Filtration – air and liquid
Hydroponic plant cultivating apparatus
Trademarks:

Heirloom® (Quilt batting)
Tuscany® (Quilt batting)
PrimaLoft® synthetic microfiber thermal insulation for apparel

Licensing: Fibertect®, an exclusive licensing agreement to manufacture and market a decontamination product for the military
In addition, Hobbs has been engaged in a coconut fiber research project in conjunction with Baylor University to explore the possibilities of using coconut fibers for applications in the automotive industry.
Innovators from the Start
With a background in felt and synthetic manufacturing and experience as a Marine pilot, Carey Hobbs co-founded Hobbs Bonded Fibers with his father-in-law in 1972 with a 79,000 square-foot manufacturing plant in Groesbeck.
What began with 20 employees and a mid-sized manufacturing plant expanded to Mexia and then moved to Waco in 1994. Hobbs has now become an industry leader with over 300 employees spread across three facilities – two in Waco and one in Trenton, Tennessee, with over 675,000 square feet of manufacturing and warehousing. The company also expanded into the state of Virginia in 2016.
Hobbs is an ISO 2001-1988 certified enterprise that develops and manufactures specialty nonwovens and earns industry leadership positions. The company's R&D department is recognized across multiple industries as a center of innovation excellence.
Through a groundbreaking design process in 1995, Hobbs designed and constructed several interchangeable manufacturing lines that could be retooled in a brief transition process to make multiple products.
A wide range of consultants, engineers and new product development leaders contact Hobbs to discover answers that other suppliers have failed to ascertain because they know Hobbs is the home of innovation in a variety of industries.
Hobbs Bonded Fibers is the dominant manufacturer in the home quilting business across the United States and in 22 foreign countries with its two highest-rated quilting lines: the Hobbs Heirloom Collection and the Hobbs Tuscany Collection. Combined, these two product lines are the preferred choice of the vast majority of award-winning quilters.
Never satisfied with being the best, CEO Larry Hobbs' team is developing a next-generation higher-end quilting product line that will deliver additional market penetration.
Hobbs meets three distinct needs for the military by manufacturing nonwoven Nomex® insulation in-flight apparel, dispersion vacuum filters for the F-22 and X-35 fighter jets, and Fibertect® military grade decontamination wipes.
The Fibertect® advancement is a direct result of Larry Hobbs, a Texas Tech University graduate, being privy to a biomedical development created by a doctoral candidate at the university's Institute of Environmental and Human Health. Larry researched the project and signed an exclusive sales and marketing agreement with Texas Tech and the developer.
Hobbs also negotiated an exclusive marketing and manufacturing agreement with DuPont on a potential application for canned beverages that would keep the product cold for a longer period of time.
Hobbs Bonded Fibers has developed several successful product lines only to sell them later, profiting as each approached its peak value. Two such examples are synthetic carpet underlay and filtration media.
Hobbs created the first synthetic carpet underlay that the FHA approved in 1975, thus establishing an industry standard. This underlay became the premier synthetic carpet padding for high-density traffic in convention centers, hotels and major casinos, and the company later sold the division.
Next, the company designed and produced a dramatic innovation in air filtration for home and commercial HVAC systems in the 1970s. By reducing the thickness and price of HVAC filters by 25 percent for home and commercial use without sacrificing performance, Hobbs became the leading manufacturer for filter media in North America. Management ended up selling this division to Hollinee Holding Group.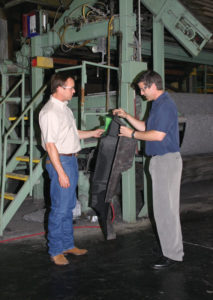 Three key words associated with innovators and entrepreneurs are "resilient," "resourceful" and "insightful." As product life cycles have matured, Hobbs has reinvented itself four times to create new markets. In one such instance, Hobbs was for many years the exclusive manufacturer of thermal insulation for ski jackets made by then market leader Walls Industries but had to pivot after learning their customer was considering an offshore move for their manufacturing to take advantage of inexpensive labor.
Demonstrating the company's adaptability to change, Hobbs conducted exhaustive research into what industries could benefit from the company's expertise. The study led to the formation of the company's automotive division, which is now Hobbs' largest business driver. Today, Hobbs continues its pursuit to become the number one fiber company serving the dynamic and pro-innovation automobile manufacturing business.
Hobbs recognized another promising opportunity in 1978. While the company was private-labeling quilt batting with bonded polyester for a customer, that customer decided to abandon the market. Recognizing the potential of this emerging category, then-CEO Carey Hobbs realized that the company's packaging bonded polyester products were overpriced because of inefficient production capabilities. He worked with his brother Terry to develop a streamlined production process, and today this crafts division of quilt batting and supplies represents over 20 percent of the company's business.
As mentioned earlier, innovators are resourceful. Hobbs goes to market in person with its crafts division, with large booths and displays at the best-attended quilting festivals (consumer events) and quilting trade shows (wholesaler and retailer events). The company researched and discovered a matching marketing fund program through the Texas Department of Agriculture's GO TEXAN program and leveraged over $80,000 in marketing and promotional funds to expand booth size in major trade shows, advertise with greater frequency in existing quilting magazines and even become a major sponsor of a highly viewed quilting video website.
Hobbs' resourcefulness has led the company to stretch beyond polyester and cotton. Bison Fiber and RamTect® wool have been mentioned previously, and the company has extended its quilting lines with the exquisite texture and softness of silk by making it one of the Tuscany Collection offerings.
"We also innovate from a personnel perspective," adds Hobbs. "We are proud to be a second-chance employer, meaning we consciously hire team members who have made mistakes in their past. We are intentional about wanting to give them a positive break in their lives."
"We have found these members of our team to be among our most loyal and appreciative for allowing them a chance to prove themselves and work toward a more promising future. This decision has led us to foster and enjoy a culture of trust and respect with people have bonded to become what we consider to be the finest employees in the world."
Award-Winning
Hobbs Bonded Fibers has captured the attention of local, regional and national entities:
1998 Small Business Person of the Year, Dallas District – U.S. Department of Commerce Industry Sector Advisory Committee
2003 Small Business of the Year Award – Greater Waco Chamber of Commerce
2010 Heritage Award – Institute for Family Business at Baylor University
2015 Entrepreneur of the Year Finalist, Southwest Region – Ernst & Young
2018 Employer of Excellence – Texas Workforce Commission
Spirit of Partnership – Owens Corning
Award of Excellence — DuPont