Article written by Donna McKethan, CTE Director at Waco ISD, published in the fourth quarter edition of the Greater Waco Business magazine.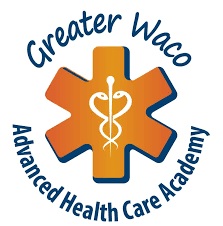 The Greater Waco Advanced Health Care Academy (GWAHCA) was established to provide education and training for the next generation of health care professionals, with students from high schools across Central Texas in attendance. This year, the campus hosts high school students from Midway, Waco, University, Crawford, Bruceville-Eddy, McGregor, Marlin, Mexia, Troy and the Methodist Children's Home.
Students embark on their journey at GWAHCA as juniors, at which point they take World Health Research, Anatomy & Physiology and Health Science Theory. As a part of Health Science Theory, students study to earn their Certified Nursing Assistant (CNA) certificate. With a 98 percent passing rate, students gain both the academic and clinical skills needed to be successful. Seniors returning to GWAHCA can select from two pathways. Students may choose to experience various health care career fields by taking part in clinical rotations at both Providence Hospital and Baylor Scott & White – Hillcrest. While at the hospital, certified students (CNAs) rotate through a variety of settings including the emergency room and surgery. Advanced students also earn an EKG certification. Alternatively, a student may also elect to take part in Pharmacy Tech certification classes. Pharmacy technicians work with pharmacists to help prepare and give out prescription medication. Students selecting this route are also provided job shadowing opportunities in allied health settings.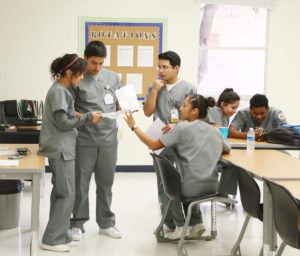 With a population growing more than twice as fast as the national average – and people living longer and experiencing more chronic illness – the demand for health care has never been greater. The state has well-document shortages of primary care physicians and other specialists. Texas counties primary care health needs are not currently being met. Shortages of nurses and allied health professionals contribute to this problem, and GWAHCA plays a major role in meeting this demand.
The foundation of GWAHCA is the strong community and health industry support. GWAHCA's Business Advisory Board meets regularly and provides insight and advice on training the next generation of professionals. Through a partnership with McLennan Community College (MCC), students can also take advantage of dual-credit sciences courses to advance their college plans. GWAHCA is designed to meet the workforce development needs of our community and the needs and interests of students.
GWAHCA Success
Phre'Landrea Fondon is a senior at Marlin High School and in her second year at GWAHCA. Her goal after graduation is to attend Texas A&M University to earn a bachelor's degree in nursing and then to continue on to become a Family Nurse Practitioner. While attending GWAHCA, Phre'Landrea will earn certifications in Basic Life Support (CPR), Certified Nurse Assistant (CNA), Electrocardiograph (EKG), and Pharmacy Technician certifications. According to this Marlin senior, "The best part about GWAHCA is having the opportunity to see that healthcare is truly a field I'm interested in. The hands-on experience in the nursing homes and hospitals is an amazing opportunity for all students." This past summer, an internship through Prosper Waco and Waco ISD confirmed the rewards following her goal of becoming a nurse: with her CNA certification, Phre'Landrea thrived at Royal Manor Nursing Home and earned priceless experience.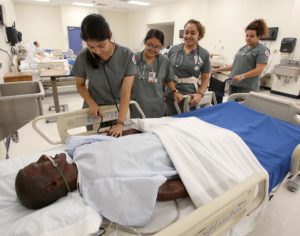 Quadranea Holden is a senior at University High School and a second-year student at GWAHCA. After high school, she plans to attend college to reach her goal of becoming a Neonatal Intensive Care Unit (NICU) nurse. Eventually, she plans to seek an Master of Science in Nursing and become a Neonatal Nurse Practitioner (NNP). In addition to taking courses at GWAHCA, Quadranea has taken advantage of Waco ISD's Accelerate program. Starting in ninth grade, she began taking dual-credit courses at MCC, and now, her hard work has paid off. This spring, she will graduate from high school with CPR, C.N.A., EKG and Pharmacy Tech certifications. In addition, Quadranea will have earned an associate degree in Allied Health from MCC. Quadranea's advice to those interested in GWAHCA is, "It doesn't hurt to try it out. If you're not sure about what you want to do in life, or even if you are, GWAHCA has a lot to offer. The greatest benefit of attending GWAHCA is getting to experience what it is like in the healthcare field before you commit to the profession."
There are so many benefits associated with working in the healthcare industry. Whether you work as a nurse, a pharmacy technician or a surgeon, there are countless advantages that come with these positions. From the positive job outlook and high salaries to the better work-life balance and opportunities to serve others, you can't go wrong with a healthcare career. If you are interested in finding out more about GWAHCA, contact Kandace Beckham (GWAHCA Dean) at (254) 399-6654.