AT&T Announced as Find Your Waco Presenting Sponsor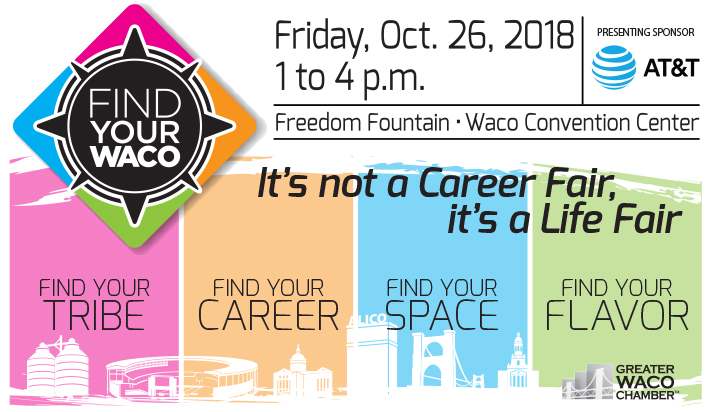 WACO, Texas – The Greater Waco Chamber is pleased to announce AT&T as the 2018 presenting sponsor for the Find Your Waco Life Fair. This event will be on Friday, Oct. 26, from 1 to 4 p.m. at the Freedom Fountain at the Waco Convention Center. This unique event is free to attend and is open to the public.
AT&T released the following statement, "Building on their strong commitment to military veterans and at-risk student, AT&T is a leading sponsor of the inaugural Find Your Waco Life Fair event. This innovative event will help transitioning soldiers, students and more find their best fit – from their careers to where they live — in this growing community. AT&T believes military experience – leadership, integrity and commitment to service – makes veterans outstanding employees and has added 10,000 of these men and women to their team since 2013 and looks forward to hiring another 10,000 by 2020. In addition to veteran transition, AT&T invests education and job training to create a skilled and diverse workforce. Since 2008, AT&T has committed $450 million to programs to help millions of students in all 50 states and around the world through the AT&T Aspire initiative. AT&T Aspire brings together the power of the AT&T network – from employees, to technology and to organizations – to connect people to opportunities through education and job training."
The afternoon event will be a great opportunity for people of all ages and backgrounds to come and connect with businesses across the community. Job seekers, students, transitioning soldiers and visitors will be seeking career/internship opportunities, searching for places to call home, finding groups they can plug into and discovering the unique flavors, activities and fun that Waco has to offer.
The fair will consist of four "quads" that attendees can connect with:
– FIND YOUR TRIBE will help you get plugged into Waco. Industries represented may include churches/religious organizations, non-profits, fitness facilities, networking groups, sporting groups, or hobbies.
– FIND YOUR CAREER is where you can get plugged in with local employers. Industries represented may include any company offering part/full time or internship opportunities, educational partners, staffing agencies, hospitals/healthcare companies, manufacturing companies, aerospace companies, professional service companies, or tech companies.
– FIND YOUR SPACE will help you explore living in Waco. Industries represented may include realtors, apartment complexes, hotels, school districts, banks, construction companies, or roofing companies.
– FIND YOUR FLAVOR will give you a taste of the unique "flavors" of Waco. Industries represented may include restaurants, bars, wedding venues, sporting activity companies, grocers, or car dealerships.
Text FINDYOURWACO to 797979 to opt-in for text message updates and information about Find Your Waco; watch the event video here: https://goo.gl/85u8P6
For more information, contact Jennifer Branch at (254) 757-5625.
###
About the Greater Waco Chamber:
The Greater Waco Chamber is a business leadership organization that advances a forward-thinking and visionary agenda for economic growth and quality of life. The Chamber prepares and markets Greater Waco for the businesses and jobs of the future and enhances the quality of life of the community by promoting strategic development. For more information, visit WacoChamber.com.