Story by Joe Pappalardo, featured in the first quarter edition of the 2018 Greater Waco Business Magazine — this story was originally published in the Dallas Observer
A funny thing happened to spaceflight in the late 20th century: Engineers began to design new launch vehicles that could reach space but operate like airplanes. Instead of a rocket standing upright on a launchpad, blasting into space under tens of thousands of pounds of mixed fuel and oxidizer, aerospace companies began to design aircraft that could use runways to enable payloads to reach space.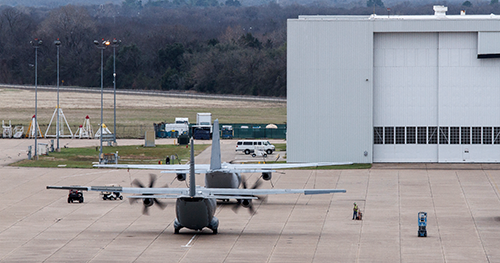 These come in basic varieties: Airplanes that can launch space rockets from altitude, aircraft with rocket engines that can shoot into space and land on their own, and spaceplanes that would launch on the tips of rockets, operate in space and need a place to land. These launch concepts have attracted the attention of airports across the country.
This increase in interest has been lucrative for Brian Gulliver, who leads the aerospace and spaceport practice at the firm Kimley-Horn. Gulliver is a professional engineer with experience designing launchpad equipment for NASA and Air Force spaceports. These days he's one of a handful of consultants with any experience who can help transform airports into spaceports, as designated by the Federal Aviation Administration (FAA).
His latest client: Texas State Technical College (TSTC), which hired the consultant to analyze the possibility of creating a spaceport at the school's airport. In late December 2016, a draft of the study found the airport's infrastructure could handle the operation of airplanes that launch space rockets or some spaceplanes that can use their own onboard engines to blast into space. The runway could also handle spaceplanes that launched elsewhere and need a place to land.
The designation of TSTC as a spaceport would be the latest in a string of high-profile efforts to make Texas the epicenter of the commercial space industry. Texas already leads the nation in places designated by the FAA for commercial space launches: SpaceX's under-construction launchpad near Brownsville; Midland-Odessa's airport, designated in 2015; and Houston's recently announced conversion of Ellington Field to a spaceport. Other space launch work — FAA exclusive use permits for commercial space launches — is done in west Texas, where Jeff Bezos' company Blue Origin is developing and flight-testing reusable rockets; and SpaceX's engine test facility in McGregor, outside of Waco, where the company tests its Dragonfly vehicle to practice rocket-powered landings.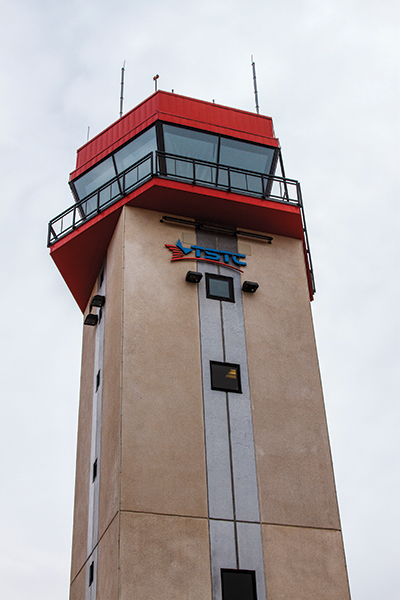 The private space boom has been driven by ambitious billionaires, an attitude change within NASA and demand from satellite launchers looking for affordable alternatives. But at the turn of the century, the commercial space world remained fixated on the familiar style of launches. Until aerospace firms started creating new spaceplanes, everything Gulliver designed for new spaceports supported rockets rising from launch pads. "The idea was a bunch of smaller, vertical lift pads, like mini Kennedy Space Centers," Gulliver says. But that soon changed as more companies joined Virgin Galactic in commercializing spaceplanes and a new generation of air-launched rockets.
Just like in the early '60s, Texas is vying with Florida to be the center of spaceflight, but this time with the hope that commercial entities will operate the spacecraft and paying customers will replace government astronauts. It's an ambitious dream, and Waco is now part of that effort, reaching for orbit and using every trick in the economic development book to get there.
TSTC has something no other college can match: the largest airport owned by an educational institution in the United States. TSTC airport dominates the eastern fringe of the campus, complete with two runways and an air traffic control tower. It's a general use airport, and anybody flying by can radio the tower and land there. There are industrial tenants at TSTC and mammoth hangars, some with doors towering more than 65 feet high, indicates the size of the airplanes that come here for maintenance work. The airfield sees an impressive annual 101,000 takeoffs and landings and hosts a major airshow every year — not bad for an airport that doesn't even have its own radar.
A space launch at TSTC airport would look like a typical airplane takeoff from a runway. Whether it's a spaceplane hefted by a "mothership" carrier aircraft, an airplane carrying a rocket or a spaceplane with engines that can reach space, the first step is familiar to any air traffic control tower.
The aircraft that carry rockets fly somewhere vacant and drop them at high altitudes. Spaceplanes with their own rocket engines would ignite them and fly to space. In both scenarios, the aircraft coming back are landing like airplanes.
The takeoff and landings may be standard, but hosting rockets requires some unique infrastructure and planning. The sweet spot for spaceplane runways is about 10,000 feet or longer, about 2,000 feet longer than Love Field. Airplanes that can launch rockets are as big as airliners, necessitating large hangars. The acoustics of spaceflight need to be considered, especially if the spacecraft will ever break the sound barrier. Most of the extra work is needed to handle propellants — the fuel and oxidizers that power rockets demand specialized storage tanks and security.
Even if the spaceplane takes off from somewhere else, a spaceport can only gain by hosting one coming back. The company that operates the craft will need to rent hangar space. If the spaceplane is carrying academic or government experiments, well-equipped labs will be needed to collect and process the cargo. Spinoff companies could form, bringing more tenants to the industrial park and jobs to the county. And any time something novel flies, aviation geek gawkers will come to observe, giving a boost to tourism.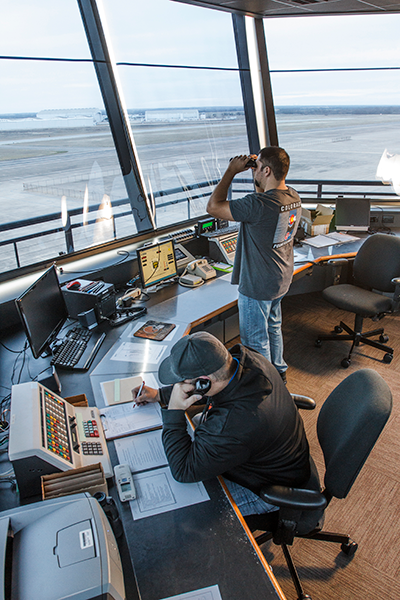 The long-term dream is called "point-to-point" space travel — airplanes that take off, reach suborbital altitudes (you could see the curve of the earth from a window seat), and then land across the globe in a matter of hours. Any spaceport that can accommodate spaceplanes could become a destination for these high-end, globe-trotting flights. The military likes the idea for quick logistics; commercial shipping firms like UPS are intrigued by the potential efficiencies; and rich people eye it as a way to get across the planet in a few hours, cost be damned.
Spaceflight is changing, although no one knows how much or how fast. For all the spaceplane developers out there, none is ready for actual paying flights. And it's unclear when the business might evolve into something stable.
Part of the process of building a spaceport is creating a business plan for why it should exist. So why would a place in Waco want one?
The idea came out of the Greater Waco Chamber of Commerce and its courtship of the aerospace industry. "The Chamber folks used to hit the trade shows and try to land big fish," says Terry Stevens, a local businessman in Waco and chairman of the McLennan County Spaceport Development Corp. "But we realized we can't be everything for everybody. So we focused on specific industries and didn't chase companies that didn't fit."
For them, aerospace fits nicely. The region hosts a little-recognized cluster of aviation companies, and more than a decade ago these companies formed the Greater Waco Aviation Alliance. Today there are more than 30 aerospace companies counted as members, including flying schools, helicopter charters, defense contractors and Space Exploration Technologies, Elon Musk's vaunted SpaceX, which operates a facility outside Waco.
The pieces to pursue advanced aviation work seem to be in place: a local aviation business community with a history of banding together, even if they are competitors; a tech school that can stock companies with trained employees; a university-run tech park at Baylor able to handle cutting-edge development projects; an airport with a long runway and tolerant neighbors; a state government with a history of supporting aerospace with grants and low-interest loans; and a Chamber of Commerce that, despite the fact it isn't funded by sales taxes as in other cities, was ready to jump in and take a risk.
What the plan lacked is someone that actually wants to fly spacecraft. "Usually interest from a tenant is enough for an airport to be interested in becoming a spaceport," Gulliver says. In Waco's case, there is no such immediate demand, but they are going for it anyway.
The bet at TSTC airport is that tenants will be enticed by a combination of made-to-order workers, a spaceport designation and good geography, smack in the middle of what some call Texas' manufacturing and technology corridor. There are more than 1,000 aviation companies within a 500-mile radius.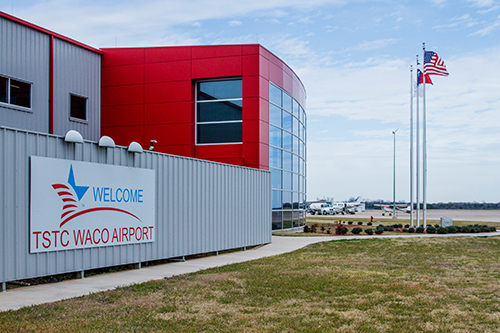 Waco already draws aerospace companies with its tech students and university researchers. Nothing is more important to the aviation industry in the United States right now than meeting the demand for students focusing on science, technology, engineering and math. "You can offer all the money [to a prospective company] but if you can't find employees, it's pointless," Stevens says.
Stevens says the very existence of TSTC is a testament to ambitious, far-seeing planning. "When they shut down Connally Air Base in the '60s, it could have been a disaster," he says. "But turning it over to become a TSTC school, that was brilliant. … It's hard to plan 10 or 20 years out, but that's what leadership is."
The path ahead looks like meetings, studies, negotiations, conference calls, check-ins with state politicians, loan applications, zoning plans of a proposed 200-acre industrial park and checks to consultants. The back end of the barnstorming and bravery of experimental flight is bureaucracy and business. For all of the Waco spaceport dreamers, it all just looks like the future.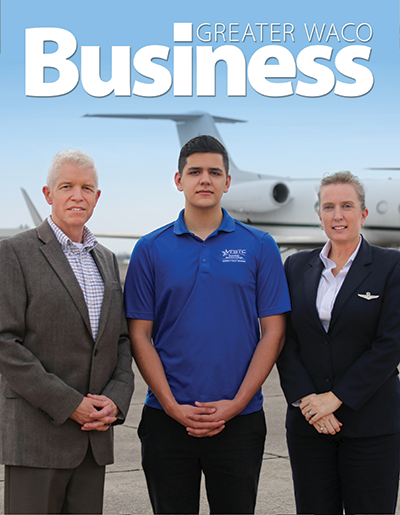 Check out this edition of the Greater Waco Business magazine online,
featuring articles all about the aerospace industry here in Waco, new
Chamber members, member news and more!