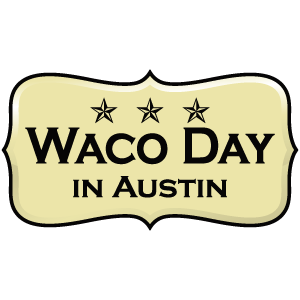 Every two years, the Chamber's Public Policy Committee plans a trip to Austin and invites the entire membership to join the delegation to honor the Texas Legislature and other state officials. The day-long trip includes recognition of the Waco Delegation in both the House and Senate, lunch, discussions with area representatives, and guest speakers.
In lieu of our biennial trip to Austin, we are hosting a virtual Waco Day in Austin in 2021. We will hear updates from state and local representatives on the current legislative session and goals for this year. This virtual event is open to the public to attend.
8:00 a.m. – Welcome & Introductions
8:15 a.m. – Texas State Representatives Charles "Doc" Anderson (HD 56) & Kyle Kacal (HD 12)
8:45 a.m. – Texas Senator Brian Birdwell (SD 22)
9:05 a.m. – Texas Comptroller Glenn Hegar
9:25 a.m. – Workforce Discussion Texas Commissioner of Higher Education, Dr. Harrison Keller and TSTC Deputy Vice Chancellor, Joe Arnold
10:00 a.m. – Secretary of State Ruth Ruggero Hughs
10:15 a.m. – Closing remarks
Texas State Representative Charles "Doc" Anderson
District 12
A graduate of the Texas A&M School of Veterinary Medicine, Doc Anderson has served as a small animal veterinarian in Waco since 1981. Representative Anderson recently married Lyn Sullivan and they have a son Thomas.
After over 20 years of advocacy for small business through statewide committees on both the Texas Association of Business and the National Federation of Independent Business, as well as appointment by Governor Rick Perry to the Texas Small Business Advisory Council, Doc was elected to represent District 56 (Waco & McLennan County) in 2004. He has been re-elected seven times.
Representative Anderson currently serves as Chairman of the Texas Legislative Rural Caucus, Vice-Chairman for the House Committee on Energy, and previously served for 6 terms as Vice-Chairman of the House Committee on Agriculture and Livestock. In addition, he has served on the House Committee on Elections, House Administration, Economic & Small Business Development, and the House Select Interim Committee on Energy & Environment. Additionally, he holds appointments to the statewide Agricultural Policy Council, the multinational Energy Council, and agricultural, energy, and environmental task forces in both the National Conference on State Legislatures (NCSL) and American Legislative Exchange Council (ALEC). Representative Anderson is a Board Member of the Texas Conservative Coalition Research Institute (TCCRI), and serves on the international organization State Agricultural and Rural Leaders (SARL). Dr. Anderson is a Paul Harris Fellow Rotarian.
---
TSTC Deputy Vice Chancellor Joe Arnold
Joe is Deputy Vice Chancellor, Executive External Relations Officer. Joe heads the External Relations Division,
including the Government Affairs department. Joe works closely with external stakeholders to ensure effective communication on issues important to TSTC and our communities.
Joe joined TSTC on October 1, 2019. Before then, he worked as a Sr. Government Affairs Manager for BASF
Corporation in Austin. While there he co-founded the Texas Workforce Coalition, a leader in policy on
workforce and education.
---
Texas Senator Brian Birdwell (SD 22)
Lieutenant Colonel (Ret.) Brian Birdwell is a native Texan, decorated military veteran, survivor of the 9/11 terrorist attack on the Pentagon, husband, father, grandfather and lifelong conservative Republican proudly representing the citizens of Texas State Senate District 22.
Brian is native of Fort Worth, and a graduate of Lamar University, the United States Army Command & General Staff College, and the University of Missouri-Kansas City. After serving in the Army for more than twenty years, he was elected to the Texas Senate in a June 2010 special election.
Brian serves as Chairman of the Senate Committee on Natural Resources and Economic Development, which provides oversight to the Railroad Commission, the Texas Commission on Environmental Quality (TCEQ), and the Workforce Commission. Senator Birdwell also serves as vice-chair of the Senate Committee on State Affairs and as a member of the Senate Committees on Criminal Justice, Higher Education and Select Committee on Redistricting. He was elected to serve as President Pro Tempore in the Texas Senate for the 87th Legislative Session. Since 2013, Brian has served as Chairman of U.S. Senator Ted Cruz's 22-member U.S. Service Academy Nominations Board.
The Birdwell's have been married for more than 30 years and reside in Granbury. They have one son, Matt, a 2013 graduate of Texas Tech University, and a daughter-in-law, Ann Marie, who reside in Tarrant County with the Birdwell's two grandchildren.
---
Texas State Representative Kyle Kacal
District 12
Kyle Kacal, long-time resident of Brazos County, was first elected in November 2012 to the Texas House of Representatives to serve and represent House District 12. The district is comprised of Falls, Limestone and Robertson counties and the rural portions of Brazos and McLennan.
Following his graduation from Texas A&M University in 1992 and receiving his Certificate of Ranch Management from Texas Christian University, Kyle has devoted his life to preserving the land and contributing to local and state economies through his dynamic ranching business. Kyle's ranch operates as a large-scale cattle business, focusing on breeding and raising beef cattle as well as a full-service hunting business during the fall and spring.
During the most recent legislative session, Representative Kacal was appointed to the House Committees on Environmental Regulation, as well as the Culture, Recreation & Tourism Committee.
Kyle and his wife, Marci, have two children, Carter and Kendall, who attend Texas A&M Galveston and the University of Texas, respectively. The family is actively involved in their local church, St. Thomas Aquinas.
Kyle is humbled and honored to have the opportunity to serve as the current State Representative for District 12 and considers it both an honor and privilege to represent the values his constituents hold dear.
---
Texas Comptroller Glenn Hegar
Glenn Hegar is Texas' chief financial officer — the state's treasurer, check writer, tax collector, procurement officer and revenue estimator – a job that is particularly important these days as the state addresses budget concerns brought on by the impacts of the COVID pandemic and weakness in oil and gas markets.
As the CFO of the world's 9th largest economy, Hegar is charged with maintaining the state's fiscal health. Having served in both the Texas House and Senate, Hegar has gained a reputation for customer service, transparency in government, and conservative fiscal management.
Hegar is a 1993 graduate of Texas A&M University and a graduate of St. Mary's University, where he earned a Master of Arts and his law degree. At the University of Arkansas, he earned his Masters of Law.
Hegar is a sixth-generation Texan who grew up farming land that has been in his family since the mid-1800s. When not in Austin or traveling the state, Glenn lives in Katy with his wife Dara and his now teenage children Claire, Julia and Jonah (He asks for your prayers as his oldest is now driving).
---
Secretary of State Ruth Ruggero Hughs
Ruth Ruggero Hughs was sworn in as the 113th Texas Secretary of State on August 19, 2019. Secretary Hughs is one of six state officials named by the Texas Constitution to form the Executive Department of the State. In addition to serving as Texas' Chief Elections Officer, Secretary Hughs is also senior advisor and liaison to the Governor for Border and Mexican Affairs, is the state's Chief International Protocol Officer, and chairs the Border Trade Advisory Committee, which works to identify and address key border trade transportation challenges facing Texas.
Secretary Hughs has a proven record of public service, most recently having served as Chair and Commissioner Representing Employers at the Texas Workforce Commission. Prior to her appointment, Secretary Hughs worked as a licensed attorney and was a small business owner. She also previously served at the Office of the Texas Attorney General as the Director of Defense Litigation, where she was responsible for the successful management and oversight of the civil litigation divisions representing agencies across the state.
Secretary Hughs received a Bachelor of Arts from The University of Texas at Austin, and a Juris Doctor degree from the Rutgers Camden School of Law, and she earned a certificate in Leader Development at the U.S. Army War College's National Security Seminar.
---
Texas Commissioner of Higher Education Dr. Harrison Keller
Dr. Harrison Keller is the Commissioner of Higher Education for the State of Texas. He is a sixth-generation Texan with more than two decades of experience in educational budget and policy, digital learning, senior university administration, management, fundraising, and building effective coalitions among school districts, community colleges, universities, systems, and policymakers.
Dr. Keller's appointment as the sixth Commissioner of Higher Education and chief executive officer for the Texas Higher Education Coordinating Board was effective October 1, 2019.
Dr. Keller is a recognized innovator in policy and programs to improve college readiness and student success, especially for low-income and first-generation students. He is the founder and was Principal Investigator of the OnRamps dual enrollment initiative that provides college-level courses to tens of thousands of high school students across the state of Texas, and the Texas OnCourse initiative that works with Governor Greg Abbott's Tri-Agency Workforce Initiative to improve secondary college and career advising across the state.
He came to the Coordinating Board from The University of Texas at Austin, where he was Deputy to the President for Strategy and Policy and a Professor of Practice. Dr. Keller also served at UT Austin as Vice Provost for Higher Education Policy and Research, and Executive Director of the Office of Educational Innovation and the Center for Teaching and Learning. Prior to coming to UT Austin, Dr. Keller was Director of Research for the Texas House of Representatives and Senior Education Advisor for the Speaker of the Texas House.
Dr. Keller has taught at Georgetown University, St. Edward's University, and the University of Texas at Austin. He holds a bachelor's degree in philosophy from the University of Notre Dame and an M.A. and Ph.D. in philosophy from Georgetown University. He and his wife, Gena Nivens Keller, live in Austin with their three children.
Highlights
Redistricting: Ensure a fair redistricting process, based upon accurate Census data, that maintains a unified McLennan County district.
Broadband: Robust broadband in both rural and urban areas should be prioritized as a key infrastructure priority due to its importance in enabling remote learning and teaching; telemedicine and healthcare access; and business operations and commerce; improving educational, health, and economic outcomes in the COVID-19 pandemic and recovery.
Recovery dollars: Federal funds sent to the state should be disbursed fairly, easily, and expeditiously throughout the state to local governments, such as McLennan County and local taxing entities, without preferential treatment, more flexibility, or higher rate of per capita allotment for major metros compared to mid-sized communities.
Diversity, Equity and Inclusion: We support policies and programs that advance economic inclusion, promote equity, and advance data-driven business and policy solutions that bridge opportunity gaps and ensure Black, Hispanic, and all people of color have greater opportunities to succeed.
Business Climate: Texas must retain its business-friendly climate through tax, fiscal, and regulatory policies that promote responsible development and economic growth.
Economic Development: Economic development tools and incentives, like the Chapter 313 property tax limitation program, are critical tools to keep Texas competitive with other states in attracting new business, and retaining and expanding existing business. These tools should be reauthorized and funded to best develop and grow our economy.
Workforce: Qualified and skilled workers are vital to the success of area industry. We support those programs that develop the workforce and strengthen the talent pipeline, cradle to career.
Public Education: A strong public education system is critical for the long-term success and vitality of our state. We must protect the initiatives and funding of House Bill 3 as we continue the work to build and strengthen an adequately funded, equitable, and accountable public-school system for Texas children, developing local talent today for the workforce of tomorrow.
Higher Education: Many of the jobs being created in Texas require some post-secondary education. We must protect higher education funding, aligning innovative programming and curriculum with regional industry needs, while expanding equitable access and attainment for a robust regional workforce.
Healthcare: The COVID-19 pandemic exposed deficits in the state's health care safety net. Because a healthy employee is a critical part of a productive workforce, and a necessity to for economic recovery, we must develop resources and support policies that expand access to affordable care for all Texans.
Transportation: A robust infrastructure system is necessary to support the economic recovery and growth of our state. We must preserve transportation funding options to help provide the infrastructure to support our supply chain and efficiently move goods and people.