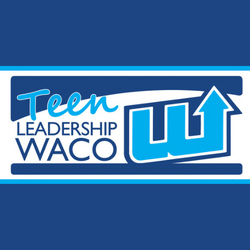 Teen Leadership Waco (TLW) builds on the leadership skills of today's youth to help develop them into future leaders throughout the Greater Waco community. Research shows that youth who begin volunteering and engaging in the community will continue this trend into adulthood.
Program objectives are as follows:
To identify and recruit emerging leaders as participants

To prepare and allow students to participate in the group process

To inform students about community history, government, economic and social issues that are a part of the environment that makes our community function

To encourage participants to undertake leadership roles to improve their own environment
The Selection Process
The Teen Leadership Waco program runs from February through December, with a graduation ceremony in January. The program consists of an orientation retreat and eight workshop days where students will be excused from school to visit and hear from various leaders in the community. Each program day has a particular theme, and all workshops run from 8 a.m. to 3:30 p.m.
In late summer/early fall, sophomores and juniors from any McLennan County high school can apply to Teen Leadership Waco (TLW). Students are selected by the TLW Advisory Committee, which has included lawyers, judges, non-profit employees, bankers, former teachers and business professionals. The committee selects students on a holistic approach based on grades, community engagement, leadership roles and essays written by each student.