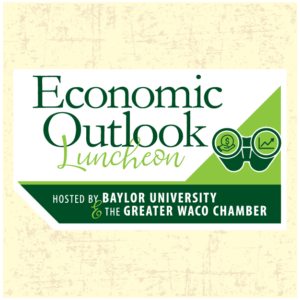 Economic Outlook Luncheon | Thursday, Dec. 8 | Cashion Academic Center, Baylor University
The Greater Waco Chamber of Commerce and Baylor University will partner to bring the business community together to explore economic work and progress over the past year and provide a vision for what the next year may hold. By leveraging academic and professional thought leaders from within our local economy, participants will hear about trends, programs, projects, and initiatives that will continue to thrust Waco forward.
The public is invited to join us.
Individual Member Ticket - $65 | Table of 8 for Members - $500
Individual Non-Member Ticket - $100 | Table of 8 for Non-Members - $800
The Economic Outlook Luncheon will feature presentations from local economic leaders as well as a data-driven keynote presentation from Dr. Sandeep Mazumder, Dean of the Baylor University Hankamer School of Business.
Thank you to our Sponsors