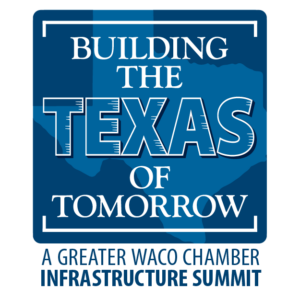 Building the Texas of Tomorrow: A Greater Waco Chamber Infrastructure Summit | Wednesday, Nov. 2 | Baylor Club
The rapidly growing Texas population and passage of the Infrastructure Investment and Jobs Act raise important questions on the future of building a safe, reliable, modern and intelligent infrastructure system in our state. This full-day summit will bring together state leaders in the areas of energy, water, transportation, cybersecurity, broadband access and more for data-packed presentations and moderated Q&A to discuss how those dollars will be invested, growing trends in the infrastructure space and the need for Texas to future-guard our infrastructure system that will allow Texas businesses and communities to compete at the highest level for years to come. This is a must-attend event for those focused on securing a highly competitive, resilient infrastructure system in the state of Texas.
The public is invited to join us.
Individual Member Ticket - $150 | Table of 8 for Members - $1,200
Individual Non-Member Ticket - $200 | Table of 8 for Non-Members - $1,600
Summit Schedule & Speakers
8:30 a.m. – Doors open
9:00 a.m. – Welcome
9:15 a.m. – Opportunity from Federal Infrastructure Bill
Sponsored by Ascension Providence
Speaker – Brandye Hendrickson, Deputy Executive Director of Planning and Administration, Texas Department of Transportation (TxDOT)
9:45 a.m. – Broadband Discussion
Sponsored by AT&T
Speaker – Texas Comptroller Glenn Hegar
Expert Q&A Panel – Glenn Hegar; Kevin Fletcher, External & Legal Affairs, AT&T; Ron Kormos, Chief Strategy Officer at Fiberlight LLC
10:45 a.m. – Transportation (Roads, Bridges, Ports, Supply Chain, etc.) Discussion
Speaker – Gregory D. Winfree, J.D., Director, Agency CEO, Texas A&M Transportation Institute
Expert Q&A Panel – Gregory D. Winfree, J.D.; Darran Anderson, Director of Strategy and Innovation, TxDOT; Carlos Garcia, Director of Transportation, Bowman
11:45 a.m. – Networking Break
12:00 p.m. – Keynote Lunch Presentation – The Future of Infrastructure in Texas
Sponsored by Kelly Realtors
Keynote Speaker – Jeff DeCoux, Chairman, Autonomy Institute
1:00 p.m. – Energy Discussion
Speaker – Bill Flores, Vice-Chair, ERCOT Board and Former U.S. Congressman
Expert Q&A Panel – Bill Flores; Jason Modglin, President of Texas Alliance of Energy Producers
2:00 p.m. – Cybersecurity Discussion
Lead Speaker – Dr. Robert S. Spalding III, Brig Gen, USAF (Ret.), CEO, Sempre and Senior Fellow, Hudson Institute
2:45 p.m. – Networking Break

3:00 p.m. – Water Discussion
Sponsored by CP&Y
Lead Speaker – David Collinsworth, General Manager/CEO, Brazos River Authority
Expert Q&A Panel – David Collinsworth; Scott Felton, McLennan County Judge
4 p.m. – Closing Remarks
As Deputy Executive Director, Ms. Hendrickson is responsible for directing the planning and administration functions of the agency, in addition to government affairs, communications, strategy and innovation, and modal programs. Prior to her appointment as Deputy Executive Director of TxDOT in July of 2021, Brandye worked in Washington D.C. as Deputy Director of the American Association of State Highway and Transportation Officials—AASHTO—and Acting Administrator of the Federal Highway Administration from 2017-2019. She served much of her career in various executive roles within the Indiana Department of Transportation, including leading the agency in a CEO capacity from 2015-2017. Brandye has served on multiple transportation boards and is a recognized leader for her contributions to the transportation industry.
Glenn Hegar was elected as Texas Comptroller of Public Accounts in November 2014. Glenn is a sixth-generation Texan who grew up farming land that has been in his family since the mid-1800s. He's a 1993 graduate of Texas A&M University and earned his law degree at St. Mary's University. Glenn has served in the Texas Legislature, where he worked on issues including public education, transportation, tax reform, government transparency, Second Amendment rights, water issues and tort reform. As comptroller, Glenn is chief finance officer for the world's ninth-largest economy. He has emerged as a passionate advocate for conservative financial management and government transparency who has focused on creating a more efficient and customer-oriented agency. He founded the state's Transparency Stars program, pushed for smarter ways of investing our rainy-day fund to protect it for future generations, and guided the formation of the nation's first ever state-administered precious metals depository. His upbringing taught him the core values of hard work, honesty, and integrity — the same values he and his wife Dara work to instill in their three young children,
Claire, Julia and Jonah. Hegar's most important title throughout his years of service is the one closest to home: Dad!
Mr. Greg Winfree is Agency Director of the Texas A&M Transportation Institute, a state agency, and the largest and most comprehensive higher education-affiliated transportation research institute in the United States. He is also an Adjunct Professor at the Texas A&M School of Law. Greg served for almost seven years in the Office of the Secretary of the U.S. Department of Transportation, most recently as Assistant Secretary of Transportation overseeing the department's research and technology agencies. He is a member of the National Space-Based Positioning, Navigation and Timing Board sponsored by NAS, and the Texas Connected and Automated Vehicle Task Force established by Texas Governor Greg Abbott. Greg received a Juris Doctor degree from Georgetown University and a Bachelor of Science degree from St. John's University.
Jeff DeCoux is the Founder and Chairman of the Autonomy Institute. The Autonomy Institute is a 501c3 consortium of over 100 industry, government, and academia organizations. The Autonomy Institute is focused on accelerating the "Path to Commerce" for Intelligent Infrastructure and autonomous systems to foster social and economic transformation in cities. The Autonomy Institute collaborates with large infrastructure investors on the creation of $100 million Public-Private Partnership programs. The intelligent infrastructure enables the rapid and expansive deployment of rural broadband, 5G, edge computing, intelligent transportation systems, APNT, and smart grid devices. This infrastructure has substantial benefits to cities by eliminating the digital divide and preparing communities for Industry 4.0 solutions. The national deployment of this infrastructure will create millions of new jobs and generate billions in economic growth.
Mr. DeCoux has over 30 years of experience within the high-tech industries where his attention has been focused on Founding companies that enhance business productivity through automation. DeCoux also runs ATRIUS Industries, Autonomous Infrastructure enabling the Robotic Edge. Prior, DeCoux was CEO and Founder of Hangar, the world's first robotics-as-a-system data acquisition platform. Mr. DeCoux has raised over $100 million for venture and business operations.
William H. "Bill" Flores is an entrepreneur, business leader, and public policy leader. He recently transitioned from public service to reengage in the private sector through board membership, as well as to invest more time with family and involvement in community activities. While serving in board governance and senior C-Level leadership positions for industrial and energy-related entities in the private sector, Bill helped create and/or save hundreds of jobs while generating billions of dollars of value for investors, including public company shareholders, private-equity investors, public sector pensions, and retirement funds. During his time in the private sector, he led the formation, financing, building, restructuring, and mergers of successful publicly traded and privately held enterprises. During his service as Representative for the 17th Congressional District of Texas during the 112th through 116th Congresses (2011 through 2021), Bill served on the following committees—House Energy & Commerce Committee, House Budget Committee, House Natural Resources Committee, and House Veterans Affairs Committee. He also chaired the Republican Study Committee (RSC), the largest and most impactful caucus in Congress, during 2015-2016. His work on behalf of constituents and organizations, particularly those related to Veterans and job creators, resulted in numerous recognitions for public service.
Bill currently serves as Independent Director and Vice-Chair of the Board of Directors of the Electric Reliability Council of Texas (ERCOT). He was selected for this position in connection with the restructuring of the organization's governance mandated by the Texas Legislature following Winter Storm Uri in 2021. He also serves as a Director of CO2 Energy Transitions LLC; a recently formed NASDAQ company focused on acquisitions in the emerging energy transitions space. Bill's other governance roles include – Board of Trustees of Houston Baptist University; Corporate Board of Directors of Congressional Hispanic Leadership Institute (CHLI); Texas Advisory Committee of the US Global Leadership Coalition (USGLC); Director Member of the Latino Corporate Directors Association (LCDA); Executive Council Member of the McCombs Energy Initiative at The University of Texas; Board of Directors of Private Enterprise Research Center at Texas A&M University; and Board of Advisors of the American Council for Capital Formation. Bill is a proud ninth-generation Texan and is married to Gina, a hometown girl from Stratford. They have two adult sons, Will and John; a daughter-in-law, Aimee; a fiancé-in-law, Elise; and four wonderful grandchildren. He has a BBA in Accounting from Texas A&M University in College Station and an MBA from Houston Baptist University. He is also licensed as a Certified Public Accountant (CPA) in Texas and as an FAA Instrument-Rated Pilot. Gina and Bill reside in Bryan, Texas.
US Air Force Brigadier General (ret) Robert Spalding is the founder and CEO of SEMPRE, the only true technology company created to protect and secure our most critical resource: data. Rob is former White House National Security Council senior director for strategic planning, serving in senior positions of strategy and diplomacy within the Defense and State Departments for more than 26 years. His innovation while serving in the White House has led to a reset in national security and public policy regarding telecommunications in the US as well as globally. Rob is the author of two books: STEALTH WAR: How China took over while America's elites slept and War without Rules.
The Brazos River Authority Board of Directors appointed David Collinsworth to the position of General Manager/CEO effective April 1, 2018. Mr. Collinsworth is the eighth general manager since its establishment by the Texas Legislature in 1929. He is a career BRA employee, with almost 25 years of service with the organization. Before his appointment to GM/CEO, Mr. Collinsworth worked in or managed nearly all aspects of the BRA, serving as regional manager for the Central and Lower Basins, business manager for the Central Basin and earlier managing water quality projects, laboratory management, and field operations. As general manager, Mr. Collinsworth oversees more than 275 employees in multiple locations throughout the Brazos River Basin, while managing the System's water supply, water treatment projects, and water quality initiatives under the direction of the 21-member Board of Directors.
Mr. Collinsworth holds a Bachelor of Science degree in Aquatic Biology and Chemistry from Southwest Texas State University. He currently serves on the Texas State University's Advisory Council for the School of Science and Engineering and on the Texas Water Conservation Association Board of Directors. He has served on the Texas Utility Council of the American Water Works Association and the Inland Fisheries Advisory Committee of the Texas Parks and Wildlife Department. David's wife, Tara, has been an elementary school teacher for 25 years. His oldest daughter graduated from the University of Texas in Austin and will attend law school. His youngest daughter is a junior in high school and will attend Baylor University upon graduation.
Thank you to our Sponsors