First Green Chamber
The First Green Chamber in America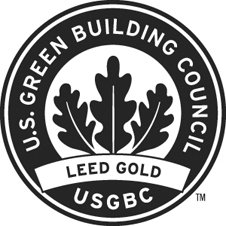 The Greater Waco Chamber is a business organization dedicated to enhancing Greater Waco as a center of excellence and community of choice for businesses and residents. Located in growing Central Texas along the Brazos and Bosque Rivers, Greater Waco is keenly aware of the balance of economy and environment. Greater Waco Chamber built America's First Green Chamber of Commerce building in 2008, and has received a LEED certification at the gold level for its headquarters and regional marketing center at 101 S. Third St. at Heritage Square. This is the first green Chamber building in America.
Below are certifications for sustainability:
The Knoll Reff Office System furniture in offices and work stations, including Knoll Life Chair, is Greenguard Indoor Air Quality Certified by the Greenguard Environmental Institute.
The wood, particle board, MD and veneer of the Knoll Life Chair meet the Sustainable Gold SMaRT© Consensus Sustainable Product Standard as established by the Institute for Market Transformation to Sustainability.
The Knoll Reff Office System furniture in offices and work stations along with 100 percent of all wood in building is Forest Stewardship Council Certified Wood.
All carpet in the building contains very low emissions of volatile organic compounds, as certified by Green Label Plus, an independent testing program of the Carpet and Rug Institute.
The Chamber Story
Green from Top to Bottom
The two-story, 13,916-square-foot facility is the marketing center for Greater Waco where the Chamber showcases the region to prospective businesses, investors and consultants considering a Central Texas location. The building, made possible by the Challenge Greater Waco Campaign, is owned by the Waco Chamber of Commerce Community Development Foundation. The Chamber's sustainable site was made possible by the city of Waco.
The building is designed to accommodate the scores of committees and task forces that advance the organization's comprehensive economic, community and organization development agenda.
A Green Building
As the first LEED (Leadership in Energy and Environmental Design)-certified building in Central Texas, the Waco Chamber LEED certification emphasizes state-of-the-art strategies for sustainable site development, water savings, energy efficiency, materials selection and indoor environmental quality.
Inside the Building
The building is a significant gathering place for business and community leaders. The two largest of the building's five conference rooms open to the park at Heritage Square. The interior is designed to be as impressive as the exterior of the building. The gallery is an open space where renderings and models of future development will showcase the changing look of the community. A sweeping staircase connects the first and second floors, and a skylight brings light into the interior of the building.