Proposition 7
Proposition 7 for State Highway Funding
"The constitutional amendment dedicating certain sales and use tax revenue and motor vehicle sales, use, and rental tax revenue to the state highway fund to provide funding for nontolled roads and the reduction of certain transportation-related debt."



Texans will vote on seven proposed constitutional amendments on November 3, 2015. The Greater Waco Chamber of Commerce board of directors has voted in favor of Proposition 7 and encourages support of this important measure on November 3. Click here to download a flyer that provides a brief overview of Proposition 7.

Below are frequently asked questions about Proposition 7:


Proposition 7 is a proposed constitutional amendment authorized by SJR 5 passed in the 84th Texas Legislature. Proposition 7 dedicates additional funding for the construction and maintenance of roads with portions of the general sales tax and the motor vehicle sales tax to the state highway fund.
The use of dedicated funds by Proposition 7 are limited to purchase of right of ways, construction and maintenance of non-tolled highways and payments to general obligation bonds issued by TxDOT.
Funds cannot be used for toll roads.
Above the first $28 billion dollars in state general sales tax revenue, the next $2.5 billion will be directed to the state highway fund. In addition, 35 percent above the first $5 billion generated by the motor vehicle sales tax will be directed to the state highway.
The Texas Legislative Budget Board estimates these additional tax dollars will increase the state highway fund by $2.5 billion in 2018 and $2.9 billion in 2020.
No. Voting "yes" on Proposition 7 will not raise your taxes. Proposition 7 directs portions of existing funding streams to the state highway fund.
Texas has more than 79,000 miles of state highways to maintain and demands to build new highways and interchanges to prevent congestion and efficiently transport goods and services.
In 2013, the Texas Department of Transportation (TxDOT) estimated a gap in funds of $5 billion annually to meet our state highway needs.
With passage of Proposition 7, Texas would add $2.9 billion in funds to address our unmet needs each year. With passage, the combination of Proposition 7 with Proposition 1 (2014) and those approved by legislators should equip TxDOT with significant funds to construct and maintain our highways to meet the needs of Texas.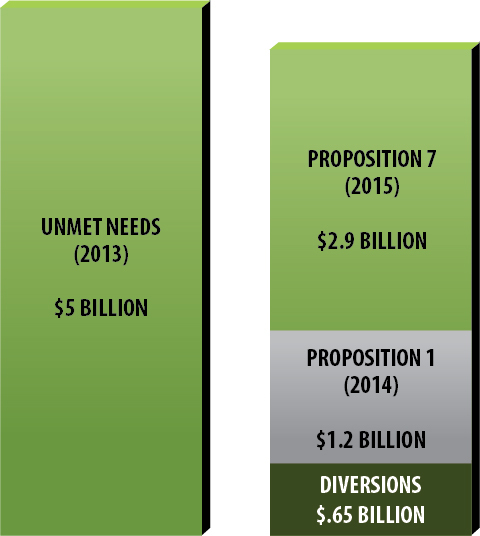 For more information about the "
Cost of Doing Nothing
", visit
MoveTexasForward.com
. For additional advocacy resources,
click here
.
Important Election Dates
Oct. 19, 2015: Early voting begins
Oct. 30, 2015: Early voting ends
Oct. 23, 2015: Last day to apply for ballot by mail
Nov. 3, 2015: Election Day!

For more information on voting in McLennan County, please go to co.mclennan.tx.us/elections.