Placemaking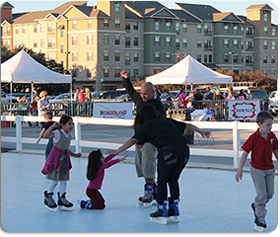 The Greater Waco Chamber envisions 100,000 people living and working in Greater Downtown by 2050. The Chamber, city of Waco and community leaders are committed to growing the heart of the city, in part, to placemaking.
Placemaking is designed to capitalize on the community's assets and potential, and create public spaces such as plazas, parks and various public spaces within the neighborhood and urban designs.
Community leaders are working together to implement the Imagine Waco plan. The Chamber staff and leadership are advocates for quality placemaking initiatives, public investments and other strategies designed to create strong neighborhoods and build quality places for people to live, work and play.
Why Placemaking?
Today, cities are competing to be great places to live and work. The importance of place is becoming essential as a mechanism for economic development. Great cities are defined by great places, and great places are catalysts for economic development.
As defined by the Project for Public Spaces, "Placemaking is a multi-faceted approach to the planning design and management of public spaces . . . the art of creating places that uplift and help us connect with others."
Developing places people want to be is essential on all sides to building a healthy community. Placemaking helps to satisfy our community's need to develop our workforce, attract and retain talent, and continue to build on our success as a destination.
The Greater Waco Chamber's Urban Development program in concert with our initiatives in entrepreneurial development and innovation go hand-in-hand with the placemaking priorities of our community. Positioning the Greater Waco area to be more competitive in the 21st century innovation economy is a priority to ensure our long term sustainability. Working to grow creative jobs and supporting entrepreneurship is critical. Understanding the benefits of community-wide investment in cultural arts will keep Waco competitive. Actively working to attract and retain talented people in Waco is essential. Continuing to orient Greater Waco's growth activity toward placemaking is powerful economic development that will yield a return for Waco for many years.