E-Weekly Newsletter
Each weekly e-newsletter is distributed to 3,200 email addresses and are sent to Greater Waco Chamber members. This weekly communication includes a list of upcoming events, member Chamber XChange discounts, Chamber news and other information every Monday.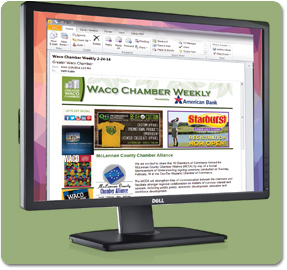 Weekly Email Sponsor (Graphics will link to your website)
Cost: $150 per ad for members; $75 per ad for non-profit organizations – per weekly run.
Dimensions: Graphics should be supplied at 340 pixels wide x 200 pixels high at 72 dpi.
Email Amber Greenwood if interested in advertising in the weekly e-newsletter. Send artwork/graphics to Samantha Baker no later than 12 p.m. on the Thursday before the scheduled Monday e-newsletter that the graphic is to run.