Communications
The Greater Waco Chamber's communications are focused both internally and externally. Information is exchanged with members daily, whether it's promoting a Chamber event or sharing an accomplishment by one of our business leaders.
Information about community activities is also shared with the outside world through the Greater Waco Chamber website, Greater Waco Business Magazine and Waco Community and Referral Guide. Below is a brief overview of our various communication pieces.
The Greater Waco Chamber website strives to offer the most current information about our Chamber, community and economic development. Visitors to the website can check the calendar of events, membership database or get the latest news on Chamber members and economic development announcements.
Our annual Program of Action outlines the Chamber's goals, committees and board members. This brochure is an easy-to-use format for members.
Waco Chamber Weekly
The Greater Waco Chamber weekly e-newsletter goes out to more than 3,500 email addresses each week to provide the latest information on upcoming events, special announcements and applause for outstanding accomplishments.
The Waco City Cable Channel and the Greater Waco Chamber produce Chamber Connection every month. The TV show airs at 8:30 p.m. on Tuesdays and noon on Thursdays. The show can also be viewed online.
The Chamber's four-color, perfect-bound magazine explores the goals and objectives in the Greater Waco Chamber's strategic plan, as well as promote target industries, recent economic development announcements and member highlights throughout the Central Texas area.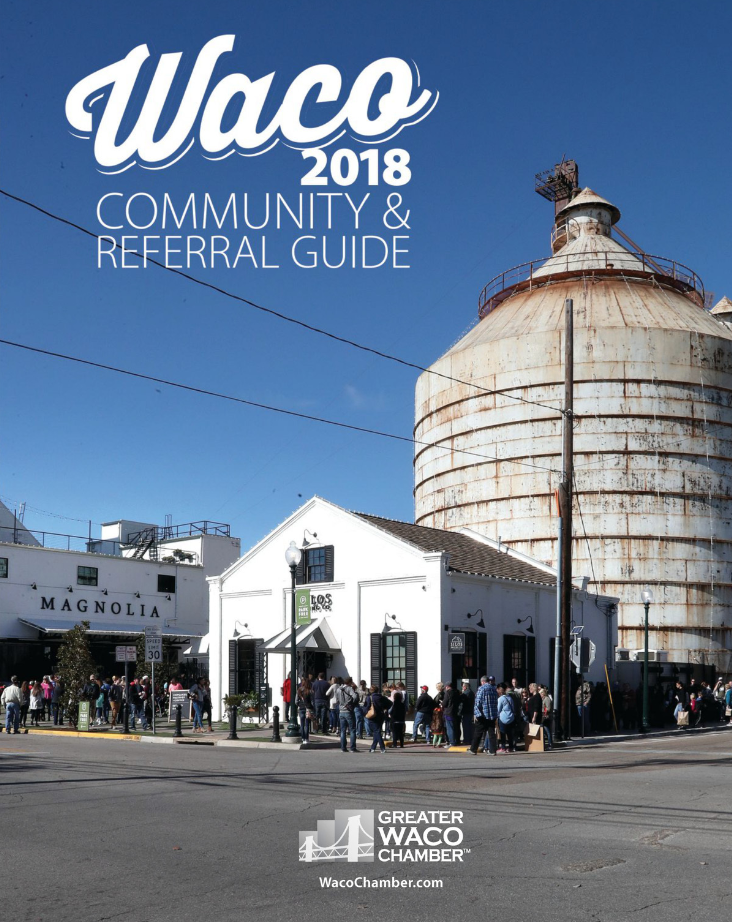 The Waco Community and Referral Guide is available to all members and anyone in the community needing more information about the Greater Waco area. Whether looking to move to the Greater Waco area or interested in what the surrounding communities have to offer, this in-depth, annual publication provides community updates and the Greater Waco Chamber's membership list. This publication is available online, or a hard copy can be requested and mailed to you.
The Chamber produces a detailed street map of the Greater Waco area. To order one, click here.
Social media channels are a great way for us to share the latest events and news with the community, and are excellent avenues of communication for the many events that we sponsor each year.
For more information about any of these communication pieces, please contact Autumn Outlaw at (254) 757-5603.