Waco Collegiate Forum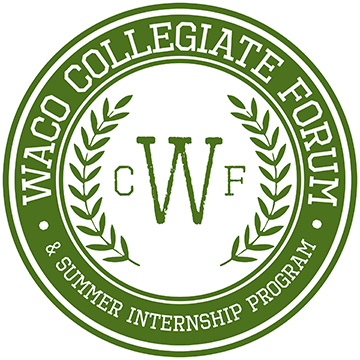 Mission: Attract and retain area college students by developing connections to our community and with area employers.
The Waco Collegiate Forum (WCF) and Summer Internship Program is an outreach program that connects students from across four area college campuses with each other and Greater Waco through a weekly forum and summer internship opportunities.
Weekly Forum
The weekly Waco Collegiate Forum (WCF) is designed for students to begin networking outside of their campus and degree plan and to focus their development into the professionals and leaders needed throughout the Greater Waco community.
Through the weekly meetings, students are mentored by area business and community leaders, learn about community engagement in Greater Waco and become effective professionals after college. With these resources, WCF teaches each student the true meaning of being a leader in the community and workplace.
Spring 2016 Schedule:
3 p.m. – 4 p.m.
Location Varies Each Week
Jan. 28, 2016: History Makes Waco Great
Speaker: Dr. Stephen Sloan, WacoHistory.org
Location: Dr Pepper Museum (300 S. Fifth Street)
Feb. 4, 2016: A Connected Community
Speaker: Ashley Thornton, Act Locally Waco
Location: Back Porch Club, Extraco Event Center (4601 Bosque Blvd.)
Feb. 11, 2016: Healthcare Career Pathways
Speaker: Brett Esrock, President/CEO Providence Healthcare Network
Location: Providence Health Center Auditorium (6901 Medical Parkway)
Feb. 18, 2016: Developing Downtown Waco
Speaker: Shane Turner, Turner Real Estate
Location: Waco Hippodrome (724 Austin Avenue)
Feb. 25, 2016: Leading Waco
Speaker: Dillon Meek, Waco City Council, District IV
Location: Bosque Theater, Waco Convention Center (100 Washington Avenue)
March 3, 2016: Engineering & Construction Career Pathways
Speaker: Rick Tullis, President, Capstone Mechanical
Location: Capstone Mechanical (7100 Imperial Drive)
The weekly forums are open to all enrolled students of Baylor University, McLennan Community College, Texas State Technical College and the University Center at MCC. Students are requested to register in advance, found on the Chamber's calendar of events page.
Summer Internship
Interested in an internship this summer? Want to stay in Waco? The WCF Summer Internship Program wants to help you do both! The WCF Summer Internship wants to match 30 students with an area employer for an 8-week, paid summer internship. Look for more information in the near future on opportunities to connect with area employer this summer.
To receive emails on all Waco Collegiate Forum events or if you have any questions, please contact Jake Cockerill at (254) 757-5634.
Thank You to Our Sponsors: