Waco Collegiate Forum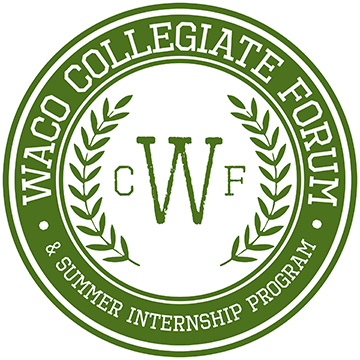 Mission: Attract and retain area college students by developing connections to our community and with area employers.
Vision: Connect college students from local campuses to exciting initiatives and new opportunities in our community that showcase Waco as a place to stay after college. We believe this is a place where you can begin you're a career, start a family, and engage throughout the city to make a difference. Through our program, students will build relationships with city leaders and young professionals, learn about the Waco economy, experience its budding art and entrepreneurial culture, and celebrate the new and exciting developments coming soon down the road. At the end of six weeks, students will have gained insight on how to engage with building this city, they will have expanded their network, and maybe even fallen a little bit more in love with our wonderful city.
Weekly Forum:
Through the weekly meetings, students are mentored by area business and community leaders, learn about community engagement in Greater Waco and become effective professionals after college. With these resources, WCF teaches each student the true meaning of being a leader in the community and workplace.
2018 Waco Collegiate Forum Tentative Program Fall Calendar:
3 p.m. – 5 p.m.
Location Varies Each Week
Week 1– Orientation Thursday, Oct.12
Week 2 – History Day Thursday, Oct.19
Week 3 – Economic Development Thursday, Oct. 26
Week 4 – Internship Fair Thursday, Nov. 2
Week 5 – Arts & Entrepreneurship Thursday, Nov. 9
Week 6 – Graduation Thursday, Nov.r 16
The weekly forums are open to all enrolled students of Baylor University, McLennan Community College, Texas State Technical College and the University Center at MCC. Students are requested to register in advance, found on the Chamber's calendar of events page.
Interested Applicants:
If you're interested in applying to join UC Waco's inaugural class for the Fall 2018 calendar, please click here for the application. Return completed application to Jake Cockerill at jcockerill@wacochamber.com or deliver it to the Greater Waco Chamber's physical address at 101 S 3rd St. Waco, TX 76701.
Please note, interested applicants must be enrolled in higher education facility as of October 1st of the current year, they must be open to seeking an internship in the Greater Waco area for the spring and/or summer season, and they must be 18-years of age or older. Accepted applicants will also be required to attend 5/6 of the weekly programs and if applicants cannot attend 5/6, they will be removed from consideration.
To receive emails on all Waco Collegiate Forum events or if you have any questions, please contact Jake Cockerill at (254) 757-5634.
Thank You to Our Sponsors: