Sports Luncheon Series
The Greater Waco Chamber loves their sports, which is why for over 30 years the Greater Waco Chamber has hosted a community-wide luncheon to get everyone excited for the upcoming sports seasons! Three luncheons are held annually to help rally the community behind college baseball/softball, college and high school football and college men's and women's basketball.

30th Annual Kick-Off Sports Luncheon
The Annual Kick-Off Sports Luncheon is the precursor to Baylor and high school pigskin season in Waco. The next luncheon will be held on Thursday, Aug. 23, 2018 at Baylor Club. This year Coach Matt Rhule will give us an in depth look at his experience as a coach and the upcoming Baylor football season.
Prior speakers have included Gary Baxter (former American football cornerback and Baylor football player), Charles Davis (an American football analyst on Foxsports.com and former player), Bill Hancock (first executive director of the BCS), Bobby Bowden, Charlie Ward, Trey Wingo (ESPN), Brad Sham (voice of the Dallas Cowboys), R. C. Slocum (former Texas A&M Head Coach), Gene Stallings (former A&M and Alabama Coach) and Grant Teaff (former Baylor University Coach).
23rd Annual Tip-Off Sports Luncheon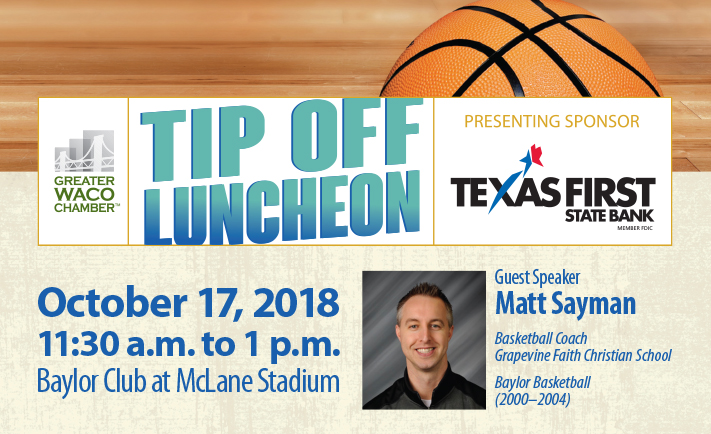 The Annual Tip-Off Sports Luncheon will be held on Wednesday, October 17, 2018 at Baylor Club to provide a preview of the upcoming local basketball season for Baylor University and McLennan Community College. This year the speaker will be Matt Sayman, head boys basketball coach at Grapevine Faith Christian School. Sayman played basketball for Baylor and is the author of The Leftovers: Basketball, Betrayal, Baylor & Beyond, the ultimate underdog story.
The Tip-Off Luncheon includes a preview of Baylor's upcoming college basketball season from Lady Bears' head coach Kim Mulkey and Baylor Bears' head coach Scott Drew. McLennan Community College women's head coach Ricky Rhodes and men's head coach Kevin Gill also provide a preview to their upcoming seasons.
Prior year speakers have included ESPN basketball analysts Fran Fraschilla and Carolyn Peck, Carroll Dawson (GM Houston Rockets), Shelby Metcalf (A&M Coach), Bobby Knight (Texas Tech Head Coach), Van Chancellor (2004 Olympic Coach & Houston Comets Coach), Leon Barmore/Kim Mulkey, and Marion Jones (former Olympic Gold Medalist track and WNBA player).
20th Annual First Pitch Sports Luncheon
This annual event will be held in Jan. or Feb. 2019 and provide a preview of the upcoming local baseball and softball season for Baylor University and McLennan Community College.
Prior year speakers have included broadcaster and "voice of the Houston Astros" Bill Brown, the Texas Rangers' Chief Financial Officer Kellie Fischer, former American League President Dr. Bobby Brown, former Astros Manager Larry Dierker, president of Texas Rangers Jeff Cogen, former Ranger and VP Jim Sundberg, Nolan Ryan and Texas Rangers David Murphy.
We will be sending tickets out for each luncheon the Monday two weeks prior to each luncheon. 
For more information about sponsoring a sports luncheon or attending one of these events, call Amanda Haygood
at (254) 757-5611.