MCCA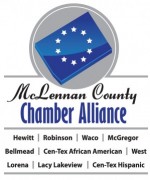 Ten Chambers of Commerce formed the McLennan County Chamber Alliance (MCCA) by way of a formal Memorandum of Understanding signing ceremony conducted on Tuesday, February 18, 2014 at the Cen-Tex Hispanic Chamber of Commerce.

Representatives of the participating Chambers of Commerce will strengthen lines of communication between the chambers and facilitate stronger regional collaboration on matters of common interest and concern, including public policy, economic development, education and workforce development. MCCA partners will also explore cooperative use of their existing communications tools to build awareness and support of the Alliance, its initiatives and impacts.

Discussions between the chambers began in 2013. Representatives of the partnering chambers became determined to work in a collaborative manner to strengthen the quality of life and economic vitality of their shared economic region. The signing ceremony is the formalized agreement of the group's growing working relationships and their efforts to improve McLennan County's economic competitive position.

The partnering chambers include: Hewitt Chamber of Commerce, The Greater Robinson Chamber of Commerce, Greater Waco Chamber of Commerce, McGregor Chamber of Commerce and Agriculture, Bellmead Chamber of Commerce, Cen-Tex Hispanic Chamber of Commerce, West Chamber of Commerce, The Greater Lorena Chamber of Commerce, Cen-Tex African American Chamber of Commerce and Lacy Lakeview Chamber of Commerce.