Greater Downtown Waco
America's most successful cities are making walkable, urban places a priority as they build mixed-use, compact development (apartments above coffee shops, office space above grocery stores). In the process, they are driving down energy costs and building competitive advantages. A healthy downtown core is essential to a sustainable economy. Since 2007, more than $750 million of new private development activity has been announced in downtown Waco. The Greater Waco Chamber recognizes that investment in downtown as a center of commerce, entertainment and a regional destination will drive transformational growth throughout Greater Waco.

We believe that this urban development pattern will make our city more attractive for the more than 400,000 people who will live in McLennan County by the year 2050 and not just for young professionals and empty-nesters, but for families with children who will enjoy walking in the city and to schools, parks, libraries and churches.
The Greater Waco Chamber is committed to developing this vital area and assists investors, businesses and others interested in downtown find buildings or sites for development. For a taste of all the downtown Waco activity, we encourage you to participate in "First Fridays" each month, where downtown restaurants, bars, shops, entertainment and more offer discounts and incentives to patrons wanting to partake in the urban experience. Check out Facebook.com/FirstFridayWaco on the first Friday of each month to see what offers are available.
Navigate Downtown
The city of Waco offers a FREE shuttle service to help you navigate the Silo District of downtown Waco. It runs every 8 to 10 minutes, Monday through Saturday, from 9:00 a.m. to 6:30 p.m. So make sure to park for free and take the shuttle to explore Waco today! You'll also want to check out the Waco Transit website or view the map below to check out the Silo Trolley route.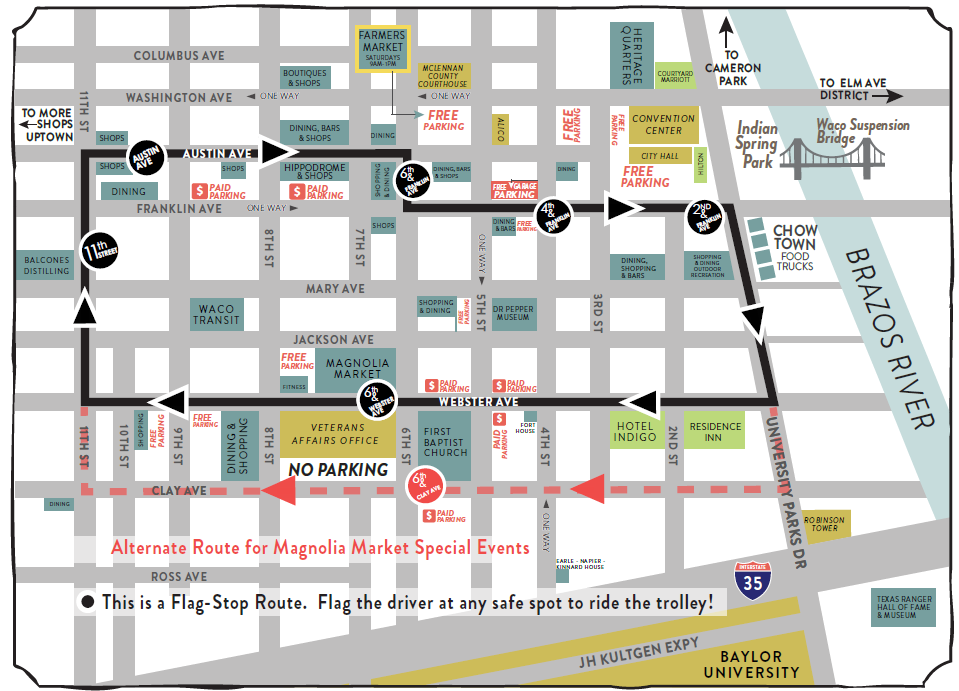 Shop Downtown
Trendy boutiques, art galleries, furniture and home decor havens are among the favorite shopping hot spots in Greater Downtown Waco. RiverSquare Center at Third and Franklin is home to the Shops of Spice Village, where jewelry, baby apparel and accessories, home decor and clothing delight shoppers. You can also find lunch at one of the many restaurants in this restored historic warehouse or food trucks nearby.
Stroll down Austin Avenue for a lovely tour of several blocks of Waco's popular storefronts. The downtown shopping district is walkable and friendly with restaurants and coffee shops along the way.
Arts & Entertainment
Concerts in the park, theater productions, art galleries and holiday strolls are just some of the attractions to downtown Waco. The annual Waco Cultural Arts Festival attracts thousands to downtown Waco for a three-day event featuring artists and musicians. Tree-lined Austin Avenue, the gentle slope of Indian Spring Park and the open space of Heritage Square are among the amenities that provide wonderful entertainment settings yearround. Cafes, wine bars and coffee shops host evening musical entertainment throughout the area too.
For a full calendar of events and description of arts and entertainment, visit CreativeWaco.org.
Food & Drink
Downtown Waco offers restaurants and bars with both indoor and outdoor seating. Bakeries, sandwich shops, cafes and coffee houses are popular with students, residents and tourists alike. Upscale dining and sidewalk cafes create a variety for all occasions. The Waco Downtown Farmers Market sells fresh produce and other goods each Saturday morning and Tuesday evening across the downtown Courthouse (510 Washington Avenue). And make sure to check out Chow Town (food trucks) on University Parks Drive/Franklin Drive.
Food trucks are also leaving their mark in downtown Waco these days, which is why the Greater Waco Chamber created The Texas Food Truck Showdown. Up to 40 food trucks and additional mobile vendors come in from around Texas to compete for the title of The Texas Food Truck Champion and a grand prize of $2,500.
Live Downtown
Downtown Waco offers loft living and cozy neighborhoods for all tastes and budgets. Downtown proper offers properties suited for students as well as single family dwellings above storefronts. Loft apartments are popular with a range of demographics who find the live, work and play environment to be appealing.