Greater Waco Career Fair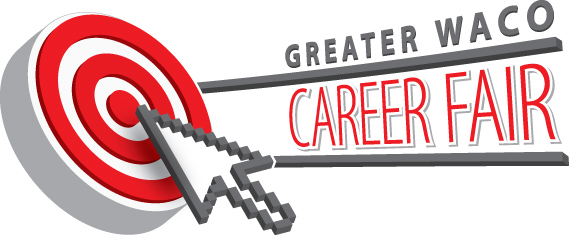 The Greater Waco Career Fair is a partnership of the Greater Waco Chamber of Commerce and Workforce Solutions for the Heart of Texas. Additionally, the Greater Waco Career Fair is community-wide recruiting event to connect job seekers with available employment opportunities in Greater Waco.



2016 Greater Waco Career Fair
Thursday, October 6, 2016
10 a.m. – 2 p.m.
Waco Convention Center, McLennan Hall
100 Washington Avenue
Job Seekers
Job seekers are invited to network with recruiters of multiple companies in one convenient location. Each job seeker will receive a fair guide with information about the employers participating and available positions being recruited upon registering. Job seekers can make a great first impression in person instead of only with a resume or application. In addition to connecting with area businesses, you can participate in training workshops, seminars and much more.

Free of charge and open to the public (local and out of town), no advanced registration required.
A fair guide will include information on employers participating and available positions.
Anticipating 40 employers.
Skill and training workshops provided free of charge: Careers in Retail; Job Interviewing; Job Accommodations & Disability Self-Disclosure; and Key Skills Needed to Obtain and Keep a Job.
Higher education resource tables & seminars provided free of charge: McLennan Community College; Tarleton State University at Waco; Texas State Technical College Waco; Texas Tech University at Waco; Prosper Waco; Goodwill; CollegeChoice.Today; DARS; and Workforce Solutions for the Heart of Texas.
Click Here to View Employers Attending Job Fair

Job seeker preparation to include:
Research employer participating
Bring several copies of resume
Dress professionally
Prepare short speech/commercial about yourself
Employers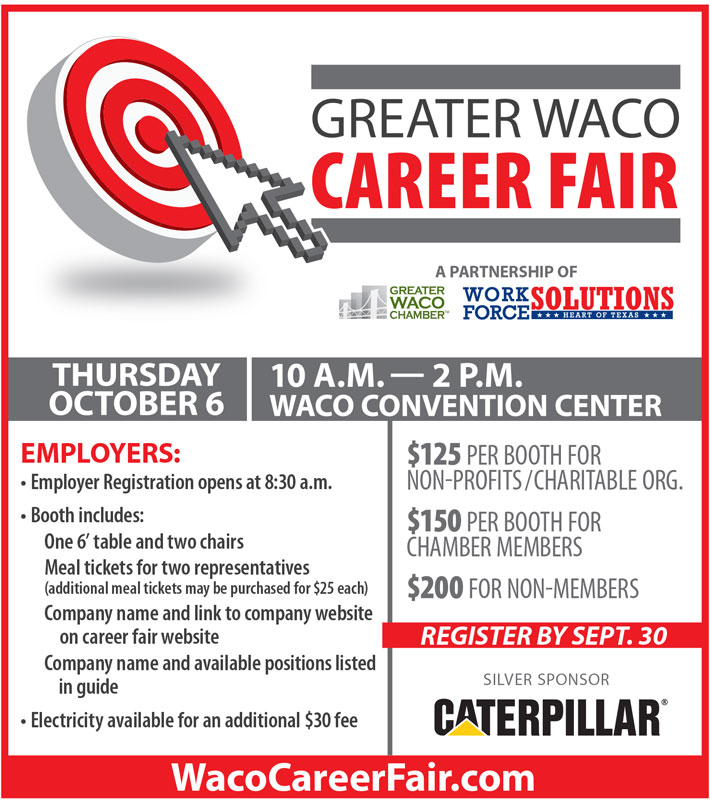 Employers in the Greater Waco area from all industries are invited to recruit for all available positions. This is an opportunity for recruiters to network with several potential candidates from within and outside of Central Texas in a short period of time. This provides recruiters the opportunity to go beyond reviewing the resume to direct engagement with the potential candidate.

Registration is Closed

Employer registration includes:
One booth with one (1) 6' table and two (2) chairs (electricity available for an additional $30 fee)
Meal tickets for two (2) representatives (additional meal tickets may be purchased for $25 each)
Company name and link to company website on career fair website
Company name and available positions listed in guide
Employer registration fee:
$125 for non-profit/charitable organizations
$150 for Greater Waco Chamber members
$200 for non-members of the Greater Waco Chamber
For more information about the Greater Waco Career Fair, contact Ashley Lunde at 254-757-5625.

Thank You to Our 2016 Sponsor: