Category Archives:
Uncategorized
AT&T Announced as Find Your Waco Presenting Sponsor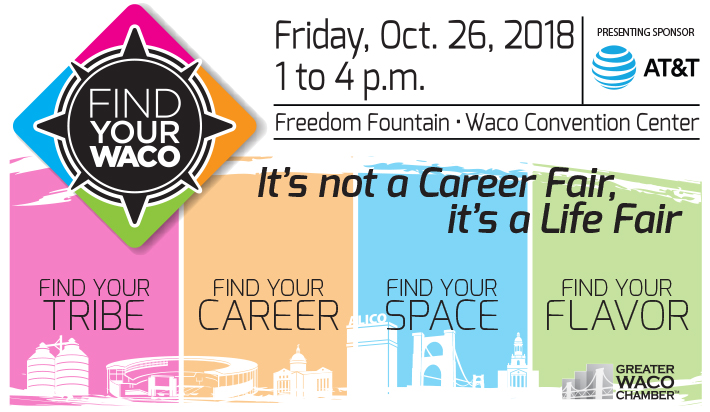 WACO, Texas – The Greater Waco Chamber is pleased to announce AT&T as the 2018 presenting sponsor for the Find Your Waco Life Fair. This event will be on Friday, Oct. 26, from 1 to 4 p.m. at the Freedom Fountain at the Waco Convention Center. This unique event is free to attend and is open to the public.
AT&T released the following statement, "Building on their strong commitment to military veterans and at-risk student, AT&T is a leading sponsor of the inaugural Find Your Waco Life Fair event. This innovative event will help transitioning soldiers, students and more find their best fit – from their careers to where they live — in this growing community. AT&T believes military experience – leadership, integrity and commitment to service – makes veterans outstanding employees and has added 10,000 of these men and women to their team since 2013 and looks forward to hiring another 10,000 by 2020. In addition to veteran transition, AT&T invests education and job training to create a skilled and diverse workforce. Since 2008, AT&T has committed $450 million to programs to help millions of students in all 50 states and around the world through the AT&T Aspire initiative. AT&T Aspire brings together the power of the AT&T network – from employees, to technology and to organizations – to connect people to opportunities through education and job training."
The afternoon event will be a great opportunity for people of all ages and backgrounds to come and connect with businesses across the community. Job seekers, students, transitioning soldiers and visitors will be seeking career/internship opportunities, searching for places to call home, finding groups they can plug into and discovering the unique flavors, activities and fun that Waco has to offer.
The fair will consist of four "quads" that attendees can connect with:
– FIND YOUR TRIBE will help you get plugged into Waco. Industries represented may include churches/religious organizations, non-profits, fitness facilities, networking groups, sporting groups, or hobbies.
– FIND YOUR CAREER is where you can get plugged in with local employers. Industries represented may include any company offering part/full time or internship opportunities, educational partners, staffing agencies, hospitals/healthcare companies, manufacturing companies, aerospace companies, professional service companies, or tech companies.
– FIND YOUR SPACE will help you explore living in Waco. Industries represented may include realtors, apartment complexes, hotels, school districts, banks, construction companies, or roofing companies.
– FIND YOUR FLAVOR will give you a taste of the unique "flavors" of Waco. Industries represented may include restaurants, bars, wedding venues, sporting activity companies, grocers, or car dealerships.
Text FINDYOURWACO to 797979 to opt-in for text message updates and information about Find Your Waco; watch the event video here: https://goo.gl/85u8P6
For more information, contact Jennifer Branch at (254) 757-5625.
###
About the Greater Waco Chamber:
The Greater Waco Chamber is a business leadership organization that advances a forward-thinking and visionary agenda for economic growth and quality of life. The Chamber prepares and markets Greater Waco for the businesses and jobs of the future and enhances the quality of life of the community by promoting strategic development. For more information, visit WacoChamber.com.
Story written by Denton Finley, featured in the first quarter edition of the 2018 Greater Waco Business Magazine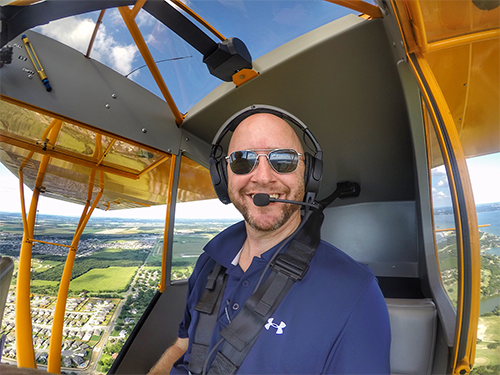 I have been interested in aviation ever since my childhood. When I was five years old, my parents took my sister and me on vacation to California. We went to Disneyland, Universal Studios, the beach, and lots of other places; however, I hardly remember anything about that trip. What I do remember was the airplane ride there. I was amazed by how high up in the air we were, how fast we were going, and how small everything appeared to be underneath me.
Fast forward about nine years, my fourteenth birthday. My parents surprised me with a one-hour discovery flight in a Cessna 172 out of the McGregor Executive airport. The flight instructor flew me over Waco, over my house — I even got to hand-fly the plane for a while. From that moment on, I knew I would be a pilot when I grew up.
After high school, I enrolled in Texas State Technical College's Aircraft Pilot Training program in the fall of 2001, right before the September 11 terrorist attacks on the World Trade Center. My wife, Lee Ann, and I had some serious discussions as to whether or not I should continue pursuing the profession, but after prayerful consideration we decided to press on. It took a lot of time, financial planning and hard work to get through college while balancing a young family and a full-time job.
After graduating from TSTC with my associate degree in 2005, I began working as a flight instructor at TSTC while continuing to pursue my bachelor's degree in aviation via distance learning at Utah Valley State College (UVSC). At the time, UVSC was one of the few colleges that offered an aviation degree through distance learning. By the end of 2007, I had completed my bachelor's degree and earned enough experience to move forward in my career just as the "Great Recession" of 2007 began to rear its ugly head. The recession hit the aviation industry hard. I had been pursuing opportunities with regional airline carriers and had been offered several jobs, but due to the drastic economic decline, I never received a new hire class date. Major airline carriers ceased hiring and attrition came to a standstill. One of the carriers that offered me a pilot position even furloughed a class of new hires right out of training.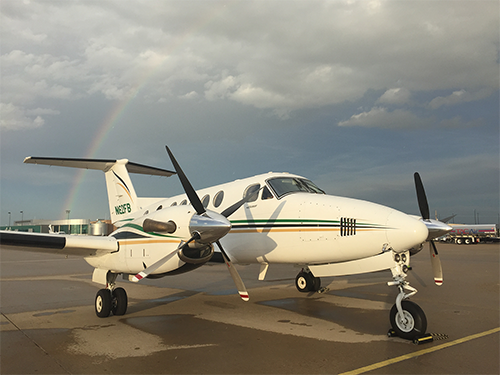 Despite the industry gridlock, I pressed on and continued working as an instructor at TSTC and eventually worked my way up to chief flight instructor. Despite the state of the industry, I still found flight instructing a rewarding job — I really enjoyed seeing student pilots fly solo for the first time and eventually fulfill their dreams of earning their pilot certifications. After seven years of teaching, I was offered a job flying a King Air (a small twin turboprop) for Waco-based Texas Farm Bureau. I flew Texas Farm Bureau's executives and board members all across the state to attend various business meetings and events, all of which were in support of Texas' great agricultural economy. Last year, a friend of mine invited me to apply for my current job at XOJet — a California-based jet charter company that flies individuals all across North America.
I began working for XOJet and currently pilot their fleet of Cessna Citation X's, one of the world's fastest civilian aircraft. XOJet flies everybody from private individuals to Fortune 500 executives — I even get the opportunity to fly a celebrity every once in a while! I work eight straight days on the job and am home for six days. During a typical eight-day rotation, I quite literally crisscross the country and then some, with stops in Burbank, New Orleans, Telluride, Toronto, Louisville, Teterboro, and Miami just to name a few. During those eight days, I could end up just about anywhere on the North American continent depending on the schedule demands of the company and who is being flown. During my six days off, I spend quality time at home with my family, volunteer at church, and give occasional flight lessons while my kids are at school. One of the many things I love about this job is that it allows me and my family the flexibility to live anywhere in the country while continuing to build a career in the industry that I love. Given this opportunity, Lee Ann and I are still proud to choose to call Waco "home."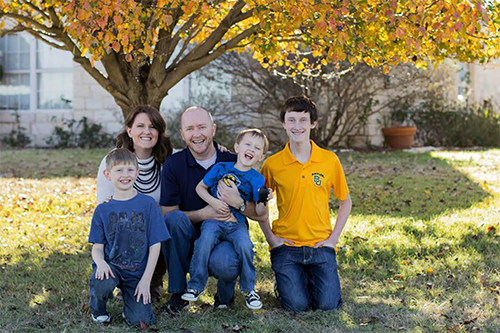 Waco is a great place to live, work and raise a family. There are some awesome school districts in the area for both my kids and my wife Lee Ann, who is proud to be an eighth-grade science teacher at China Spring Middle School. Not only are the school districts great, but there are churches literally on almost every street corner. My family and I are very involved at Redeemer Presbyterian Church, where I serve as a deacon, Lee Ann works with middle and high school youth and our kids are heavily involved in youth programs. Waco also has a youth league for just about any sport the kids are into; my three boys have been involved in Little League baseball, basketball, soccer and taekwondo. My boys also love their board games, comics and sports memorabilia, and one of our favorite spots in town is King's Landing and Bankston's Comics. I consider myself an outdoor recreation enthusiast and I love the Cameron Park area. I spend quite a bit of my time at home running trails and training for my next race along with the Waco Striders running club.
Today, the aviation industry has never been more alive. Airline pilots have a mandatory airline retirement age of 65, and the industry is on the leading edge of a record amount of retirements over the next several years. According to Boeing, the industry will need over 637,000 new commercial pilots, 648,000 new maintenance technicians and 839,000 new cabin crew members between now and 2036; however, the industry is anticipating a shortage of new aviators to fulfill those needs. This means jobs. Not just as an airline pilot, but across all career opportunities in general aviation: corporate aviation departments, charter companies, flight schools, and even the military are going to need pilots and aviation technicians for the foreseeable future.
One of the most valuable things I have learned in aviation is that people come from all different backgrounds and experiences. The best advice I have for any aspiring aviator is to work hard, study, meet people in the industry, learn from other's experiences and, above all else, do not be afraid to ask for help along the way. The path to becoming a pilot is full of obstacles and there are plenty of reasons why many people decide not to become a pilot — training cost, demanding schedules, initial pay and experience requirements — and it takes a lot of discipline and passion to overcome those obstacles. It is definitely worth it in the long run. The quality of life I am able to provide my family, the places I get to travel to, the interesting people I get to meet along the way and, quite frankly, the fact that I get to sit in a chair nine miles up above Earth while traveling at transonic speeds is pretty darn cool.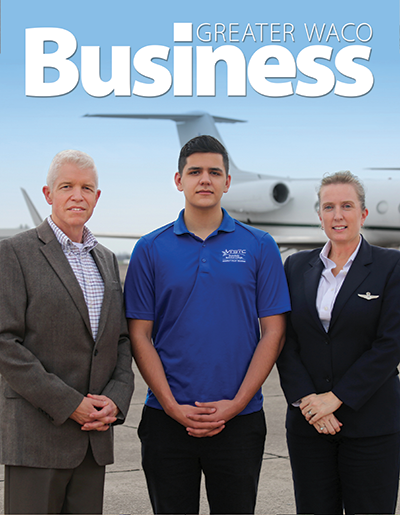 Check out this edition of the Greater Waco Business magazine online,
featuring articles all about the aerospace industry here in Waco, new
Chamber members, member news and more!
Featured in the first quarter edition of the 2018 Greater Waco Business Magazine
Small businesses are the engine of our economy in the Greater Waco community – more than 70 percent of our membership is considered "small business." We've decided to introduce a "Small Business Spotlight" to our quarterly magazine to showcase some of our local small business owners and discuss what it's like owning a small business in Waco and how the Chamber has helped their business.
Our first Small Business Spotlight focuses on Jay Ehret, owner of Pickup Outfitters, located at 220 Lake Air Dr. Pickup Outfitters sells and installs high-quality truck accessories at affordable prices, providing outstanding customer service every step of the way. Ehret and his wife Carol purchased Pickup Outfitters from The Perry Company in 2016.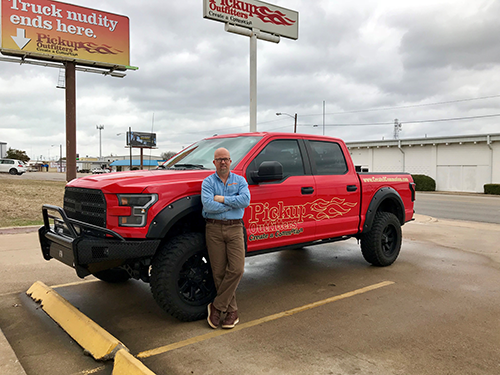 1. What led you to start your own business in Waco?
Waco is a great place to live. I can't see us ever moving away, and Carol and I wanted a business that would be easily accessible.
2. How have you been engaged in the Chamber?
I think I first became involved with the Chamber around 2000 as an ambassador while working for Clear Channel Communications. Since then, I've been on various committees including the small business awards and economic development subcommittee. When I started my first business in 2001, I immediately joined the chamber and have been a member since, with the exception of the two years I went to work for the Dwyer Group. During my time at Dwyer, I helped represent them in the Chamber.
3. What keeps you in Waco, as a business owner?
Waco is a great place to do business. Our customers are great! The people here are genuine and appreciate locally-owned businesses. Small, locally-owned businesses are the character, flavor and heart of a community. Central Texans understand that and support our small businesses.
4. As a chamber member, over the last year, what has been the one thing you are most proud of?
The way the city is embracing the "Magnolia Effect" and using it as a springboard for community development. Chip and Joanna showed America all the great things about Central Texas. Our cities, chambers of commerce, and local business leaders have leveraged that publicity for smart growth projects and businesses to improve our culture and lifestyle. There are several cool businesses in the pipeline.
5. With an influx of people wanting to move to Central Texas, what would you say to someone who is considering moving their family and business to Waco?
Welcome! Our communities in the Heart of Texas have an open door to anyone who appreciates our family and faith-based culture and has a strong work ethic. You will find so many people who are constantly working hard to improve our community and way of life. Waco is a great place to live and own a business.
6. What advice can you give to new small business owners?
Get connected to other business owners. Passion alone does not make a profitable business. Seek out entrepreneurs who know how to run a profitable business. Watch them, ask for their advice, and learn from them.
7. On the weekends or in your free time, what is your favorite thing to do in Waco?
Take my bike to Cameron Park and go trail riding.
Learn more about the Small Business Support at WacoChamber.com or contact Christie Harper at charper@wacochamber.com or 254-757-5617.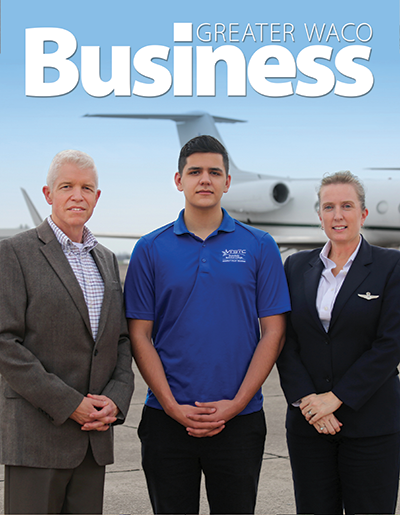 Check out this edition of the Greater Waco Business magazine online,
featuring articles all about the aerospace industry here in Waco, new
Chamber members, member news and more!
Article by Jessica Attas, featured in the first quarter edition of the 2018 Greater Waco Business Magazine
Fascination with space and the universe has long been a part of our national culture and leadership in research and exploration a part of our national identity. As science evolves, knowing what we used to consider "the great unknown" has never been closer. The commercial space sector is a unique, diverse and critically important domain for our country's vital interests. Texas is, in many ways, already a leader in this sphere. Yet as we consider how we can position the U.S. to be a leader in the world in aerospace, and Texas a leader in the U.S., one of the most important ways we can do so is by ensuring we have the skilled workforce required. From engineering talent to skilled technicians to computer programmers to welders and machinists, existing and potential businesses will need access to diverse skill sets to launch their businesses forward.
Following the state's challenge upon communities to align education offerings with industry workforce needs, our local education partners have all risen to the call. Each is doing exciting things to incite in area students an interest in aerospace, and preparing them for future study and work in the field. This IS rocket science, and Waco is doing great things to ensure we are producing, attracting and retaining the best talent in Texas to support our commercial aerospace industry.
We've asked leaders from several of our educational institutions to share with us how they are helping to produce the talent Waco will need to support continued growth in our aerospace sector. Read on to learn about the impact each is having in their own unique way!
McLennan Community College
The engineering program is unique from other two-year programs. McLennan Community College is proud to offer: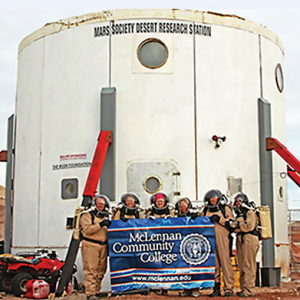 Student-driven research projects that have resulted in student-published works, admission credentials to four-year research universities, and great résumé material.
Travel courses like Mars 101, where a crew of students and faculty members live in a simulated Mars habitat in Utah conducting research and working as a team on the "red planet."
Individualized instruction with small class sizes, so your professors know you by name.
Opportunities to participate in co-ops, internships and mentoring with engineers working in McLennan County at companies like SpaceX and L3 Technologies.
A semester-long independent research program to delve into subjects not normally covered in a typical community college classroom.
An affordable higher education with excellent, experienced engineering professors.
Transfer partnerships with Texas Tech University, Tarleton State University, and the University of Texas at Arlington to ensure classes transfer and apply toward a four-year degree.
Most MCC engineering students continue their education well beyond their associate degree. For example, Dr. James Grisham earned a Ph.D. in Aerospace Engineering in 2017 and recently landed his dream job at Blue Origin in Seattle. Colin Mocek earned a degree in aerospace engineering in 2016 and is working for Textron Aviation in Wichita. For more information about all of McLennan Community College's engineering degrees and scholarship opportunities, contact engr@mclennan.edu or call Dr. April Andreas at 254-299-8130.
Texas State Technical College
Texas State Technical College (TSTC) was established more than fifty years ago, with the vision of fulfilling then-governor John Connally's prediction that it would become "the most sophisticated technical-vocational institute in the country." The challenges of the 21st-century global economy are many, but TSTC is proud to partner with business and industry – as well as government agencies and other educational institutions – to help meet the high-tech demands facing our great state.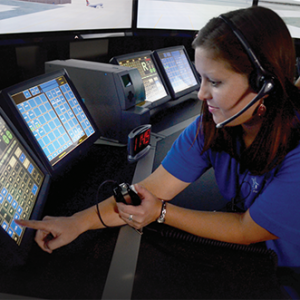 As Chancellor Mike Reeser writes, "TSTC graduates are highly valued by business and industry for their work ethic, knowledge and workplace skills. Whether students are considering upgrading their skills, or just starting out on a new career path, one of the many TSTC campuses is a great place to prepare for a great paying job in the vibrant Texas economy."
In 2012, TSTC opened the Colonel James T. Connally Aerospace Center. The 82,000 square foot building houses state-of-the-art classrooms, labs, simulators, as well as a public airport terminal. In fact, with over 100,000 takeoffs and landings in 2017, the TSTC Waco Airport is the largest airport in the U.S. owned and operated by an education institution. Further, that airport is the second highest in terms of economic impact for general aviation in Texas.
The Connally Aerospace Center houses a diverse offering of the aviation and aerospace programs, providing a robust aviation and aerospace focus, with five aviation programs and multiple tracks within those. In 2017, TSTC had 520 aviation and aerospace students amongst its diverse programs.
Want to be a pilot? In 2017, TSTC had over 150 students enrolled in its Aircraft Pilot Training programs, ranging from fixed-wing (single- or multi-engine) airplane pilots to rotary-wing (helicopter) pilots; flight instructors; agricultural spray pilots; corporate pilots; or airline pilots. TSTC pilots placed first in the nation amongst two-year colleges and seventeenth overall competing against four-year universities at the National Intercollegiate Flying Association competition.
Interested in mechanics for the future? TSTC offers both Powerplant Technology (engine and engine components) and Airframe Technology in its Aircraft Maintenance Technology program.
Like order and want to make sure the rights planes are at the right gate at the right time? TSTC's Aircraft Dispatch Technology program trains students in coordinating logistics of aircraft fleets.
Air Traffic Control? Be a part of the FAA's Air Traffic Collegiate Training Initiative! TSTC offers one of only 30 active programs in the U.S. and the only in Texas.
Need an Avionics Expert (or want to be one)? TSTC offers a program in Avionics Technology, equipping students to maintain, repair and service aviation communication and navigation systems.
In addition to the skills for aviation and aerospace businesses, TSTC is also home to the Challenger Center for Space Science Education. Here students have an opportunity to engage in meaningful science, technology, engineering and math activities to ignite student's passion for space. Whether through inspiring today's youth through the Challenger Center, or preparing tomorrow's workforce through its programs, TSTC is a valuable and vital partner in the efforts to ensure Texas has the aerospace workforce we need for the future!
—Click here to hear from Carson Pearce with TSTC. He explains why it's an exciting time to be in the aerospace industry and how you can become part of the aerospace workforce–
Baylor University
In the School of Engineering and Computer Science at Baylor University, faculty and students work daily in the aerospace field researching and making discoveries that will positively impact the industry in the future.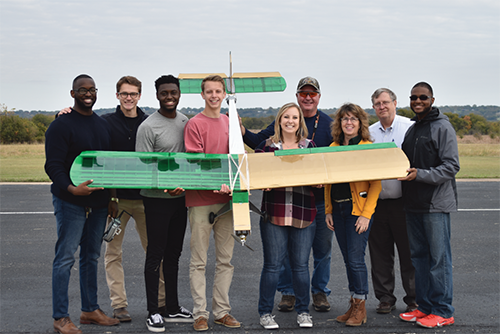 Several professors in the Mechanical Engineering and Electrical and Computer Engineering departments have research projects to positively impact safety, performance efficiencies, cost effectiveness and more. These projects range from icing on wings and turbines and composite materials for jets to radar to gas turbines, quiet propellers, and high-definition wireless in-flight communications systems. Dr. Stephen McClain, associate professor of mechanical engineering, hopes that the outcomes of his research will impact the aviation industry. "My ultimate aviation goals for the research are the same as for any engineering project: make the products safer, more energy efficient, and more cost-effective," he said. "Three of my projects that are directly aviation industry-related are safety issues. Airframe icing, cold-soaked fuel frost on wings and engine icing are all serious safety concerns for the aviation industry. As the physics of each situation are better understood, the objective is to enable designs that are safe while meeting the weight and fuel consumption requirements of future-generation aircraft."
While McClain is working to make safer elements for the aviation industry, undergraduate students involved in the Society of Automotive Engineers (SAE) Aero student organization have the opportunity to design and build a radio-controlled (RC) aircraft from scratch each year and compete in an international competition.
From learning the basics of aviation to making improvements in the aerospace industry, "…our engineering programs are tremendous," says Dr. Kenneth Van Treuren, interim department chair, associate dean of research and faculty development, and professor of mechanical engineering. "Of course, you can go to any of 40-plus universities in Texas for an engineering degree, so why come to Baylor? Because of our Christian mission and heritage. We offer outstanding engineering programs in the context of Christian principles. That's who we are. We help make students' education meaningful and prepare them to face the world."
Waco Independent School District
Space, the final frontier. No matter how old or young, all agree that space is fascinating. Just the idea of space travel and exploration sparks excitement and curiosity in nearly everyone. Fascination with space and rockets is alive and well with local Waco ISD students, and WISD is tapping into that excitement and curiosity to help nurture future rocket scientists.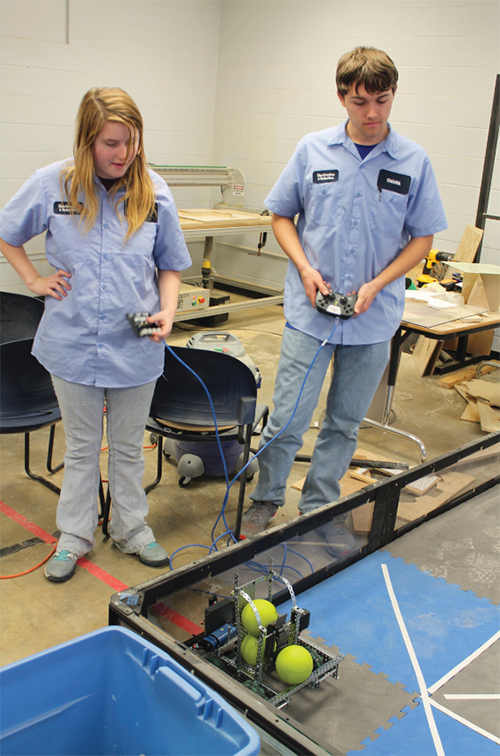 Fueled by SpaceX's presence in our backyard, students at both University High School and the Greater Waco Advanced Manufacturing Academy (GWAMA) are lining up to enroll in advanced science courses centered around rocketry. Students may simply be interested in rockets, or they may have an eye towards pursuing an engineering career.
When GWAMA was established, the business advisory board wanted to ensure that students were engaged in problem solving, teamwork and design, and especially learning that those lessons were relevant to local industry needs. Being exposed to these experiences is vital to the training of our manufacturing and engineering workforce. Students in all GWAMA academies take rocketry as their senior science, working on mixed academy teams to design and build rockets, with each academy bringing different elements to the team for a full cross-course learning experience.
Also in WISD, University High School has a longstanding engineering program. To bring more focus and interest to engineering, two courses in rocketry science were recently added. As a part of the NASA-sponsored program Systems Go, students travel each spring to Fredericksburg to participate in a statewide rocket launch. Students in the first rocketry course launch a rocket that is designed to travel one mile high with a one-pound payload. Then, in the second course, they work to launch a rocket that is designed to break the sound barrier. This exciting event is the highlight of the year for UHS science students.
The foundation of the curriculum for rocketry is based on engineering principles and the constructivist approach to learning. Students are not given kits, but rather are challenged to design, create and test rockets. For their first rocket, students are given very basic and limited information about rocket design. From successes and failures, additional rockets are created. Using this "trial, error and learn" model, the goal of the final project is reached. While not all rockets are a success, students gain valuable knowledge and experience. WISD is proud to help develop the early engineering foundation, as well as, critical thinking and tenacity in local students that will help them be a part of the aerospace workforce of the future.
Harmony Science Academy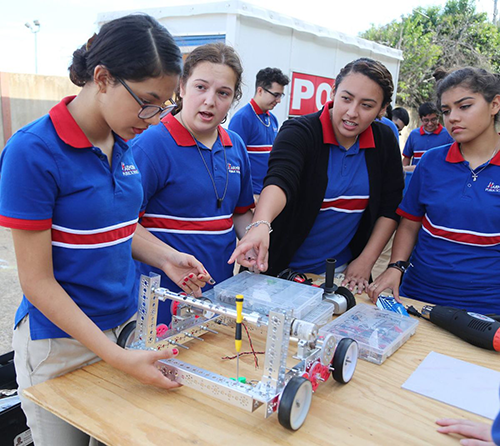 Harmony School of Innovation – Waco, a public charter school, boasts a strong focus on engineering and robotics competitions at its school, with eight competition teams competing in FIRST Lego League, FIRST Tech Challenge, and FIRST Robotics Competitions. The competitions allow students to build high-level, real-world skills that will benefit them and their pursuit of Science, Technology, Engineering, and Math (STEM) college majors and careers in the future. The students who participate learn skills to problem-solve, design, build, program, manage projects, work effectively in teams, present their work professionally, and much more.
Many of the students aspire to work in the aerospace industry, whether it be designing plans to build a rocket, creating and building components benefitting the aerospace industry, or programming launch and landings of rockets to earth. The skills students are building today will prepare them for the high demand of jobs of our STEM workforce. The students are gaining and understanding the importance of their efforts by interacting with mentors from STEM careers who come to speak with them and help with their competitions and extracurricular work. The competitions they compete in are sponsored by SpaceX, NASA, and others in the aerospace industry because there is an understanding that the students competing are building high-need skills and will become skilled enough to work for them in the future.
Tiffani Cortez, the school's engineering teacher, has set up a partnership between several of her female students, SpaceX, the Mayborn Museum, Baylor, Texas A&M, TSTC, Cameron Park Zoo, the Girl Scouts, and a few other entities to host an event at the Mayborn Museum called "Girl Day!" in February to celebrate what was formerly called "Introduce a Girl to Engineering Day" that will allow girls and boys to gain knowledge of the engineering industry and mingle with female engineers to understand what they do and the path they took to get where they are today.
–Want to hear more from Tiffani Cortez? Click here to see more on what Harmony Science Academy is doing to foster aerospace technologies in our youth.–
Rapoport Academy Public School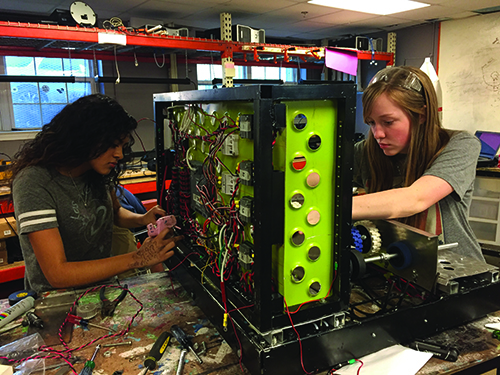 Rapoport Academy Public School, celebrating a decade of STEM (Science, Technology, Engineering, Math) in 2017, has remained true to STEM education and entrepreneurship – the core of its mission to prepare all students for college, career and life. Rapoport's STEM program expands the public charter's mission into dedicated classes and teachers spanning pre-kindergarten through twelfth grades. STEM is far more than the words themselves; it involves art, soft skills for the modern learner, career and trade skills that guide confident problem solvers, project management, and the authentic connection between the classroom and the real world.
Not only was Rapoport's Meyer High School the first school in Texas to receive the T-STEM and Early College High School designations, but its students also formed the first team in Central Texas to compete in the national competition FIRST Robotics. Today, Waco has seen an explosion of competitive robotics teams and even hosted a regional event attracting competitors from across the country. Rapoport's Raven Robotics team has been sponsored by the Society of Women Engineers (SWE) since 2015 in an effort by the team to combat the traditional stereotypes of culture and gender in STEM careers and to promote and advocate diversity.
Intentional planning and innovative practices help students develop skills needed as they prepare to enter the future STEM workforce. Rapoport specializes in letting industry input and student interest drive the projects to hone those skills (don't be surprised if you see drones flying high).
—Click here to hear from STEM and CTE Coordinator, Clay Springer with Rapoport Academy. He explains the robotics competitions and how students are learning skills that will equip them for a career in aerospace and more!–
All in all, there is much being done across the board with our local educational partners. Although the U.S. space workforce remains one of the largest in the world, the U.S. civilian space workforce has declined by more than 17 percent since 2006. As this burgeoning industry continues to thrive, Waco is committed to staying ahead of the game and applauds our partners in education for ensuring we have a workforce ready to step up and fill the emerging aerospace sector and our economy.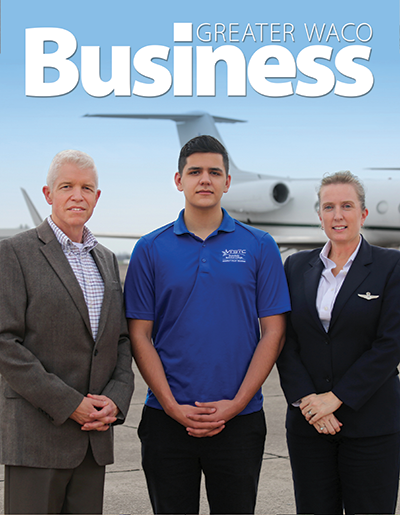 Check out this edition of the Greater Waco Business magazine online,
featuring articles all about the aerospace industry here in Waco, new
Chamber members, member news and more!
Press release from Baylor University
Owning a business is tough. Few understand the pressures and the pain. That lonely feeling of bearing life's burdens falls on you, the owner.  You struggle with fears that you can't let others see:
The Institute for Family Business @ Baylor University is a 'tribe' committed to the art of establishing well-being within a family business. We need each other to clash ideas and challenge each other to level up as leaders. We want to know that we are yielding fruit within our vocation. One of Seth Godin's tribal attributes in his book, "Tribes," is gathering. Our tribe gathers twice a year for the Fall Forum in November and for the Spring Symposium in May.
The 2018 Spring Symposium will be held from 8:00 a.m. – 4:30 p.m. in the Conference Center (Rooms 143 and 144) of the Paul L. Foster Campus for Business and Innovation at Baylor University.  It's all day long, but we will provide the coffee, the food, even something to write on.  You bring your questions, concerns, ideas, and, most importantly, your open mind to attack the issues that hinder your family or your business.
We will consider ways to mitigate these issues and create a new opportunity for you, your business and your family.  Together with conference leaders and your peers, we will dive into the complexities of business ownership and the compounding issues that family brings. Come ready to clash with your existing stories as you rise to the next level of mastery surrounded by others doing likewise. The Biblical charge to seek wisdom from a multitude of counsel forms the bedrock of our event. During this symposium you will hear from high content speakers, but you will also interact with other owners. They will learn from you and you will learn from them.
Its time we meet to slay the demons and embrace the fruit of family business. Join us as we gather and as iron sharpens iron we will elevate our level of play. This is an exclusive event with very few tickets offered because the experience is raw, the content is real and the work is relevant. For more information check out our website.
The room will be full of people who get it. People who make the difficult decisions and who put their game face on every single day despite the fear. They lead. They make payroll, they win they lose, they get it. Come interact and link up with your peers within the family business arena and arm yourself with new allies.  REGISTER HERE.
The following list of 18 achievements in the Waco community demonstrates a small glimpse of the impacts the Chamber has had, beginning with its predecessor organization, the Waco Business Men's Club to the Greater Waco Chamber of Commerce. Throughout our history, we have been dedicated to growing the local economy and showcasing Waco as the ideal location for all. 2017 marked 101 years of impacts as the Chamber. Today we continue to Develop, Grow & Thrive at 101 S. Third Street in Downtown Waco.
For a full list of 101 things the Chamber has accomplished in its 101 years of existence, check out the online winter issue of the Greater Waco Business magazine!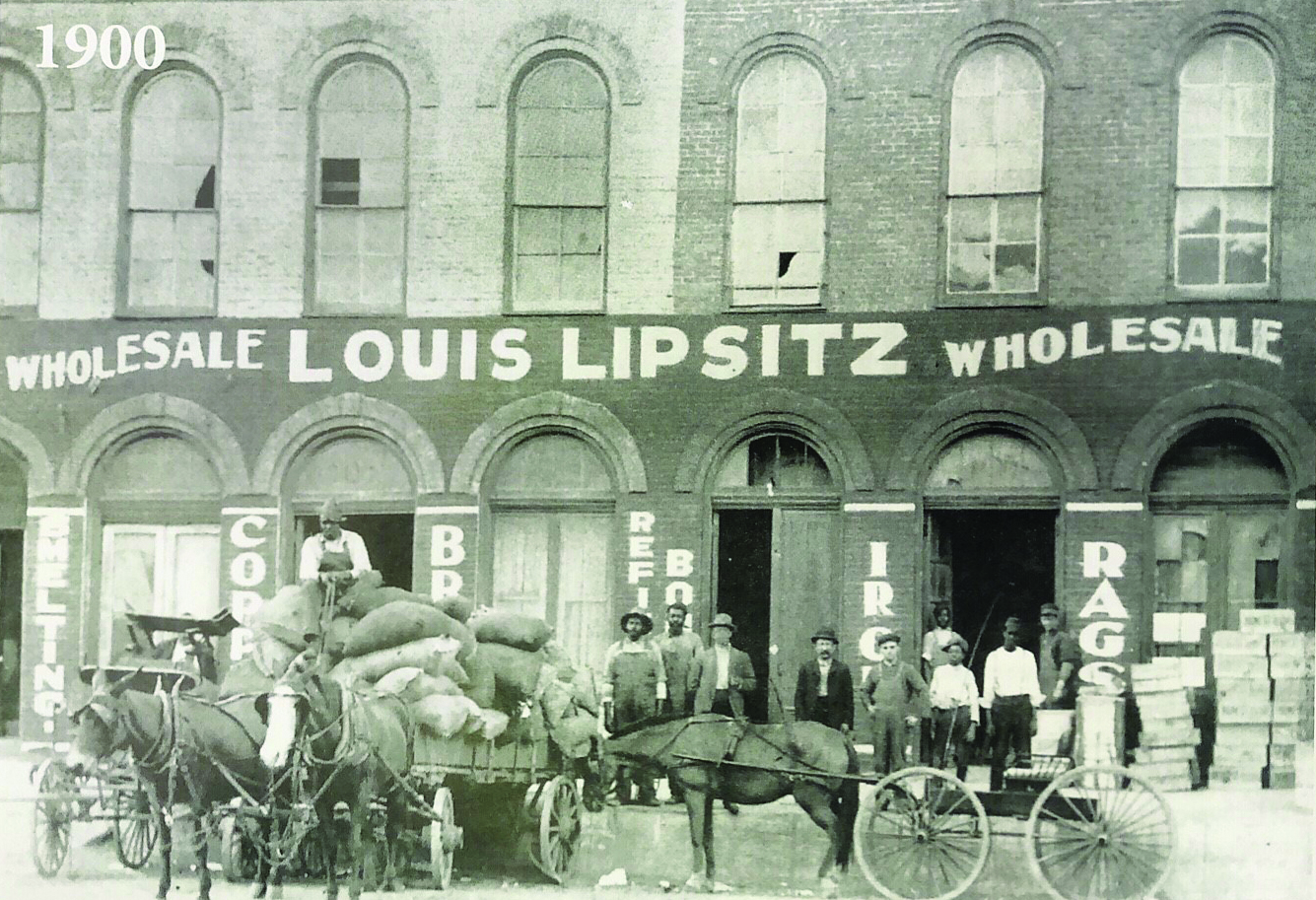 April 10, 1911: The first Waco Prosperity Banquet celebrated the growth of Waco from a small village to a city of some 20,000 people and the opening of the 22-story (ALICO) building. The event spanned three city blocks with rows of wooden tables covered in linens, and folding chairs lining the street.
1938: M. Lipsitz & Co. joined the Waco Chamber of Commerce in 1938, making them one of the oldest concurrent members of the organization.
1939: The Chamber helped organize the Waco Symphony. By 1945, the Symphony boasted an 80-member orchestra.
1953: Heart O' Texas Coliseum was created. The fairgrounds were the largest of its kind, west of the Mississippi River, totaling 253 acres. The first fair in 1953 was an event to remember including a performance by Elvis Presley! (Currently named Extraco Events Center)
1955: In July of 1958, Lyndon B. Johnson arrived in Waco to break ground on the Lake Waco dam project, which was completed in June of 1965.
December 3, 1959: The Baylor Waco Foundation was established by the Chamber and other downtown professionals to connect the city of Waco with Baylor students. The goal was to raise funds to enhance the quality of life of Central Texas.
February 21, 1963: Vice President Lyndon B. Johnson and General Bernard Schriever arrived in Waco for the 63rd Dinner of the Waco Chamber of Commerce to speak on the "New Horizons of the Space Age".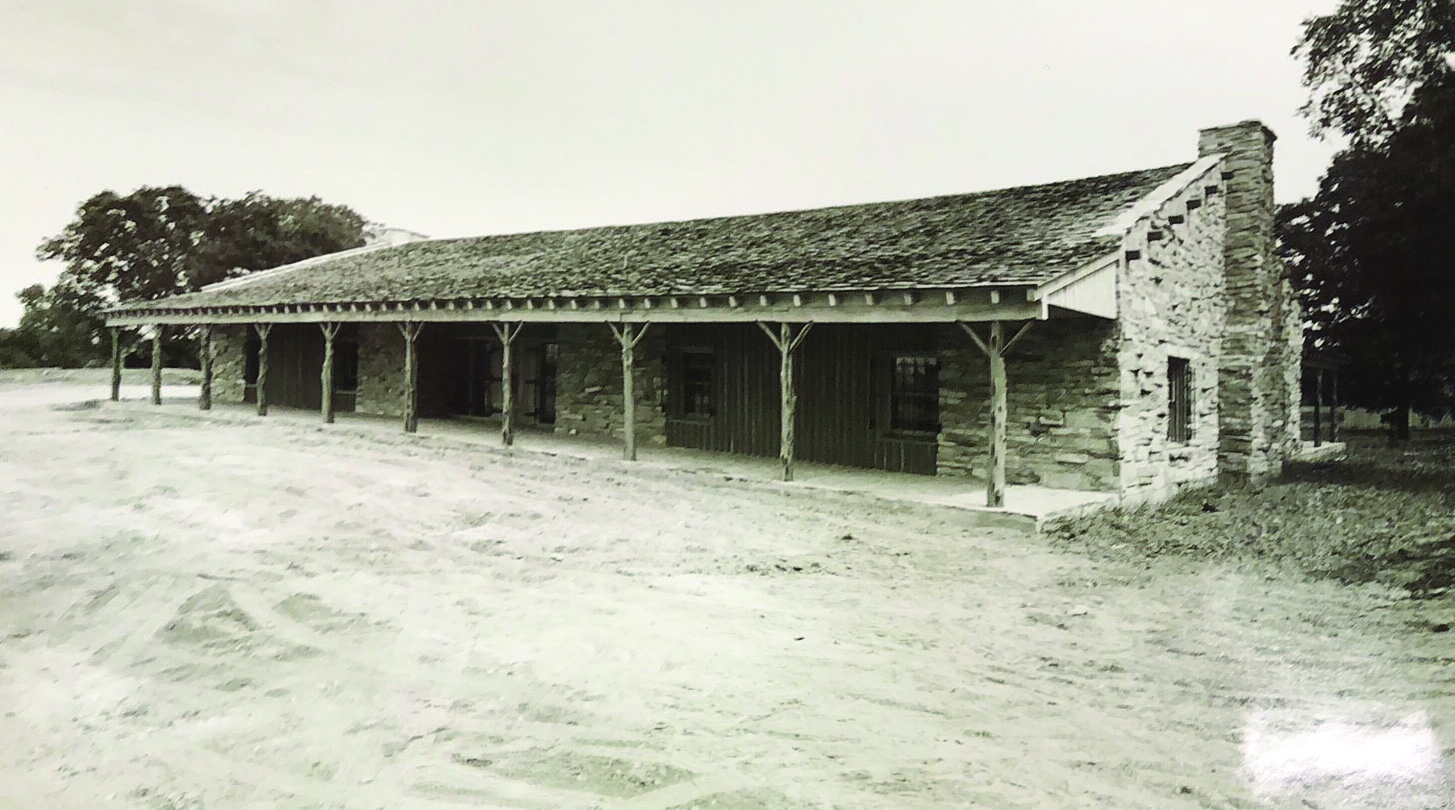 1964: Over 130 years after the building of Fort Fisher, the Chamber pushed for the site to be developed into a tourist destination. The "new Fort Fisher," known today as the Texas Ranger Hall of Fame and Museum, was dedicated in October of 1968.
1965: Texas State Technical Institute (TSTI) opened its doors. Now, Texas State Technical College, the college is a key asset to Waco.
1972: In 1958, interstate 35 construction began within Waco and the project was completed in October of 1972 providing a more direct route between Temple as well as Dallas.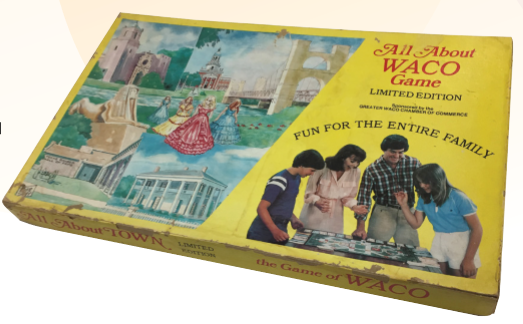 November 9, 1973: The Waco Chamber receives accreditation by the Chamber of Commerce of the United States of America.
1982: The Chamber's community development committee developed the "All About Waco" gameboard to promote the area and local businesses.
April 25, 1985: The Chamber hosted the second Prosperity Banquet celebrating 100 years of Dr Pepper in Waco. Bob Hope hosted the event.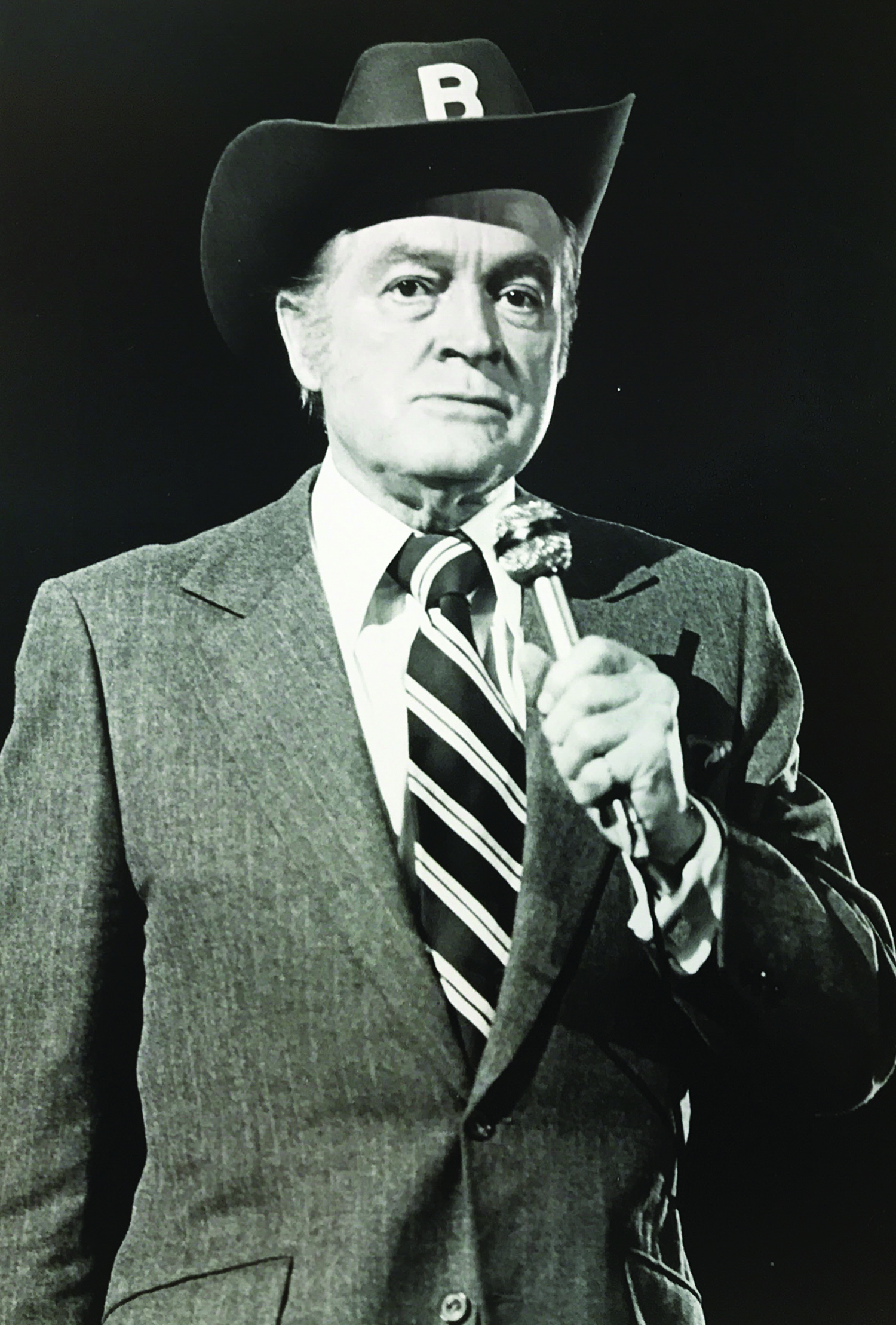 May 11, 1991: Dr Pepper Company donated their historic building to the nonprofit organization in 1988, now the Dr Pepper Musuem and Free Enterprise Institute. Renovation began in the summer of 1990 and opened on May 11, 1991. During the next six years, the museum embarked on three additional construction phases until the entire building was restored and opened in May 1997.
2003: The SpaceX McGregor site began testing rocket engines for spacecraft with just three employees. Now, each engine that SpaceX produces passes through this 4,000-acre facility.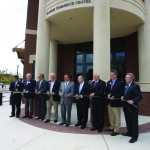 June 6, 2008: The Chamber opened its new building, the Salome Commerce Center, which is the first LEED-certified green chamber building in the nation.
2015: The Chamber's Sports and Special Events team created The Texas Food Truck Showdown, the first event of its kind in Texas. This unique event far exceeded goals, with 35 food trucks traveling to Waco from all over the state to compete while serving upwards of 15,000 people.
2018: The new year is off to a terrific start for Waco businesses with several announcements for new and expanding facilities and staff. We can't wait to see what the rest of the year brings to our community!
For a full list of 101 things the Chamber has accomplished in its 101 years of existence, check out the online winter issue of the Greater Waco Business magazine!
#GoWacoGrow!
At this year's Greater Waco Chamber's Member Celebration Reception, the presentation of the inaugural Legacy Award was presented to Tom G. Salome, Jr. He is a Central Texas business owner and longtime Chamber supporter. Salome has been an influential community and civic leader in Waco for over 50 years. Boasting an impressive resume, he has received many honors and awards during his lifetime. This is a compilation of his achievements.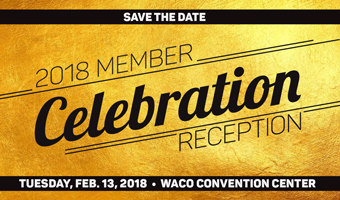 The Greater Waco Chamber's Member Celebration Reception is an opportunity to show appreciation for our members, volunteers and community partners for support throughout the year!
This year's reception will also include the presentation of the inaugural Legacy Award to Tom G. Salome, Jr., a Central Texas business owner and longtime Chamber supporter. Salome has been an influential community and civic leader in Waco for over 50 years. Boasting an impressive resume, he has received many honors and awards during his lifetime.
So make sure to join in on the celebration with buffet stations, an open bar, entertainment, good company and fun for all! Purchase your tickets online by Wednesday, Feb. 7.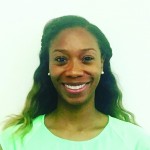 In my opinion, the true definition of a mentor is one who diligently seeks the opportunity to become a trusted friend and advisor, an avid listener who values the opinion of others, and one who consistently provides invaluable guidance and constructive feedback to their mentee. Being a part of the rapidly growing and phenomenal LEAD Program has allowed me to understand the importance of both the role of a mentor and mentee. We often forget that the mentor-mentee relationship is a two-way street requiring ambition from both parties.
As I reflect on my experiences in the LEAD program, the visits to various corporations and businesses within the community, lunch dates, and impromptu check-in visits to Waco High were only the beginnings of the lifelong relationships established with the LEAD mentors and liaisons. The program has helped me understand the power of networking, fostering new relationships, and the importance of maintaining relationships. I would not be where I am today without the ongoing sacrifices, hard work, and dedication everyone contributes, not only toward the LEAD program, but for the Bradley R. Hulse scholarship fund.
As a proud alumnus of the LEAD program, I can truly say this has been one of the most gratifying and rewarding experiences of my life. I am excited to witness how much the program has grown, the mentor and mentee testimonies, and most importantly recognize the positive impact the program has on the community of Waco and our future leaders.
-Ashley Phillips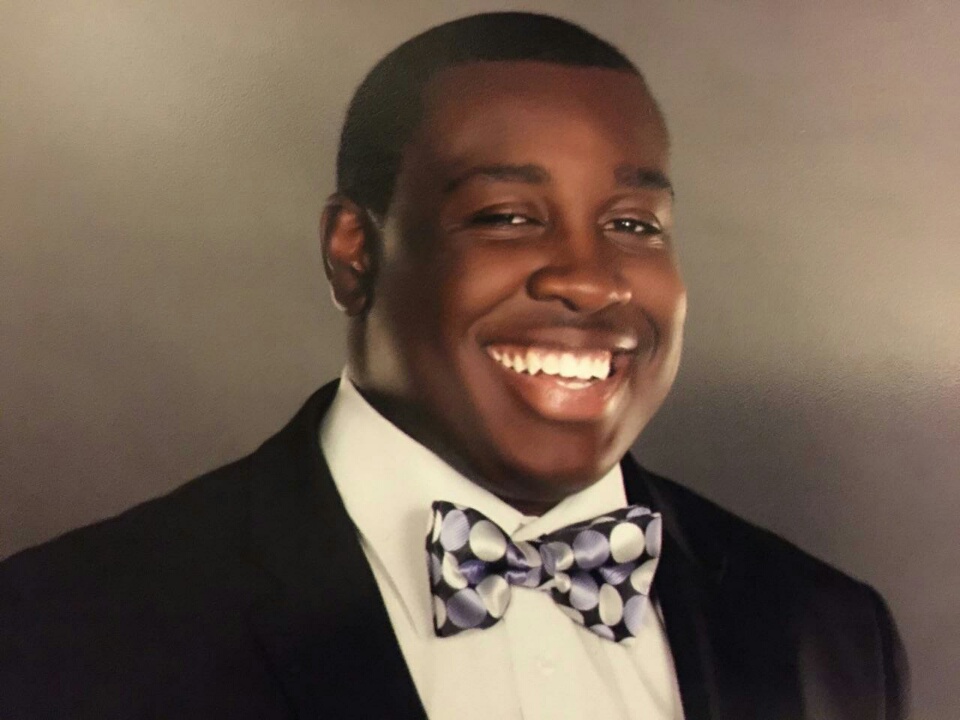 Trevion Freeman – The LEAD (Leadership, Education and Development) program is a fantastic experience which allows student such as myself an opportunity to get a small glimpse of the business world from various perspectives. When I was first given the opportunity to be a part of LEAD I was apprehensive that the program would hinder my academic success, being that it took us out of the classroom to visit different businesses. But I was wrong; the LEAD program enhanced my academia inspiring me to strive for more.  During my time in the LEAD program I had the opportunity to be mentored by Mr. Earl A. Melebeck, he was the Manager at the Social Security Administration office. The time that I spent as a mentee with Mr. Melebeck also played a significant role in where I am today. While Mr. Melebeck was not in the same professional field that I was striving to be in, he was another strong male figure, other than my father, who understood and taught me the importance of financial stability and creating a legacy for the future. I lastly would like to thank the L.E.A.D program for believing in my future by providing me with a scholarship allowing me to further my dreams at UT. The person that I am today is because of programs such this.
I am currently a junior at the University of Texas where I am majoring in government with a minor in religious studies. This coming June, I plan on taking the LSAT and began applying for law schools. During my time here at UT I have had the opportunity to be a part of the University of Texas Cheer Team, work as a legislative intern at the capital for Representative Helen Giddings, as well as study abroad in South Africa, Cape Town for five weeks just to name a few.
Please contact our Director of Leadership Development, Rachel Martinez, to find out how to become a mentor!