The following list of 18 achievements in the Waco community demonstrates a small glimpse of the impacts the Chamber has had, beginning with its predecessor organization, the Waco Business Men's Club to the Greater Waco Chamber of Commerce. Throughout our history, we have been dedicated to growing the local economy and showcasing Waco as the ideal location for all. 2017 marked 101 years of impacts as the Chamber. Today we continue to Develop, Grow & Thrive at 101 S. Third Street in Downtown Waco.
For a full list of 101 things the Chamber has accomplished in its 101 years of existence, check out the online winter issue of the Greater Waco Business magazine!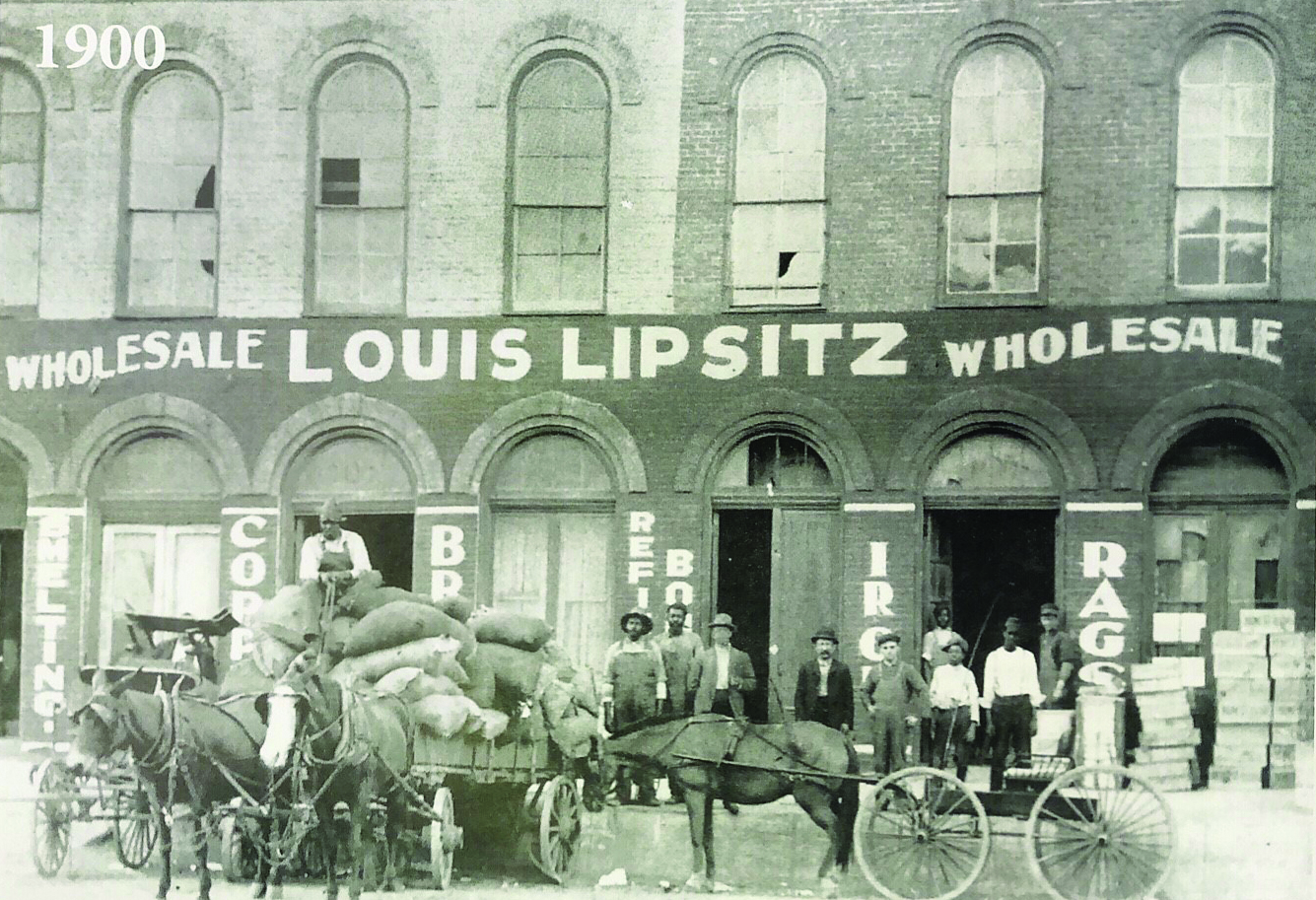 April 10, 1911: The first Waco Prosperity Banquet celebrated the growth of Waco from a small village to a city of some 20,000 people and the opening of the 22-story (ALICO) building. The event spanned three city blocks with rows of wooden tables covered in linens, and folding chairs lining the street.
1938: M. Lipsitz & Co. joined the Waco Chamber of Commerce in 1938, making them one of the oldest concurrent members of the organization.
1939: The Chamber helped organize the Waco Symphony. By 1945, the Symphony boasted an 80-member orchestra.
1953: Heart O' Texas Coliseum was created. The fairgrounds were the largest of its kind, west of the Mississippi River, totaling 253 acres. The first fair in 1953 was an event to remember including a performance by Elvis Presley! (Currently named Extraco Events Center)
1955: In July of 1958, Lyndon B. Johnson arrived in Waco to break ground on the Lake Waco dam project, which was completed in June of 1965.
December 3, 1959: The Baylor Waco Foundation was established by the Chamber and other downtown professionals to connect the city of Waco with Baylor students. The goal was to raise funds to enhance the quality of life of Central Texas.
February 21, 1963: Vice President Lyndon B. Johnson and General Bernard Schriever arrived in Waco for the 63rd Dinner of the Waco Chamber of Commerce to speak on the "New Horizons of the Space Age".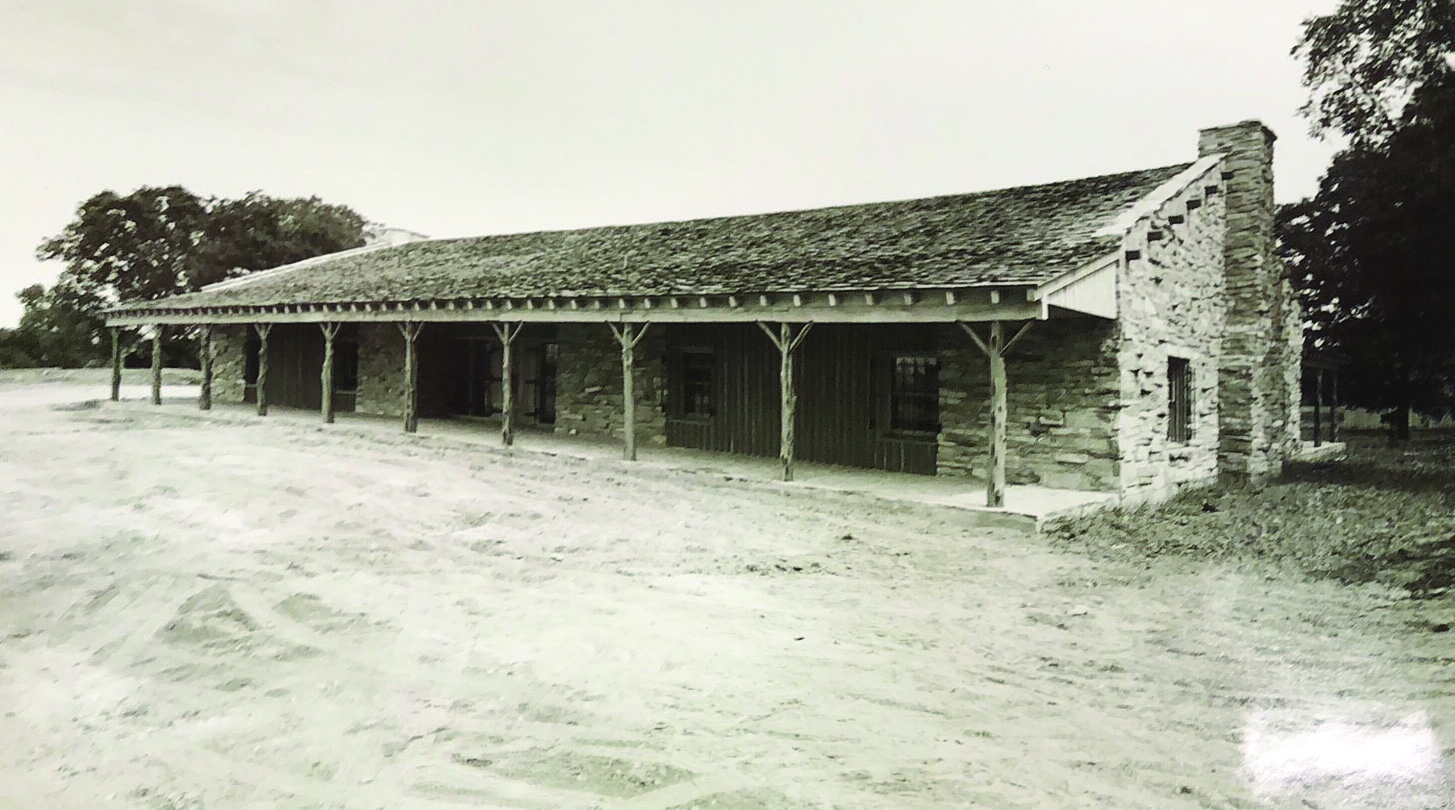 1964: Over 130 years after the building of Fort Fisher, the Chamber pushed for the site to be developed into a tourist destination. The "new Fort Fisher," known today as the Texas Ranger Hall of Fame and Museum, was dedicated in October of 1968.
1965: Texas State Technical Institute (TSTI) opened its doors. Now, Texas State Technical College, the college is a key asset to Waco.
1972: In 1958, interstate 35 construction began within Waco and the project was completed in October of 1972 providing a more direct route between Temple as well as Dallas.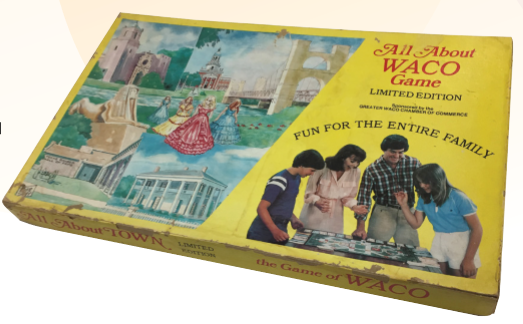 November 9, 1973: The Waco Chamber receives accreditation by the Chamber of Commerce of the United States of America.
1982: The Chamber's community development committee developed the "All About Waco" gameboard to promote the area and local businesses.
April 25, 1985: The Chamber hosted the second Prosperity Banquet celebrating 100 years of Dr Pepper in Waco. Bob Hope hosted the event.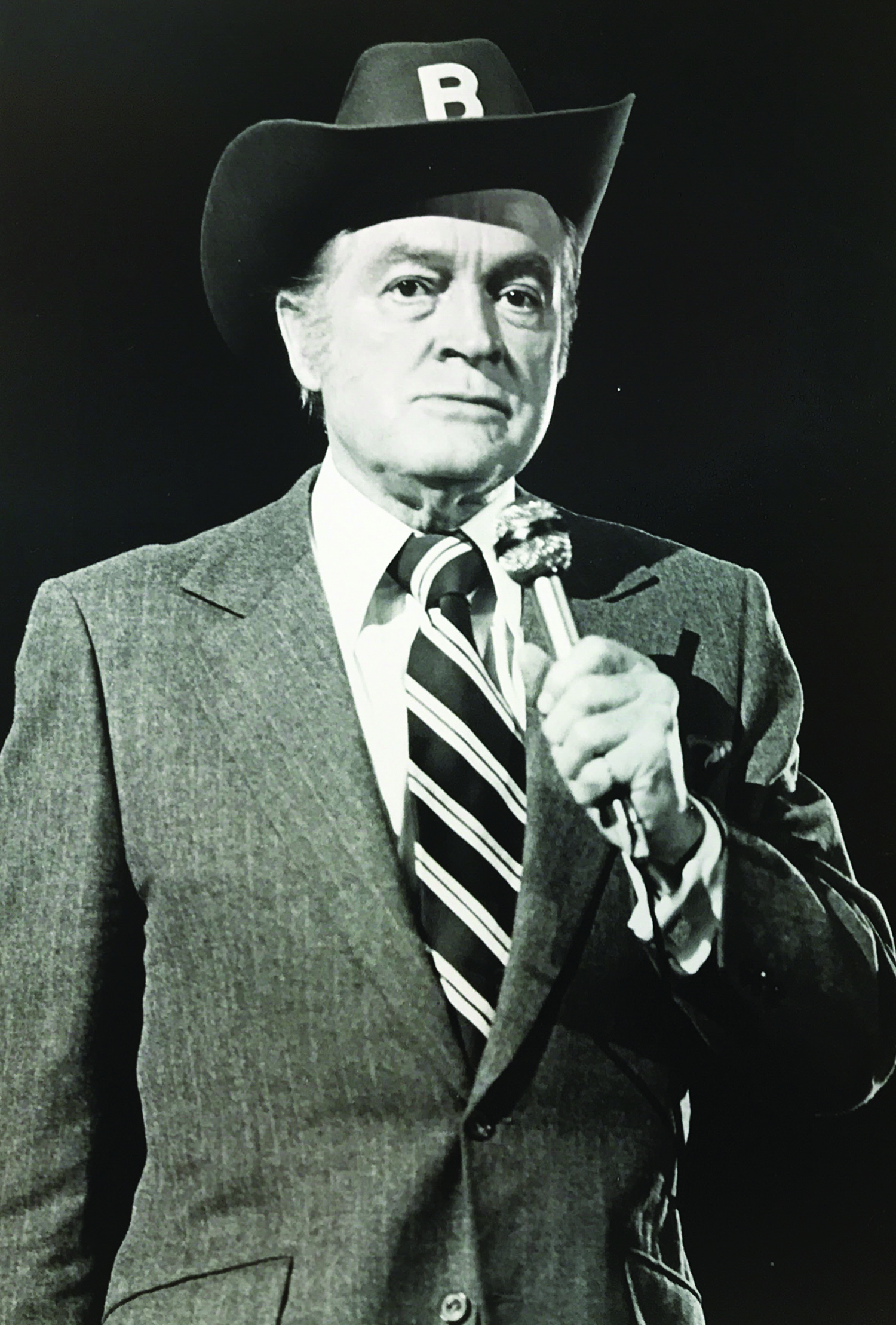 May 11, 1991: Dr Pepper Company donated their historic building to the nonprofit organization in 1988, now the Dr Pepper Musuem and Free Enterprise Institute. Renovation began in the summer of 1990 and opened on May 11, 1991. During the next six years, the museum embarked on three additional construction phases until the entire building was restored and opened in May 1997.
2003: The SpaceX McGregor site began testing rocket engines for spacecraft with just three employees. Now, each engine that SpaceX produces passes through this 4,000-acre facility.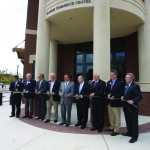 June 6, 2008: The Chamber opened its new building, the Salome Commerce Center, which is the first LEED-certified green chamber building in the nation.
2015: The Chamber's Sports and Special Events team created The Texas Food Truck Showdown, the first event of its kind in Texas. This unique event far exceeded goals, with 35 food trucks traveling to Waco from all over the state to compete while serving upwards of 15,000 people.
2018: The new year is off to a terrific start for Waco businesses with several announcements for new and expanding facilities and staff. We can't wait to see what the rest of the year brings to our community!
For a full list of 101 things the Chamber has accomplished in its 101 years of existence, check out the online winter issue of the Greater Waco Business magazine!
#GoWacoGrow!
At this year's Greater Waco Chamber's Member Celebration Reception, the presentation of the inaugural Legacy Award was presented to Tom G. Salome, Jr. He is a Central Texas business owner and longtime Chamber supporter. Salome has been an influential community and civic leader in Waco for over 50 years. Boasting an impressive resume, he has received many honors and awards during his lifetime. This is a compilation of his achievements.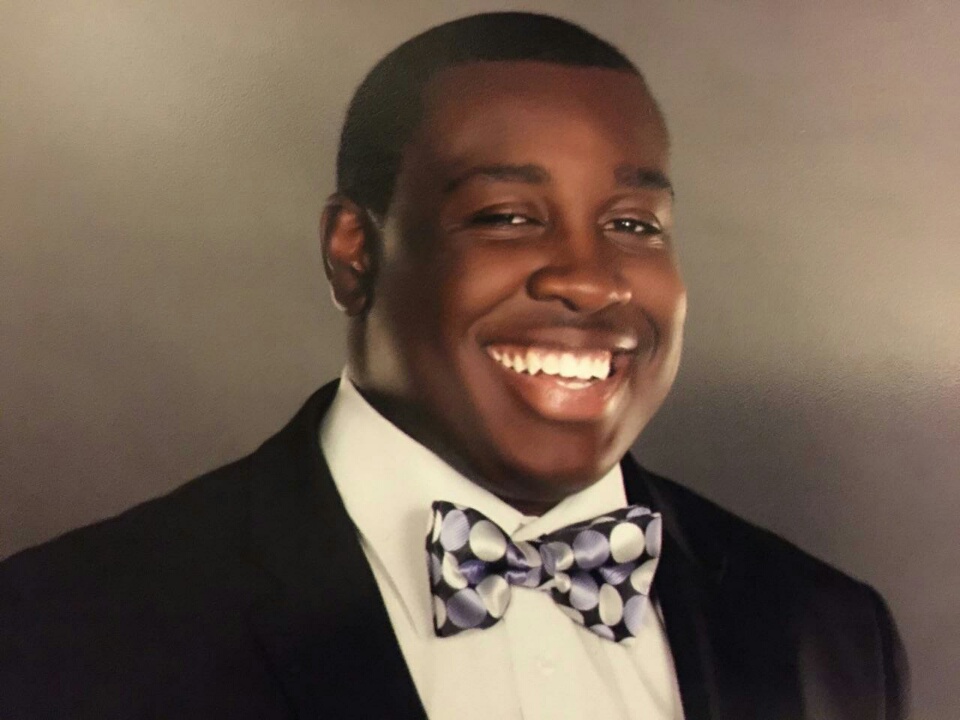 Trevion Freeman – The LEAD (Leadership, Education and Development) program is a fantastic experience which allows student such as myself an opportunity to get a small glimpse of the business world from various perspectives. When I was first given the opportunity to be a part of LEAD I was apprehensive that the program would hinder my academic success, being that it took us out of the classroom to visit different businesses. But I was wrong; the LEAD program enhanced my academia inspiring me to strive for more.  During my time in the LEAD program I had the opportunity to be mentored by Mr. Earl A. Melebeck, he was the Manager at the Social Security Administration office. The time that I spent as a mentee with Mr. Melebeck also played a significant role in where I am today. While Mr. Melebeck was not in the same professional field that I was striving to be in, he was another strong male figure, other than my father, who understood and taught me the importance of financial stability and creating a legacy for the future. I lastly would like to thank the L.E.A.D program for believing in my future by providing me with a scholarship allowing me to further my dreams at UT. The person that I am today is because of programs such this.
I am currently a junior at the University of Texas where I am majoring in government with a minor in religious studies. This coming June, I plan on taking the LSAT and began applying for law schools. During my time here at UT I have had the opportunity to be a part of the University of Texas Cheer Team, work as a legislative intern at the capital for Representative Helen Giddings, as well as study abroad in South Africa, Cape Town for five weeks just to name a few.
Please contact our Director of Leadership Development, Rachel Martinez, to find out how to become a mentor!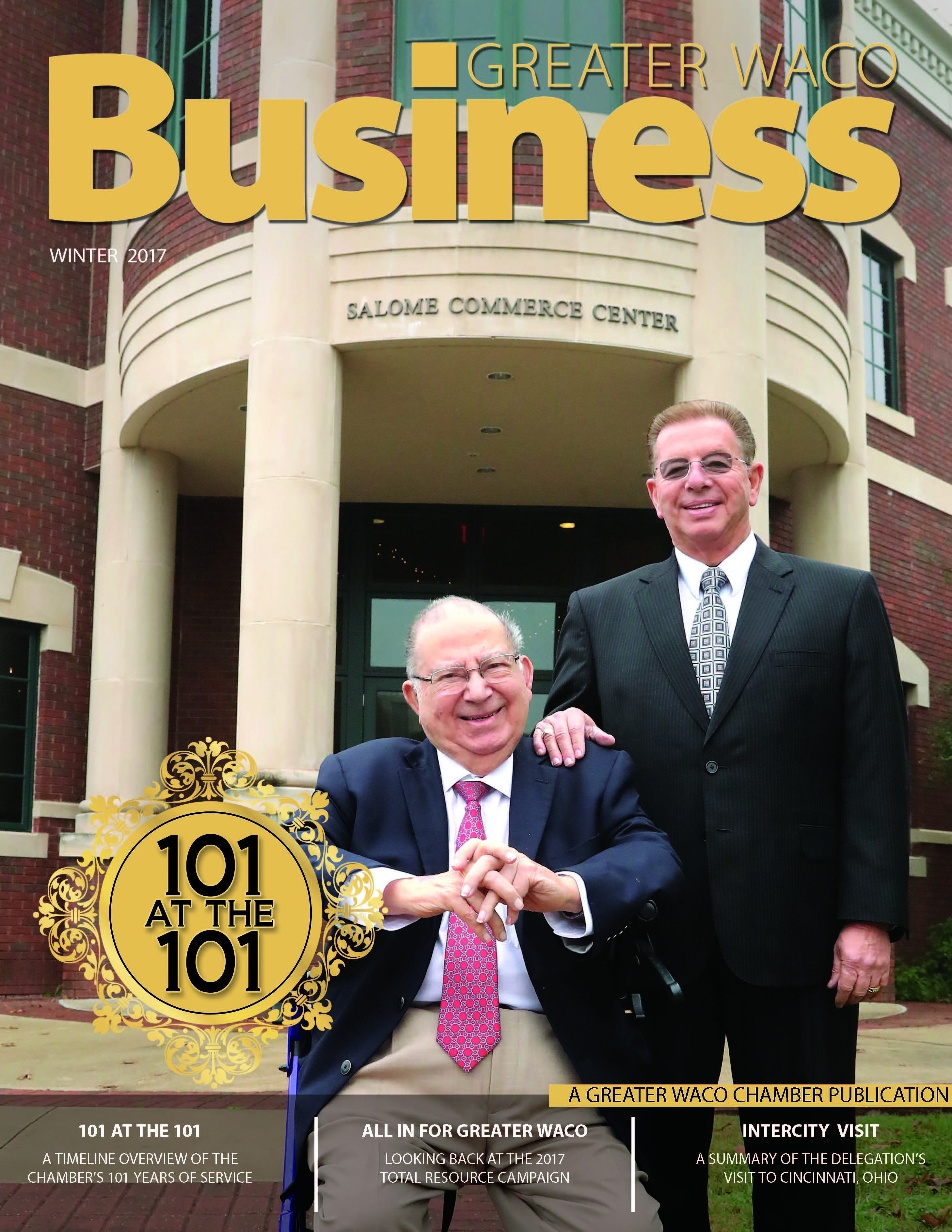 The Greater Waco Chamber of Commerce is proud to announce the arrival of Greater Waco Business, our newly redesigned quarterly magazine! We are excited to bring you the same great content with a fresh new look.
Greater Waco Business features a fresh new cover style, with each edition featuring photos of important local individuals. The winter edition features Wacoans Bob Davis and Tom Salome, both of whom have been staunch supporters of greater Waco business interests and played integral roles in the building of the current Waco Chamber building at 101 S. Third St.
Another new feature of Greater Waco Business is the opportunity for members to purchase a magazine feature insert. The first edition with inserts will feature an insert from Integ Printing, which graphically lays out the history of Integ and the role the business has played in Waco since its founding.
"Integ is honored to be part of the new re-launch of The Chamber Quarterly," said David Anderton, President and CEO of Integ. "As a B2B company, we've always valued the Chamber and have viewed the Quarterly as a key vehicle to reach other businesses. Our insert in this new issue is a great way to extend our marketing with the purchase of additional magazines and extra inserts. We are true believers in helping our own customers get more bang for their buck. With this new insert program, the Chamber is doing exactly that for us and we're extremely appreciative!"
These special inserts will be available for purchase to Chamber members for future magazines and can be purchased as four page, six page or eight page inserts. For pricing, contact Autumn Outlaw at aoutlaw@wacochamber.com or 254-757-5603.
The Greater Waco Chamber hosted its 10th Annual InterCity Leadership Visit to Cincinnati USA in September. The purpose of these visits is to expose Greater Waco leaders to innovative communities and economic development ideas, programs, initiatives and best practices which may be adopted and implemented in the Greater Waco area, and to engage in high-level networking among community leaders.
As with all of our InterCity Leadership Visits, the trip to this economic, progressive, re-invented city provided the 29 participants with an opportunity to learn from Cincinnati leaders. Attendees explored some of the city's most innovative and unique assets.
You may ask, "What's new in Cincinnati?" These days, it's more like what's not new! Cincinnati USA is experiencing an exciting renaissance. There is a convergence of new developments, projects and convention wins taking shape that collectively make Cincinnati one of the most progressive, game-changing cities in the region.
Cincinnati experienced a similar boom in 2003, when the Reds and Bengals Stadiums, the National Underground Railroad, Duke Energy Center and the Freedom Square emerged on the banks of the Ohio River. However, this latest surge of activity is far more exciting. The Waco group was able to see and learn about these new innovative transformations that are changing the Cincinnati landscape.
Cincinnati has received notable accolades in recent years, which include being named "One of the 100 Best Cities to Live," by USA Today; "Best Cities for Young People," in 2017 by Forbes; and "2016 HOTBED for Entrepreneurial Growth," by Forbes.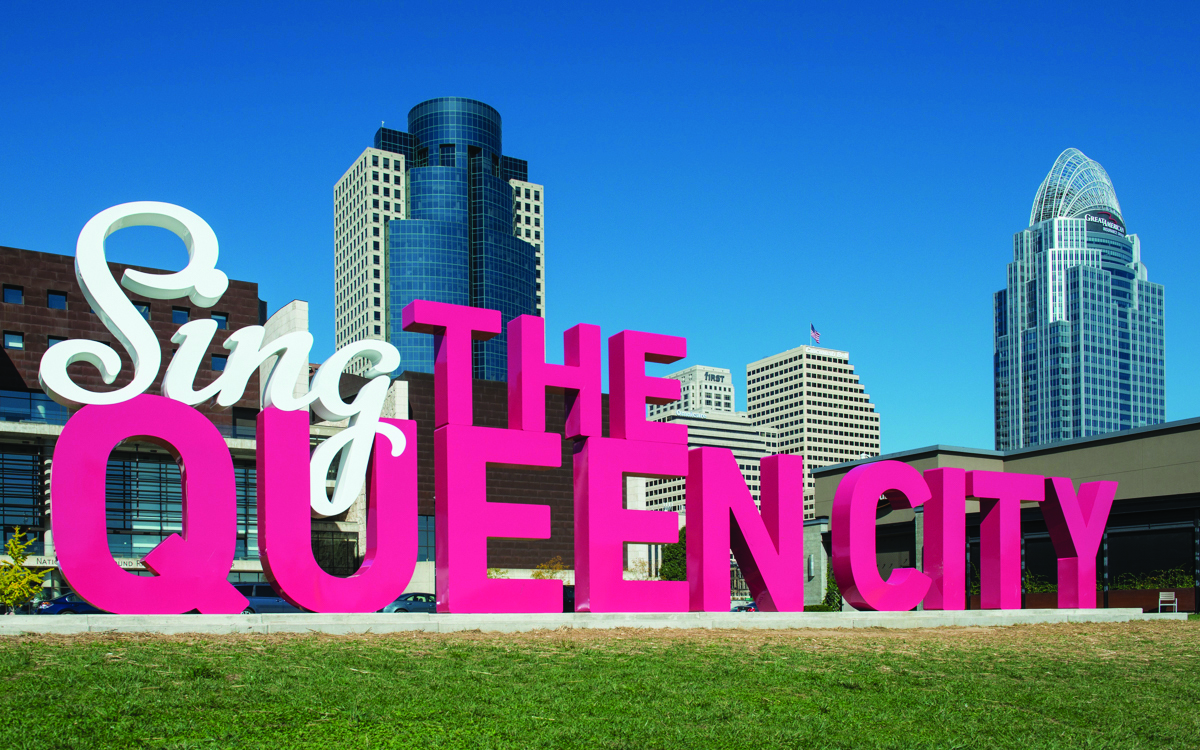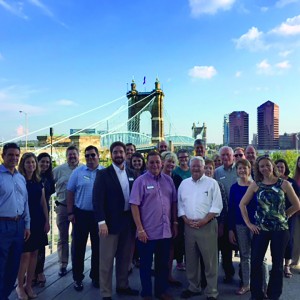 As new construction and project growth continues throughout Greater Waco, particularly in downtown and the Brazos Riverfront, the visit to Cincinnati built confidence with community leaders. It demonstrated that Greater Waco is focused on growing our economy, promoting quality of life and building the workforce.
The primary focuses of the trip were Cincinnati's vibrant riverfront developments, revitalized and re-invented downtown neighborhoods and economic and entrepreneurial development.
The Waco delegation met with leaders from the Cincinnati Chamber, the mayor, the Regional Economic Development Corporation and members of the creative community.
The group toured the new riverfront development "The Banks" and the re-invented "Over the Rhine" downtown neighborhood development. They met with leaders about talent initiatives and the entrepreneurial ecosystem that flourishes in Cincinnati, with many co-working spaces, incubators and accelerators within StartupCincy. The Queen City was one of five metros that experienced the most significant positive shifts in rank from 2015 to 2016, according to the Kauffman Index of Entrepreneurship, the first and largest index tracking entrepreneurship across the city, state and national levels.
Just over five years ago, downtown neighborhood "Over the Rhine" had been the site of civil unrest and in 2001 was named one of the most dangerous areas in the United States. Its transformation happened overnight, turning a dangerous, rundown neighborhood into something that looks like Greenwich Village. Leaning on the power of local corporations, officials formed a non-profit called 3CDC to engineer a renaissance in the heart of the city.
The InterCity Leadership Visits are designed to expose Waco leaders to innovative ideas, programs and best practices across the country, and our visit to Cincinnati did just that in many ways.
Greater Waco is on a hot streak and is building the confidence, resulting in new local investments. The energy is creating momentum as people from outside the marketplace recognize Waco as an excellent opportunity and a great city.

By Linda Beasley

AUSTIN, WACO METROPOLITAN AREAS TALLY RECORD INCREASES IN EXPORTS FOR 2016
The U.S. Department of Commerce's International Trade Administration (ITA) recently released a report highlighting goods exports from U.S. metropolitan areas for 2016. The International Trade Administration's 2016 Metropolitan Area Export Overview indicates that goods exports from both the Austin-Round and Waco metropolitan areas totaled $10,682,654,557 and $1,107,417,158 last year, respectively.
For the Austin-Round Rock area, this was an increase of $694,482,108 from 2015, or a 7-percent overall increase. In comparison, the Waco area saw a 136-percent increase, with a year-over-year increase of $638,062,449.
"There is demand for 'Made in the U.S.A.' products in overseas markets," said Karen Parker, Director, U.S. Commercial Service-Austin. "Our organization remains committed to helping local businesses identify and capitalize on international opportunities, whether they are new or experienced exporters."
The Austin-Round Rock and Waco Metropolitan Area export highlights for 2016 include:
• The Austin-Round Rock area is the 26th largest exporter in the U.S. for 2016, rounding out the top 50.
• This is the second consecutive year of increased goods exported from the Austin-Round Rock area.
• Approximately 88% of exporters in both MSAs were from small and medium-sized enterprises.
• Key merchandise export categories included electrical equipment, appliances, and components; chemicals; and transportation equipment.
"We continue to be encouraged by our local exporters who continue to demonstrate their global competitiveness and the quality of their products and services," said Parker. "We're here to assist new or established exporters create and protect local jobs through international sales."
The U.S. Commercial Service is the trade promotion arm of the ITA and assists small and medium-sized U.S. businesses in exporting their products around the world.
For more information on exporting, contact the U.S. Commercial Service Export Assistance Center in Austin and visit www.export.gov/texas/austin/.
For more information on the impact of Metropolitan Statistical Areas on U.S. exports, including fact sheets, visit www.trade.gov/mas/ian/metroreport/.
Information provided by The U.S. Commercial Service, a sub-agency to the Department of Commerce, Stephen J. Collier, U.S. Field Communication Specialist at Southwest Network.
The Connection Between Property Tax and School Finance
As published by the Waco Tribune-Herald.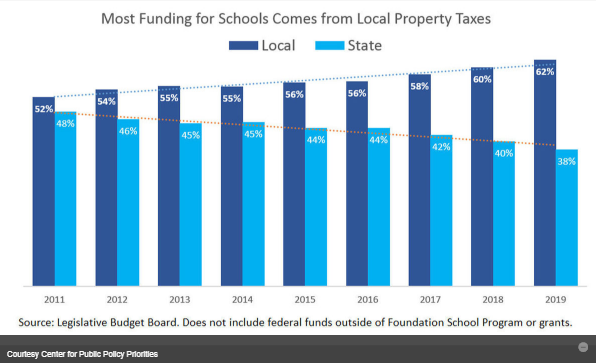 Few are the people who take delight in paying property taxes. Yet when we understand where our dollars go and have confidence they are being spent wisely on services and infrastructure of benefit to us all, the sting is lessened and, in fact, we may appreciate the quality of life and services they provide.
Nevertheless, when the growth of our tax burden outpaces the growth in our income, it can cause a strain that is more intimately felt. The same is true in the commercial sector. Businesses may be reluctant to make new hires (i.e., create jobs) or otherwise expand their business (which oftentimes includes a capital investment that boosts our tax rolls) if they face uncertainty on how their property taxes may increase from one year to the next.
In that vein, property-tax reform has been a battle cry of the last regular and special state legislative sessions. At the Greater Waco Chamber of Commerce, we stand with our members and businesses in calling for policy solutions that will offer true and meaningful property-tax relief and reform. Businesses experiencing a 200 percent increase in land valuations will not support the sustainable growth and development so many in our community have worked so long and so intentionally to foster. To discuss what those meaningful solutions could be — and what they are not — it may be helpful to widen the scope and provide a bit of context.
Our property-tax bill comes from the taxing entities in our jurisdiction: city, county, school districts and community colleges. Each entity determines its tax rate and may tax up to a maximum rate determined by the state government. If they want to increase over 8 percent from one year to the next, they must take this proposition to the voters for approval (this is called the roll-back rate).
Many taxing entities strive to lower their rates when possible. Our local county leadership has successfully done so the last two budget cycles. With that in mind, let's consider the other piece of the property-tax system, which is the appraisal valuation.
Unlike the tax rate, which is set locally, the appraisal valuation is not fully within the local appraisal district's control. State of Texas Government Code Section 403.302 requires the State Comptroller's office (the Property Tax Assistance Division) to conduct a Property Value Study (PVS) to determine the total taxable value of all property in each school district every two years. For each study, the state selects a sample and determines what they feel are fair market values for each property.
For this year for Waco Independent School District, state officials looked at 400 of 26,000 properties, determined what they felt were their values and used those to set the range in which other properties in the district should fall. Interestingly, many of the properties selected were prime properties in areas of town experiencing increased development interest, such as within the Tax Increment Financing Zone, or two at Barron's Crossing. We should remember those properties are not truly representative of all properties within WISD.
The state comptroller study is then used to determine appraisal district performance, with the performance metric being that the appraisal district must come within a range of 5 percent below/above the total value set by the state. Let that sink in a moment.
Let's turn to another aspect. This might seem a change of topic, but read on to fully consider. On the floor of the Texas House of Representatives during the special session, a legislator asked Rep. Dan Huberty, chairman of the Public Education Committee who had proposed legislation (HB 21) to boost education funding to the tune of some $1.8 billion, if in fact the state weren't spending more on education today than ever. While technically true, this does not recognize that the number of students we have in the system is growing at a rate that far outpaces student spending. The net effect is that the per-pupil amount of state funding is less every year, with current spending levels below pre-recession levels of 2008, before even taking into account inflation. Adjusted for inflation, in 2015 dollars, Texas was spending $10,260 per student in 2009-2010. Today we spend just $8,935.
Further, our demographic trends in Texas are such that our percentage of English language learners — a group more costly to prepare for success in our educational system and for post-secondary success in our workforce — is growing more rapidly than other student groups. So the need is greater now than ever, but the state dollars are slipping away from education. Texas, in fact, ranks 43rd in the nation in per-pupil spending (up from 49th in 2012). Our student outcomes reflect that. According to the U.S. Department of Education, Texas ranks 40th in percentage of fourth graders reading at grade-level (46th in the nation for Hispanic students alone) and 41st in the nation in post-secondary matriculation. While 46 percent of young adults ages 25-34 in the nation hold a certificate, associate's degree or higher, in Texas just 38 percent of adults in that same age range do. For the Texas economy to remain competitive and grow, it is imperative we develop our talent and workforce to support the very businesses that will drive our economic growth.
Historically, state support of education spending (per-pupil spending) was an even split, 45-45, between the state and local school districts (via those property taxes discussed above) with the remaining 10 percent coming from federal dollars. Over the last decade, the state's share of per-pupil funding has been gradually declining, from about 45 percent for the last couple of decades, to around 36 percent in the upcoming budgetary biennium from the state. The balance, of course, must be made up by increased local share, which means increased local property taxes.
I've burned the midnight oil looking over budgets of years past, digging through Legislative Budget Board reports, and running numbers and scenarios, but in the interest of brevity, and for some wonderful real-life projections of impact, I simply would refer you to the excellent Texas Tribune article by Ross Ramsey, "Analysis: The state's declining support for public education in Texas" (December 2016). One standout fact from that read is this: Had state support of education remained at 44.9 percent over the last decade, the state would have spent $18.6 billion more and school district taxpayers would have spent $11.6 billion less. But as the state reduces its share, local districts must fill the gap — and the way to do that is by raising property taxes. Further, as our state experiences economic growth, property values may experience market-driven increases as well. The state has used these as an excuse to decrease its own education spending.
The crux is this: State aid in education declines — is able to decline — as local property values rise. And values are within a range set at state level, though not necessarily market-driven. This is codified statutorily for the Comptroller's Office and again in the state's budget (SB 1) crafted by state legislators and passed by the legislative conference committee. It's an exhaustive 900-plus-page document and, in Article III of the 85th legislative session's SB 1, relating to the Texas Education Agency, page 5, subsection 3 tells us clearly: Property values, and the estimates of local tax collections on which they are based, shall be increased by 7.04 percent for tax year 2017 and by 6.77 percent for tax year 2018.
We know it is inevitable that property values will continue to rise because the state is mandating it and has given that directive in the state budget. State officials have set the values to which our appraisal district must adhere.
When we consider all these components, it is curious then for the Texas Legislature to consider lowering the property-tax rollback rate from 8 percent to 4 percent or even 6 percent as the best solution for property-tax reform. The problem, as we can see, is not the rate but the rising values. And that range of values is artificially created and imposed by the state. Again, our appraisal district must adhere.
If we want meaningful property-tax relief — which we as the Greater Waco Chamber of Commerce do — we must address the real problem, which is the broken way we fund our public schools, and stop shifting the cost from the state down to the locals. This is a shift we have seen already: cities being expected to maintain state/federal rights-of-way along our interstates and highways but not given funding to do so; counties being required to provide mental-health services for inmates (a worthy investment, though also one that perhaps should fall more squarely under the state mental-health umbrella) but not given money to provide them; and schools being mandated to give teacher raises or implement more rigorous high-quality early-childhood education programs but not given money to do so. The state is shifting more responsibility to local entities but not providing the funding, which means no choice remains but for local property-tax bills to increase.
Further, the state proposes to limit the amount local entities can raise to meet such responsibilities, all while setting the valuation ranges — a fact many voters don't know — so that local appraisal districts bear the brunt of citizen outcry when property taxes rise when, in fact, the state has directed it to be so.
We applaud the work of the Texas House of Representatives, Speaker Joe Straus, Chairman Huberty, his Public Education Committee and its outstanding staff, who worked to craft some meaningful solutions to the property tax-school finance dilemma. We are grateful our representatives supported that bill. We applaud Chairman Larry Taylor and the Senate Education Committee for their call to study school finance during the interim and we appreciate our senator supporting that aspect of the bill.
Perhaps if we can talk and move toward repair of our method of school finance, then we can make more progress on broader educational reforms to improve the system. Advocates of public education are often wary of educational reforms. If we fix the system of cost-shifting down to the local government, we could then turn to such education reforms, all while also righting the burden of our rising property taxes. Conversations about what education reforms will improve student outcomes seem premature if the essentials of adequately funding Texas public schools isn't first addressed.
It's imperative to our future economic growth and vitality that we address our broken property-tax system. It is certainly true that, because Texas does not have a state income tax, our overall tax burden places us in the middle of the pack in a state-by-state ranking. Yet our property taxes are among the highest in the nation. The pro-business orientation of our elected leadership and a friendly regulatory environment have allowed us in Texas to be very successful in attracting and expanding business. Imagine how much stronger our hand would be in competing for new business — particularly those that are capital intensive and thus generate higher property taxes — if we were able to lower our property-tax bills. Property tax relief and reform is possible. It begins with fixing our method of funding Texas public schools.
Meaningful property-tax reform and relief is important to businesses and residential owners alike. Perhaps if we could set aside our ideas about what we've always known, and be willing to think outside the box about meaningful policy solutions, we could create a property-tax system that allows the certainty that businesses need to grow and thrive, while also improving school funding and student outcomes so that our schools are strengthened and can create a future workforce ready to meet the needs of a thriving state economy that supports enhanced quality of life for us all. The prosperity and economic strength of our state — and all her people — depends on it.
-Jessica Attas is director of public policy for the Greater Waco Chamber of Commerce. Our mission is to "prepare and market the Greater Waco region for the businesses and jobs of the future and an outstanding quality of life."