Turner Real Estate Wins Texas Business Star Award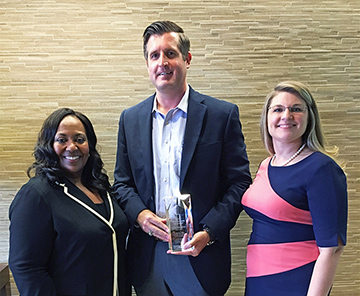 WACO, Texas – Turner Real Estate, a family-owned real estate investment firm whose portfolio ranges from single-family and multi-family units to retail, office and restaurant space, has been honored with the Greater Waco area's first Texas Business Star award by the Texas Economic Development Corporation, the organization that promotes economic development for the state.

Led by brothers Shane and Cody Turner, Turner Real Estate has invested heavily over the last 10 years to revitalize Waco's downtown, converting old and historic properties into lofts, offices and retail and entertainment space.

"We're proud to present Turner Real Estate with the Texas Business Star award," said Tracye McDaniel, president and CEO of Texas Economic Development Corporation and TexasOne. "Real estate investment is an integral part of successful economic development. Turner recognizes this and has made significant strides to transform downtown Waco into the growing hub that it is today."

Turner Real Estate's recent projects include the creation of more than 200 apartment units for students and young professionals at Tinsley Place near Baylor University; the renovation of a 98-year-old downtown warehouse into the Altura Luxury Lofts, which will open later this year; and the renovation of the historic Hippodrome Theatre, a century-old downtown venue that sat vacant for five years before reopening in 2014. Today, the Hippodrome serves as a modern entertainment and dining complex, as well as a venue for the Harris Creek Baptist Church, where Shane Turner serves as a deacon.

"Turner Real Estate is an ideal candidate for the Texas Business Star award," said Kristina Collins, senior vice president – economic development at the Greater Waco Chamber. "Shane and Cody Turner saw an opportunity to revitalize our downtown and took a risk to see their vision come to life. They have served, not only as pioneers in our downtown redevelopment efforts, but also as integral members of our community."

Both graduates of Baylor University, the Turner brothers are active on the boards of numerous charitable and community organizations throughout the region.

Launched by the Texas Economic Development Corporation in September 2016, the Texas Business Star award recognizes companies that are making an extraordinary impact in their communities, whether through job creation, capital investment or a multitude of other factors that can elevate the economy. Previous awards were presented to Neutral Posture of Bryan, Texas and Seton Healthcare Family of Austin, Texas.

###

About Texas Economic Development Corporation and TexasOne
Texas Economic Development Corporation is an independently funded and operated 501(c)(3) nonprofit organization, whose mission is dedicated to economic development, business recruitment and job creation in the State of Texas. TexasOne is a public-private partnership of the Texas Economic Development Corporation, which coordinates efforts with the Office of the Governor to market Texas globally as a premier business destination. For more information about Texas Economic Development Corporation and TexasOne, visit www.texaswideopenforbusiness.com.