Daily Archives:
October 21, 2016
LORENA, Texas – Lorena, a city along IH-35 five miles south of Waco, Texas, is pleased to announce a significant public private partnership (P3) that will create development opportunities in the community. This city is ready to accelerate development through the cooperation of private sector investors and local governmental entities. The opportunity to spur development was created by financing the design and construction of a major sanitary sewer trunk line from the WMARSS Bull Hide Creek wastewater treatment plant to development tracts along IH-35.

On October 3, 2016, the Lorena Tax Increment Reinvestment Zone #1 East (TIRZ) Board of Directors signed five development financing agreements to fund design and construction of the major sanitary sewer trunk line for $2,300,000. The TIRZ development financing agreements include agreements with the City of Lorena, the Lorena Economic Development Corporation, Mitchell/Tully Group, Braswell Family Enterprises LTD, and McElla Group LLC. The construction of the sanitary sewer trunk line will be completed in the summer of 2018.

The Lorena Tax Increment Reinvestment Zone #1 EAST (TIRZ) was initiated in the late fall of 2014 with a project plan and financing plan plus agreements with the city of Lorena, McLennan County and the Lorena EDC to reinvest into vital public infrastructure 70 percent of new property tax and new sales tax dollars that are generated within the 700 acre TIRZ. Over the projected 30 year lifetime of the TIRZ, the public infrastructure improvements will include new roads, water lines and sanitary sewer lines needed to spur new development, grow the tax base and prevent a decline of the tax base due to the lack of development.

As a result of the planned public infrastructure improvements, it is estimated that over 650 homes and 1 million square feet of retail can be developed within the 700 acres of the TIRZ. The economic impact is expected to generate over 4,000 jobs for Lorena residents and indirectly contribute 3,500 jobs to the Waco Region over the lifetime of the TIRZ.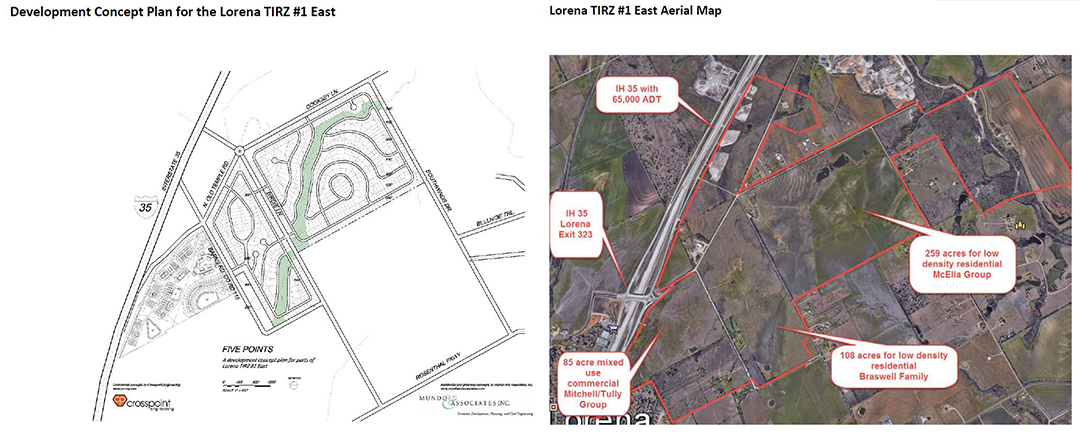 ###